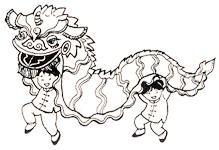 HUNGRY GHOST FESTIVAL
In Hong Kong, the Hungry Ghost Festival is a major Buddhist and Taoist event. Hungry ghosts are the restless spirits of people who did not have a funeral. There is no one visiting their graves and they do not receive the gifts that Chinese people would take to their ancestors to pay respects. They miss out on food and spirit money.
---
Large scale celebrations are carried out and delicious food is offered.

Hungry Ghost festival
Among the common items offered included abacus, axe, golden rice bowl and rice bucket, statutes of the God of Wealth, statutes of fish, cow, pi xiu (a legendary auspicious animal), horses and toads.
| | |
| --- | --- |
| People make offerings face to the king ghost and then go to burn the offerings in the dedicated area either a little bit remote from other temporary buildings or protected by higher walls. | |
| | Hungry Ghost festival |
Some Hungry Ghost festival last up to 4 or 5 days. "If you have enough money, you can have more days".

Hungry Ghost festival
| | |
| --- | --- |
| When opera performers and the priests play at the same time, the atmosphere can become very noisy during Hungry Ghost festival. Chinese Opera evening sessions often start from 7pm to 11pm. | |
| | Hungry Ghost festival |
Many return to pay respects to their ancestors because their ancestral tablet is still here.

Ancestral altar
Burning paper money or paper effigies at the Festival of the Hungry Ghosts expresses the wish and the hope that the deities will exercise their power to protect devotees.
| | |
| --- | --- |
| Joss paper also known as ghost money, are sheets of paper that are burned during traditional Chinese festival such as Hungry Ghost festival. | |
| | Joss paper burning |
Few people in China, especially younger generations in urban areas, follow hungry ghosts traditions. Many traditional practices were stamped out during the Cultural Revolution because they were seen as relics of China's feudal past.
Joss paper is traditionally made from coarse bamboo paper, although rice paper is also commonly used. Traditional joss is cut into individual squares or rectangles. Each square of paper has either a thin piece of square foil glued to its center or it may be endorsed with a red ink seal from a traditional Chinese seal.

Joss paper
The ghosts get money too. During the festival, it is traditional to burn Hell Money and also paper replicas of everyday things that might be useful in the afterlife.

-- Hungry Ghost festival --
Hong Ning Road Playground in Kwun Tong
Golden pineapples made skilfully of joss paper are offered for the departed.

-- Hungry Ghost festival --
Hong Ning Road Playground in Kwun Tong
Local benefactors can win merit and boost their status in the community by organizing feasts as offerings to the hungry ghosts. Cooked rice is distributed to anyone who may wish to join in.
| | |
| --- | --- |
| A panel is displaying local people donations during the festival. Taoists usually purchase food offerings from a communal purse. | |
| | Donation panel |
The Chinese people celebrate this festival to remember their dead family members and pay tribute to them. Offering food to the deceased appeases them and wards off bad luck.
The Hungry Ghost festival is also a time to remember relatives who have passed on.

Hungry Ghost festival
---
Regular food is offered. The ghosts eat first but the food does not disappear. Then local people eat the offerings and pray for good luck.

-- Donation panel --
Sha Tsui Road Playground in Tsuen Wan
Games are offered to the hungry ghosts such as playing cards, dices, dominoes, Chinese chess.

-- Games offering --
Yuen Long Park
Residents of Chiu Chow origin do observe the festival with particular reverence, staging street operas and distributing free rice and bread to help the elderly people.
Rice distribution activities held during the Yue Lan festival is supposed to bring peace and good fortune to recipients.

-- Rice --
Yuen Long Park
In year 2005 an elderly woman collapsed and died while about to join distribution of Yue Lan rice in Tsim Sha Tsui. Thousands of elderly people can often particpate to such distribution and some often begun queuing up from the evening to wait for a ceremony scheduled on next day.
Food is offered especially whole roasted pig and colored cakes.

-- Food offering --
Yuen Long Park
Policemen are now present at such distribution to prevent any stampedes between ederly people eager to get 'good luck' rice.

-- Distributing rice --
King George V Memorial Park in Yau Ma Tei
In some smaller Hungry Ghost Festival area, people will rub shoulders in order to get the food and the offerings to the ghosts.

-- Distributing rice --
Yuen Long Park
In year 2006, two hungry ghost months have been running consecutively. The regular seventh month and the leap month also. This happened because the lunar calendar assigns an extra month every three years to balance the lunar and solar cycle. The last time the leap month occurred after the seventh month was in 1968 and next time is 2044.
Hungry Ghost Festival also a time to be charitable. Rice from Thailand is offered.

-- Hungry Ghost festival --
Fu Yan Street in Kwun Tong
---
Altars for gods are usually found on backstages at most Chinese Opera theatres. Before performing, troupe members would make incense offerings to the gods and pray for their blessings.

The gods of Chinese Opera
It is especially during the Hungry Ghost Festival in the month of August that the operas are staged together with other activities to atone the sins of the dead.
Chiu Chow opera troupe are often coming from China. They are hired to stay in Hong Kong during one month for the Hungry Ghost Festival and perform in various districts.

-- Chiu Chow opera troupe --
Yuen Long Park
In each Hungry Ghost festival area, performances last up to three days.
Chinese opera performers shall worship deities before the opera start. It shall protect against fire. Various Chinese dialect populations will have different deities. Gifts are offered and incense is burnt in order to get good luck and good sound.

Hungry Ghost festival
---
---
| | | | | | |
| --- | --- | --- | --- | --- | --- |
| Click to see more pictures | | | | | |
---
comments powered by
---