THAI ACTION MOVIES
Increase or decrease font size for easier reading : A+ A-
Some action Thai movies (หนังบู๊) take place in Thai Chinese community.



Year

: 1970



Thai title

:

อัศวินดาบกายสิทธิ์




English title

: Flyer and Magic Sword



Rating

: 4/5


Director

:



Main actor

: Mitr Chaibancha


Main actress

: Petchara Chaowarat



Buy now

:

Thai Chinese movie อัศวินดาบกายสิทธิ์ - 飛俠神刀 - "Flyer and Magic Sword" lasts 1h20mn and was released in year 1970. It was released under 35mm, VHS, VCD and DVD format. It was shot in Hong Kong. It was the first international movie in which Mitr Chaibancha took part. Two versions of the movie were shot, one with Hong Kong Chinese star (กว่าง หลิน / Ling Fan) as the leading actress for the international version and one with Petchara Chaowarat as leading actress for the Thai version. As Mitr Chaibancha died in an accident in 1970, an actor from Chaiyaphum province called Chat Chaiyaphum (ชาติ ชัยภูมิ) was used in order to finish the movie. Mitr also started playing in another Chinese movie จอมดาบพิชัยยุทธ (1971) but was replaced by another actor called Luechai Natnat (ลือชัย นฤนาท). The movie includes flying acrobatic fights shot in Hong Kong's Sai Kung country park. The DVD/VCD includes the Hong Kong version featuring Ling Fan as main actress. The DVD/VCD also includes 52 minutes of old damaged footage with Thai actress Petchara Chaowarat playing Lan Choo. This movie is also known under the name "อภินิหารดาบทองคำ" or "Hooded Swordsman". Lan Choo, her father and his guards are attacked in their home by a group of armed men led by another clan. Wai Ching (Mitr Chaibancha) saves Lan Choo (คู่รัก). She leaves upset as Wai Ching is still angry against her father. She then meets a mysterious man expert in blade, Phi Lun, who declares his love to her. The two clans are fighting over a salt mine. Lan Choo's father stole the salt mine from Wai Ching's father. He has issues with Phi Lun, the mysterious expert in blade, so the two clans decide to support each other. Lan Choo's father expects help from Wai Ching by promising a wedding with his daughter but Wai Ching refuses as he cannot forget the past. Lan Choo's father killed Wai Ching's father. Phi Lun is half crazy and a rivality emerges with Wai Ching as they both love Lan Choo. Phi Lun has become crazy (คนบ้าฆ่าคน) as his mother was raped and killed in front of him. Phi Lun kills people that Wai Ching loves. So Wai Ching chases Phi Lun for a fight. Wai Ching has special skills such as flying jumps. Phi Lun is using small blades behaving like boomerang. Wai Ching is defeated but Phi Lun spares his life this time. Wai Ching uses a stratagem to defeat Phi Lun through a revenge fight. Phi Lun is left as dead. Then the two clans make alliance against Wai Ching. Wai Ching is welcomed by the father, who organises a big feast. This is a trap and Wai Ching is captured. Phi Lun, who didn't die yet, helps Wai Ching to escape. Phi Lun helps as he wishes to kill Wai Ching by himself. Finally Wai Ching defeats Phi Lun again. Seeing Wai Ching being weaker due to the fighting with Phi Lun, the father is about to kill him but Phi Lun saves his life for a last time. Wai Ching flees thanks to Lan Choo and the two clans kill each other to get the salt mine. In year 1992, there was discussion to project the Thai version in Ambassador theater (แอมบาสเดอร์). It didn't happen as the film was incomplete. Finally อัศวินดาบกายสิทธิ์ movie was released a second time in year 1998. It was released in theater by movie director Khun To Pantamit as an homage for Mitr Chaibancha birthday. Khun To Pantamit ordered a new copy of the 35mm film from Hong Kong and had it dubbed in Thai language. Thanks to his later release, the movie is still available in HD colorful version. If it was the original 1970 film, the 35mm film would be red already and damaged similar to the Thai release. It was shown in theater เฉลิมกรุง 20 times. It was also released nationwide in Thailand.



Year

: 1970



Thai title

:

ดาบคู่สะท้านโลกันต์




English title

: The Devilish Killer



Rating

: 3/5


Director

:



Main actor

: Chaiya Suriyun


Main actress

: Petchara Chaowarat
Devilish killer can defeat 15 men in a single combat thanks to his iron hands, strong kick and powerful nine ring golden blade. He requests a thunderbolt sword to a clan leader. The clan leader refuses as it is the Clan sacred sword. He sends his two sons Chi Wen (Chaiya Suriyun) and Chi Wu away with the sword. The devilish killer defeats the clan leader and its men. He is now looking after Chi Wen and Chi Wu. Chi Wen is also defeated but the godly beggar helps him to escape death and to flee. Chi Wu is also defeated but gets help from a mysterious blind fighter. Chi Wen is taught by the godly beggar how to better fight. He helps princess Ju Yen (Petchara Chaowarat) attacked by two ruffians. Love emerges between both of them. Her father has promised her to devilish killer. Aware of Chi Wen, the father makes him pass difficult but successful tests. He finally drugs him, disfigured him and throws him from a cliff. Chi Wen refuses to see Ju Yen again as he feels ashamed to be disfigured. Meanwhile Chi Wu meets a young lady miss Chow selling flowers in a temple. She is skilled in sword handling. Following altercation with ruffians, Chi Wu is about to be defeated by them but finally secured by his own masked brother. Chi Wen refuses to disclose his identity and trains Chi Wu to improve his skills. This time it is Chi Wu helping miss Chow in a fight against ruffians. Ju Yen also joins us as she hopes to get news of Chi Wen from Chi Wu. Chi Wu notices miss Chow has the same sword. Only twin thunderbolt blades can defeat devilish killer. Chi Wen takes the two swords in order to train himself. Chi Wu, miss Chow and Ju Yen defy the devilish killer. Will Chi Wen join them on time? They are finally defeated despite using tricks such as armor or water to extinguish fire bombs. Chi Wen arrives on time to defeat the devilish killer thanks to the twin thunderbolt blades. They are finally all safe and Chi Wen's face is restored thanks to his master. This Taiwanese movie 活閻王 was supposed to feature Thai famous actor Mitr Chaibancha but following his sudden death in 1970, he was finally replaced by Chaiya Suriyun. Mitr Chaibancha went to Hong Kong to play in three Wuxia films in his last year. But only "Flyer and Magic Sword" was completed. "Sword of Emei", "The Tiger and the Dragon" and "The Devilish Killer" were finished with other leading actor. This movie is also called " L'uomo della grande muraglia" overseas.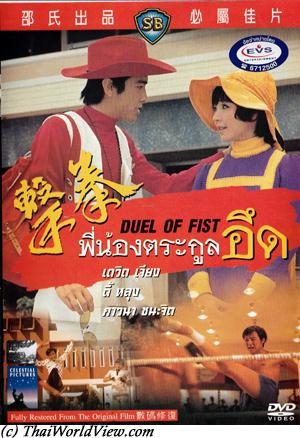 Year

: 1971



Thai title

:

พี่น้องตระกูลอึด




English title

: Duel of Fists



Rating

: 3/5


Director

:



Main actor

: David Chiang,Ti Lung


Main actress

: Pawana Chanajit



Buy now

:

Thai movie พี่น้องตระกูลอึด was released in year 1971 and lasts 1h42mn. It is a Shaw Brothers movie. Duel of Fists / 拳擊 movie, a Thai HK co production involving the Pearl of Asia, i.e. Pawana Chanajit. In Hong Kong, Fan Ko's father dies. Before dying, he asks his son to go to Thailand to find his half lost brother Boonlot. He should have a special tattoo on the shoulder and be a Thai boxing fighter. Fan Ko (David Chiang) meets young Thai lady Pawana Chanajit during Songkran festival in Bangkok and she helps him to search after his lost brother. Boonlot (Ti Lung) is a strong fighter but he refuses to join ruffians to play fake matches (ไม่ใช่นักพนัน). Fan Ko assists to a boxing match, where strong fighter Djung Pao kills his opponent with bare hands. Two fighters have died before. Fan Ko intervenes believing the dead fighter is his brother. He then meets Boonlot, who appreciate his skills (ฝีมือไม่เบา). Once again Boonlot refuses to bend to the ruffians. His next match is against Djung Pao. Boonlot bets all his money on his win as he needs to cure his mother (ผ่าตัด). Some sequences in Bangkok allows seeing Wat Po, Wat Benchamabophit. Boonlot's girlfriend is worried that he will die. Fan Ko meets the ruffians as he is still looking for a fighter with a tattoo. The ruffians understand Boonlot and Fan Ko are brothers. Following a very difficult match, Boonlot finally defeats Djung Pao. The two brothers are reunited. Meanwhile a relative of a former Thai boxer killed by Djung Pao, strangles him. The ruffians' leader kills the relative and wants to force Boonlot to replace Djung Pao. As he refuses, Kung Fu fightings happen between Boonlot, Fan Ko and the ruffians. Their leader is much stronger than Djung Pao...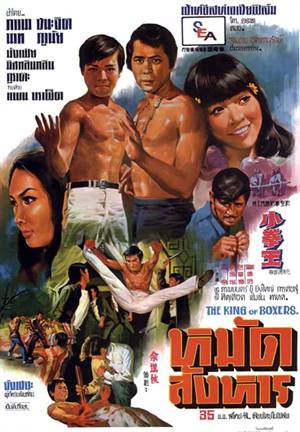 Year

: 1972



Thai title

:

หมัดสังหาร




English title

: The King Boxers



Rating

: 3/5


Director

:



Main actor

: Nard Poowanai


Main actress

: Pawana Chanajit
Movie The King Boxers - หมัดสังหาร - 小拳王 is a Hong Kong Thai co production released in 1972. Main Thai actors present are Pawana Chanajit and Nard Poowanai. Japanese main actor is Yasuka Kurata (Japan's No 1 top actor according to VHS cover). During Surin elephant festival, an overseas Chinese visitor called Yen, interested in Karate, enjoys the festival with his Thai friend Sha (Pawana Chanajit). She shows him Thailand even if there is inaccuracy with a sudden change location from Surin to Chiang Mai (Doi Suthep). At Nakornping stadium, they meet Thai boxer Chow (Nard Poowanai). Local ruffian tries to influence the match result by offering gold but the boxer refuses. Chow wins his match. The ruffians decide to take revenge as they lost a lot of money in betting due to him. Chow defeats the small ruffians but their leader is too strong for him. Hopefully Yen, thanks to his Kung Fu skills, defeats the ruffians leader. Chow asked to be trained by Yen. They visit together famous temples such as Nakhon Pathom chedi. Yen sends a letter to his sister in Hong Kong saying he will stay longer in Thailand. Yen is the leader of a Kung Fu school in Hong Kong. A Japanese school is rival of his school. Their leader Tu Pien comes to the school to defy them but Yen is overseas in Thailand. So he breaks their school board as a sign of defiance. Yen is finally back from Thailand. The fight can happen between both leaders. Yen defeats the Japanese leader but this latter starts to build his revenge. He invites Yen to a Chinese restaurant to celebrate peace but it is a trap. Yen is injured during the meal with a violin and then attacked by dozens of men. He is overwhelmed and finally killed. Ruffians prevent anybody to join the mourning. Yen's two Thai friends just arrive in Hong Kong in order to bring to Yen the tusk he ordered from Thailand. They discover he is dead. Chow and Sha are invited by Yen's sister during the mourning. Fight erupts between the two Kung Fu schools. Chow uses a mix of Thai boxing and Chinese Kung Fu taught by Yen. Tu Pien is about to win thanks to nunchaku usage but hopefully Chow reminds of Yen 's secret weapon and defeats Tu Pien. Most of the part in Thailand is filmed outdoor but the part in Hong Kong is played indoor. It is one of the five movies that Pawana Chanajit, the pearl of Asia, played in Hong Kong movie productions.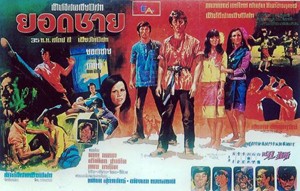 Year

: 1972



Thai title

:

ยอดชาย




English title

: The Roaring Lion



Rating

: 3/5


Director

:



Main actor

: Yodchai Meksuwan


Main actress

: Pawana Chanajit
Thai movie ยอดชาย / The Roaring Lion was released in year 1972. It is a Hong Kong / Thai coproduction. The movie is lost in Thailand. Hopefully it is still available in Hong Kong under the name 獅吼. It lasts 1h45mn. A small trailer, lasting one minute, remains to be seen in Thailand. It features Thai dance and some fighting. Thai actors Pawana Chanajit and Yodchai Meksuwan have participated to a few Hong Kong movies during 1970s decade. Pawana Chanajit, called Pearl of Asia, has acted in five Hong Kong movies. A group of friends are workers in a sawmill. As the foreign boss badly treats his workers, a rebellion happens. The friends, including JeuEr and Chiaouza, have to quit their job. It makes JeuEr's mother very upset and she asks him to stop fighting. Chased by ruffians, they have to flee their village by boat. They are now working in an outdoor mine in Thailand. Workers are over exploited until exhaustion. Pawana gives them information on the ruffians. In Nakhon Pathom pagoda, one of the friends recognizes his sister. She flees but he follows her and finds she is now working in an entertainment place for adults. He tries to release her but fighting erupts. They get defeated by the head of the ruffians who is a strong opponent. To avoid the sister being harmed, they have to accept being defeated in some fighting tournaments. As Chiaouza refuses to lose during the fight, he is finally killed after a tournament overwhelmed by ruffians. JeuEr upset joins the tournament but gets defeated through a bad trick. Looking for JeuEr, ruffians storm his kung fu school. Upset he becomes the roaring lion and defeats a dangerous fighter using whip. Back to the entertainment club, JeuEr through his kung fu skills defeats a dozen opponents and affronts successfully their leaders.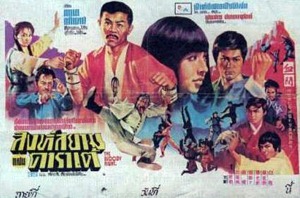 Year

: 1972



Thai title

:

สิงห์สยามถล่มคาราเต้




English title

: Bloody Fight



Rating

: 3/5


Director

:



Main actor

:


Main actress

: Pawana Chanajit
Thai HK movie สิงห์สยามถล่มคาราเต้ - 拳門 - "Bloody Fight" was released in year 1972 and it lasts 1h32mn. Thai actress Pawana Chanajit, called the Asian Pearl, played in five Thai HK movies (สิงห์สยามถล่มคาราเต้ - Bloody Fight, พี่น้องตระกูลอึด - Duel of Fists, หมัดสังหาร - The King Boxers, ยอดชาย - The Roaring Lion). A Japanese boxer called Cheng Chung defies many Chinese teachers. He is organising fights up to the death. He defeats one Chinese teacher. Before dying, he sends his daughter Ching Mei to stay with his brother Chen. As the brother Chen is also a Chinese Kung Fu teacher, the Japanese fighter defies and injures him. His son Chi Chu doesn't succeed to defeat the Japanese man. Other fighters such as Tien Wa defies the Japanese fighter Cheng Chung but they are all defeated. Chen wishes to get the pride back from the Japanese men with new skills. Chen unifies the best of three Kung Fu styles. Ching Mei is reunited with her lost brother Tin Wa as her father chased him many years ago. Chen trains four fighters very hard (Ching Mei, Tin Wa, Chi Chu, Pawana). Pawana Chanajit performs a Thai dance as fighters are ready to defy Japanese boxer Cheng Chung. The two ladies, Ching Mei and Pawana, take care of the numerous small fighters while Tin Wa and Chi Chu focus on Cheng Chung. Even Thai actress Pawana Chanajit is doing very well in Kung Fu fightings! Cheng Chung is finally defeated.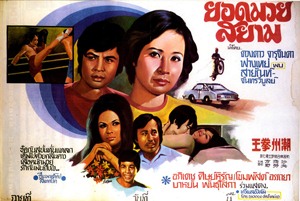 Year

: 1973



Thai title

:

ยอดมวยสยาม




English title

: The greatest Thai boxing



Rating

: 3/5


Director

:



Main actor

: Sayan Chantaraviboon


Main actress

: Duangdao Jarujinda,Khomapat Attaya
Thai movie ยอดมวยสยาม or "The greatest Thai boxing" was released in year 1973. It is a Taiwan | Hong Kong production. It is named 潮州拳王 - "The greatest Thai boxing" or "Boxer King of Chaozhow". It lasts 1h29mn09s. The movie is lost in Thailand but can still be seen at the Taiwan National Film Archive Foundation. It features Thai actor Sayan Chantaraviboon and Thai actresses Duangdao Jarujinda, Khomapat Attaya. A summary is available in Chinese.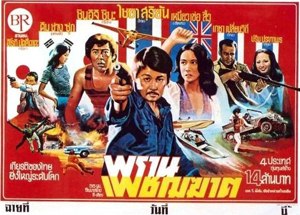 Year

: 1973



Thai title

:

พรานเพชฌฆาต




English title

: TOKYO-SEOUL-BANGKOK



Rating

: 3/5


Director

:



Main actor

: Sonny Chiba,Chaiya Suriyun,Kecha Plianvithee,Pipop Pupinyo


Main actress

: Chosri Misommon
Thai movie พรานเพชฌฆาต (TOKYO-SEOUL-BANGKOK - 東京-ソウル-バンコック_実録 麻薬地帯) was released in year 1973. It lasts 1h42mn. This co production movie is lost in Thailand but still available in Japan. As the movie is in Japanese language only, below summary might not be fully correct. Two cars are chasing and the lady's car is pushed in a ravine. She was Sonny Chiba's girlfriend. In the remainings of the car, a camera is found. It contains a picture of the girlfriend and another younger Korean lady. Ruffians are following Sonny and beat him seriously. He gets help from a detective. The ruffians become the ones chased but their leader succeeds to escape. The movie continues to Hong Kong where the leader does his drug trafficking. The action ends up in Thailand. Pipop Pupinyo is the right hand of the Japanese ruffian in Thailand. Chosri Misommon is playing a domestic helper. The ruffian leader's girlfriend sees Sonny in a market. Sonny meets Chaiya Suriyun but this latter dislikes Japanese people. Finally Chaiya helps Sony when he is overwhelmed by thugs sent by Pipop Pupinyo. Ruffians leader wishes to buy heroin and gets introduced to Kecha Plianvithee by Pipop. Heroin shall be available in north of Thailand. Chase is happening between Sony and the ruffians leader. Kecha through a small airplane tries to kill all of them. Chaiya is also involved in the shootings. The girlfriend is shot. The ruffians leader is killed but Kecha gets also killed. Before dying the Japanese ruffians leader gives important information about the gang location in Japan. Sony accepts to bring Chaiya to Thailand and they destroy their secret laboratory and the leader dies. The Thai poster mentions 4 countries for a budget of 14M Baht. Chaiya Suriyun is put in the centre of the poster despite not being the main actor of the movie.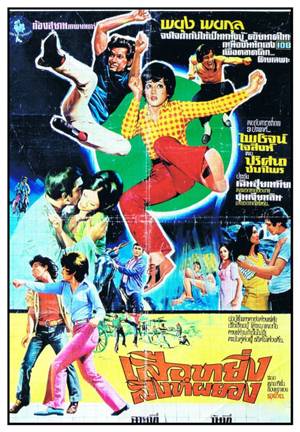 Year

: 1973



Thai title

:

เสือหยิ่งสิงห์ผยอง




English title

: Spirits of Bruce Lee



Rating

: 3/5


Director

:



Main actor

: Phairoj Jaising,Michael Chan Wai-Man,Man Teeraphol,Choomporn Theppitak,Paen Pleumsachai


Main actress

:
Thai HK co production movie เสือหยิ่งสิงห์ผยอง / Spirits of Bruce Lee / 猛蛟閗地蛇龍女 lasts 1h34mn. Such HK movies normally last around 1h30mn (TV format) but the Thai version was often more than 2 hours. This movie is lost in Thailand but as it was a Thai HK co production, it could still be found overseas under VHS format. A Chinese jewel trader is betrayed and killed in Mae Sai area. Later on Yu (Phairoj Jaising known in Chinese as Poon Lok!) is facing local bunch of thugs. Chan (Michael Chan Wai-Man) helps Yu. Chan is looking for his lost brother involved in jade trade. Old rural life scene such as a cart with buffaloes can still be seen. Having learnt that his brother disappeared, Chan looks for him all around the small city of Mae Sai. He meets Mr Wang, owning a tea shop. Paen Pleumsachai is supporting Yu. Chan knows that his brother is now dead so he enquiries on the murderers. Choi Nan, daughter of Mr Wang, supports and helps Chan. They find Sompon, who is wearing the brother's watch. He bought it from Taimoo, who is linked to local powerful kingpin called Min Pan Tim. In his team Man Teeraphol and Choomporn Theppitak can be found. Chan kills Choomporn believing he is Min Pan Tim. Min Pan Tim injures him in the leg but Chan succeeds to flee thanks to Yu. Chan recovers thanks to Choi Nan. Ruffians burn their house but fail to find them. Knowing that Min Pan Tim has given a day off to most of his ruffians, the four friends storm his house. During the fightings, Mr Wang is killed but Min Pan Tim is defeated also. Surrounded by ruffians, Yu, head of police, helps Chan and Choi Nan on time.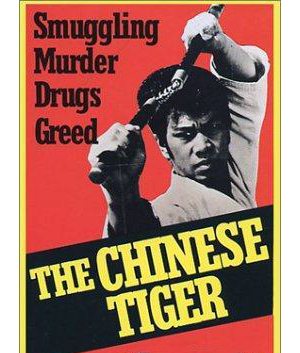 Year

: 1974



Thai title

:

ไอ้เสือตี๋




English title

: The Chinese Tiger



Rating

: 3/5


Director

:



Main actor

: Larry Lee,Pan Borapet


Main actress

: Louise Lee Si-Kei
Thai Hong Kong ไอ้เสือตี๋ / "The Chinese Tiger" / 唐山猛虎 movie was released in year 1974. It lasts 1h30mn. Chinese citizen manage a company providing goods shipment from Thailand to Hong Kong. An employee is killed. Ruffians take advantage to hide drugs among the cereals. Goods are shipped to Hong Kong. Pan Borapet is hired to kill Limin (Larry Lee) in order to stop investigation but he fails. Limin's brother as courier is arrested by Hong Kong police as drug was discovered. Mr Choi is behind this. Limin decides to go to Hong Kong to investigate. Young lady Fefei (Louise Lee Si-Kei) is used as drug mule by the gang. Ruffians try to stop Limin but his Kung Fu skills are too good for the ruffians. Limin identifies that drugs exchange is happening in a high class restaurant through Fefei. Limin joins the transporters and assist to a fighting between the big boss and two ruffians trying to take over their business. Limin is the troublemaker from Thailand! Limin defeats the big boss and his brother is released. Fefei has to go to jail. She promises to visit Limin in Thailand when she has purged her sentence. Back to Thailand, Limin has to fight against the ruffians, who hid the drugs inside his company goods.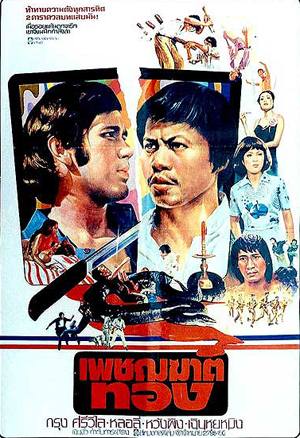 Year

: 1976



Thai title

:

เพชฌฆาตทอง




English title

: Big Boss 2



Rating

: 3/5


Director

:



Main actor

: Krung Srivilai,Lo lieh


Main actress

: Wang Ping
Movie เพชฌฆาตทอง is a Thai HK co production released in year 197x and featuring Krung Srivilai and Lo lieh as main actors. Chinese name is 唐山弟子 and English name is "Big Boss part 2". A three minutes trailer is available. The movie was never released on VHS or VCD. A 10 minutes sequence is available on line. It seems there is not so much link with the first opus featuring legendary Kung fu star Bruce Lee except trying to wave on the success of this first opus. Some parts are filmed in Thailand with Krung taking part to fighting and shooting on a river with a M16. A young lady (Actress Wang Ping) is looking for some gold. Krung is part of her team. Main actor (Lo lieh) arrives in Thailand and wishes to take revenge on the man who killed his father. It is the same man that owns the gold that the young lady is looking for. So she decides to use Lo lieh but without mentioning the gold...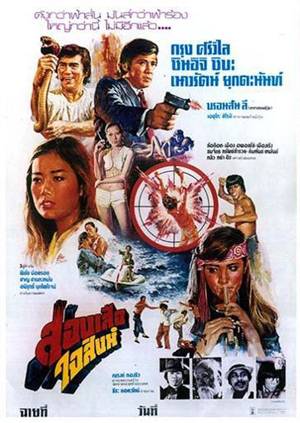 Year

: 1977



Thai title

:

สองเสือใจสิงห์




English title

: Soul of Bruce lee



Rating

: 3/5


Director

:



Main actor

: Krung Srivilai,Sonny Chiba


Main actress

: Naowarat Yooktanun,Somjit Sapsamruey
At the Thai border, Sonny's parents are killed by ruffians. He promises to take revenge. He gets a training in a martial arts camp. Sonny (Sonny Chiba) is now an adult. His master is assassinated by Sam, a former disciple. Sonny finds him but gets defeated. While being seriously injured, he is cured by a young hill tribe lady called Lipa (Etsuko Shihomi). Krung (Krung Srivilai) arrives to Bangkok by airplane. He has a meeting in Pattaya to deliver some diamonds. The ruffians try to double him through a mysterious man called Mr Chan in Hong Kong. The ruffians leader tries to put a beautiful Chinese girl in Krung's way but it is not enough. Krung flees away with the drug and money but gets severely injured. Naowarat Yooktanun has also a small role and is taking care of Krung while he is sick. Krung has been separated with his mother (Somjit Sapsamruey) twenty years ago. Meanwhile the ruffians team leader tortures a policeman (Tadashi Yamashita) but the head of the organisation prevents his thugs to kill him. Sonny helps him to flee. Some ruffians are looking for troubles with Sonny. Krung comes back to help Tadashi and releases him. While fleeing through a daring operation including parasailing, Krung gets shot by the head of the organisation. Sonny is now living in a Buddhist temple. He is using electrical training device and needs to eat weird white powder to always calm down. Sonny and the policeman Tadashi get friends. Accelerated electrical shots are used by Sonny as a training in order to improve his muscles reactivity. Lipa (Etsuko Shihomi), young hill tribe lady, is killed while he is away. Sonny and the policeman storm the ruffians island. The old master was in fact the mastermind. The head of the organisation is defeated through a final fight involving Sonny and Tadashi. Without drug to calm down, Sonny finally dies also. This movie is a Hong Kong / Thai / Japan co production and it was released in year 1977. Thai name is สองเสือใจสิงห์. English name is "In the soul of Chiba" or "Soul of Bruce lee". The scenario is bit confusing to follow up but people looking for Sonny Chiba's action scenes won't be disappointed.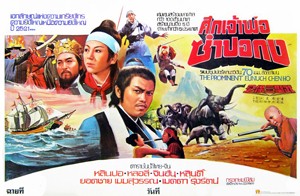 Year

: 1977



Thai title

:

ศึกเจ้าพ่อซำปอกง




English title

: Prominent Eunuch Chen Ho



Rating

: 3/5


Director

:



Main actor

: Yodchai Meksuwan,Lo Lieh


Main actress

: Metta Roongrat
Thai HK movie "Prominent Eunuch Chen Ho" / 鄭和下西洋 / was released in year 1977. It features Thai actors Metta Roongrat and Yodchai Meksuwan. A 7 minutes extract is still available. A Thai monk is kidnapped. Metta Roongrat tries to stop the kidnappers but she is killed. Chief Marshall defeats one of the kidnappers, who flees. The runaway is killed by Lo Lieh. The emperor has been kidnapped (maybe he was hiding in Thailand as a monk).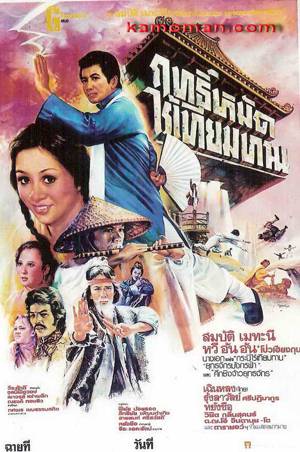 Year

: 1979



Thai title

:

ฤทธิ์หมัดไร้เทียมทาน




English title

: Writing Kung Fu



Rating

: 3/5


Director

:



Main actor

: Sombat Methanee,Bolo Yeung


Main actress

: Runglawan Sripatimakul
Thai HK movie ฤทธิ์หมัดไร้เทียมทาน / "Writing Kung Fu" / 文打 was released in year 1979 and it lasts 1h20mn. Two versions were released. One for the Hong Kong market with John Cheung. One for the Thai market with Thai actor Sombat Methanee. Thai version is lost. Robbery happens during tea war. John Cheung is playing a teacher for poor children. The teacher is expelled by the ruffians from the city. They always tease him. He cannot support it anymore. Only a little girl follows her. He brings her back to his mother (Runglawan Sripatimakul). Runglawan encourages him to teach children as scholars are needed for the country development. Two men, one blind man and his assistant, seek revenge towards a strong thug (Bolo Yeung) following murders in Vietnam. Money to build the school is stolen. The ruffians' leader claim scholars are useless. Children better learn Kung Fu than going to school. The strong thug rapes and kills the daughter. Her mother is found dead also. The ruffians' leader's sister has to beware of the strong thug as he befriends with her father. The blind and his assistant try to take revenge but they fail. Another beggar also fails but before dying he trains the teacher, who can transform himself from a coward chicken into an eagle. The teacher invents a new Kung Fu with movement simulating writing Chinese characters. Meanwhile the strong thug kills all the ruffians including the leader's sister. The teacher chases after him and defies him. Following a difficult fight, the teacher is about to be defeated but succeeds to give a fatal blow to the strong thug. Before dying, the children tell him a last time that they want to come back with him to study.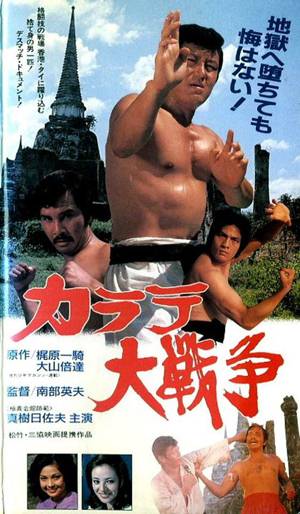 Year

: 1980



Thai title

:

ศึกคาราเต้




English title

: Karate Dai Senso



Rating

: 3/5


Director

:



Main actor

: Dam Datsakorn,Chanee Yotchai


Main actress

: Metta Roongrat
Thai Japanese movie ศึกคาราเต้ / カラテ大戦爭 / "Karate Dai Senso" was released in year 1980. It lasts 1h26mn. The movie was released under VHS and recently under DVD in year 2013. It is also known under the Thai name of คาราเต้บันลือโลก. A Japanese lady meets a man called Datsu (Hisao Maki), working as taxi driver. She hasn't met him for years. He was a karate teacher and she was a school student. He finally trains again and agrees to overseas to verify the superiority of Japanese Karate over other Asian martial arts. Some people in Japan try to ensure he will fail. He comes to Hong Kong and falls in a trap. It is fighting Kung Fu vs Karate. He is attacked many times but succeeds to survive despite being injured. He finally defeats the black dragon expert. Datsu then comes to Thailand. Dam Datsakorn as King Cobra is a Thai boxing champion. Metta Roongrat is his wife. Scenes in Thailand show Nakhon Pathom, Damnoen Saduak floating market, huge billboards with Thai movies posters. Chanee Yotchai as hitman tries to kill Datsu as ruffians fail to defeat him. Cobra prevents the hitman to hurt Datsu as he wishes for a fair fight. The Japanese lady tries to prevent Datsu to give up fighting by offering her charms but he still goes. Metta tries to prevent Cobra also but he still goes. Finally the two men fight until death happens for both of them.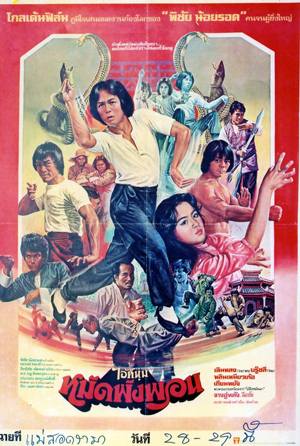 Year

: 1980



Thai title

:

ไอ้หนุ่มหมัดพังพอน




English title

: Fearless Hyena 3



Rating

: 1/5


Director

:



Main actor

: Jackie Chen,Bruce Thai,Luechai Natnat,Bolo Yeung


Main actress

:
Thai HK movie Fearless Hyena 3 / ไอ้หนุ่มหมัดพังพอน was released in year 1980. It lasts 1h23mn. This movie features Jackie Chen and Bruce Thai. Jackie Chen has a very similar face to Jackie Chan. Certainly such movie wanted to take profit from Jackie Chan's celebrity. Ruffians are looking for a jade. As the father doesn't disclose the location of the jad, his son called Jackie is beaten by three men. Hopefully he is rescued by a group of two men and a young woman called Kailye. Jacky got the Flying jade embedded in his body so ruffians are chasing him. This stone allows the owner to fly and to jump very high. Kailye and her father, Luechai Natnat, train Jacky so that he can better defend himself. Jacky is stronger but not enough to defeat ruffians. So he gets help from other men (Bruce Thai). The ruffians' team includes Bolo Yeung. Jackie gets additional training from an old drunken master. Trainings take a big part of the movie. The movie ends up with a confrontation with the Snake gang. Jacky Chen, Kailye, Bruce Thai defeat the ruffians but Kailye's father dies. The dubbing is pretty poor.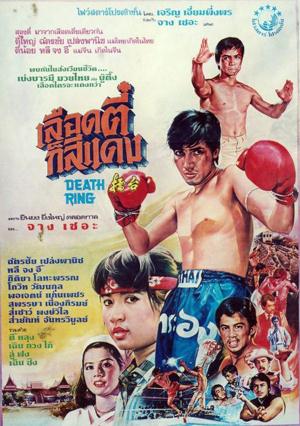 Year

: 1984



Thai title

:

เลือดตี๋ก็สีแดง




English title

: Death Ring



Rating

: 3/5


Director

:



Main actor

: Chatchai Plengpanich,Sayan Chantaraviboon,Porjed Kaenpetch,Suchao Pongwilai,Kowit Wattanakul


Main actress

: Supansa Nuengpirom
The master's daughter, In Mai, sees her lover Dialin Chi in secret. Her father already has plan to marry her to another man called Hang Fai. But he surprises them together. A fight erupts between Hang Fai and Dialin Chi as he lacks respect to his fiancee. Hang Fai uses cowardly a knife during the kung fu fight and finally gets stabbed. Dialin Chi has to run away. He takes refuge in Thailand during three years. Uncle Lu promises to revenge his son, Hang Fai. Many years have passed. In Mai has now a son called Dai Cheung. Uncle Lu's second son is still looking for Dialin. Dai Cheung is looking for his father in Thailand as he earned a living by being a boxer there. Dai Cheung contacts Miss Ko and Fan, the assistant, for boxing job opportunities. Dai Cheung finds a job as sand bag training partner but Thai boxer Salek refuses to use him. They become friends. Salek dreams about a fight with a strong Thai boxer called the leopard. Salek has recognized Dai Cheung's father picture but would not tell who he is. Following arguments, Miss Ko has barred Salek from any Thai boxing match. Dai Cheung succeeds to be recruited as sand bag training partner by the Leopard in order to work up his style but is heavily beaten. He doesn't think Salek can beat the Leopard. Finally it is discovered that Salek is also Dialin Chi's son with a Thai woman. Miss Ko accepts to organise a fight between Salek and the Leopard. The match happens despite Dai Cheung trying to prevent Salek to assist. Salek gets killed on the ring following the Leopard's hard punches. His half-brother is dead. Dai Cheung decides to become a Thai boxer to revenge his half-brother. He trains hard to be able to get a fight versus the Leopard. Finally following a difficult fight, he succeeds to defeat the Leopard but uncle Lu's family members are still around for revenge also... This Hong Kong action movie particularly shines when Chatchai Plengpanich and other Thai actors are around. Hong Kong Kung Fu actors are Lee Chung-Yat and Ti Lung.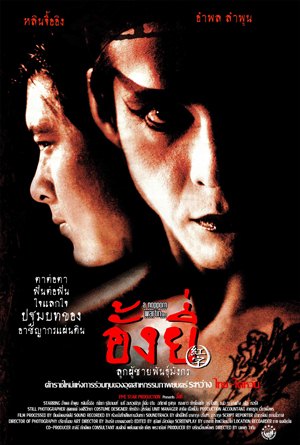 Year

: 2000



Thai title

:

อั้งยี่ ลูกผู้ชายพันธุ์มังกร




English title

: Ang Yee



Rating

: 4/5


Director

: นพพร วาทิน



Main actor

: Amphol Lumpoon,Jimmy Lin


Main actress

: Juree Osiri



Buy now

:

Thai movie อั้งยี่ ลูกผู้ชายพันธุ์มังกร / Ang Yee was released in year 2000 and lasts 1h53mn. It was released under VCD and DVD format. A remastered version was released by Five Star Production in the decade 2010s and shown on Thai TV cable. This movie takes place in 1937 in the Thai Chinese community. Two Chinese secret societies are confronting each other. This violent and bloody movie is a Taiwanese – Thai cinematographic cooperation. Leng (Amphol Lumpoon), a triad disguised as a Chinese opera performer, kills a prominent member of Tang clan and his men but he is severely injured. Hong (ฌัชชา รุจินานนท์), a young lady, impressed by his fighting skills, helps him as he is about to die. Her grandmother (Juree Osiri) is reluctant but accepts to help. Aware, her brother Howe (Jimmy Lin - Taiwanese actor) wishes to chase him away as he is afraid of the impacts on his family. Tang members are looking for Leng. Leng's boss is cruel and wishes to get rid of him also as he is afraid he will take his place one day. The boss (อภิชาติ ชูสกุล) empowers Tua Tao (ทองขาว ภัทรโชคชัย) to find virgins for him. Chaba likes Howe. Joong (เมธี อมรวุฒิกุล), a member of the Tang clan, likes Chaba also. While visiting his friend Howe, Joong meets Leng. Fighting erupts and Leng is defeated as he is still injured. Joong lets him go as Hong begs him. The boss and Tua Tao are disappointed that Leng is still alive. Hong visits Leng to give him back a jade pendant. Tua Tao is now aware about Hong. Tua Tao follows Hong and captures her for his boss. Grandma is killed while trying to protect her. Leng succeeds to release Hong but Howe is upset and considers Leng as responsible. Howe joins the Tang clan in order to avenge his grandmother. Despite promising to his grandmother not to become a ruffian, he becomes a fierceful clan member and attacks the triad. Fightings happen between the two groups. Leng spares Howe and Joong's lives. The boss, being aware, orders Leng to be beheaded. The other clan members led by Kiu oppose so the boss has to retract. Leng injures himself to recognize his failure. The boss orders Kui to be killed and Tua Tao tries to kill Leng. Leng, seriously injured, falls in the river and disappears. He becomes a beggar. Meanwhile Howe refuses to quit the Tang clan despite Hong's request. Howe and Joong find Leng and bring him back to their home. Together they decide to get revenge over the three men leading the triad clan. Leng promises to Hong to quit the triad once his revenge is over. Tua Tao and the third leader are killed but the triad leader is more skilled. Heavy fighting occurs between the leader, Leng, Howe and Joong. Howe and Joong die. Leng defeats the leader but he is seriously injured. He dies in Hong's arms, waiting for him at the train station.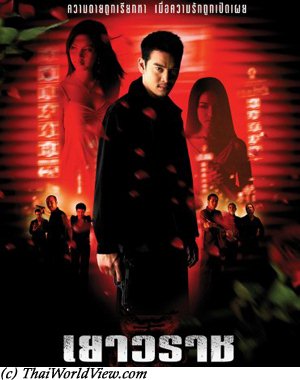 Year

: 2003



Thai title

:

เยาวราช




English title

: Yaowarat



Rating

: 3/5


Director

:



Main actor

: Shahkrit Yamnarm,Somjin Thammatat


Main actress

:
Bangkok Yaowarat district has so far been protected by mafia godfather Tong, with the assistance of Saleng as his right-hand man. Meanwhile, the Pahurat area is controlled by another gangster, Dada, and his close partner, Kaolad. The coexistence of the rival territories is shattered when Saleng and Kaolad challenge each other.
---
Some action Thai movies (หนังบู๊) deal about outlaws in 1940s and 1960s.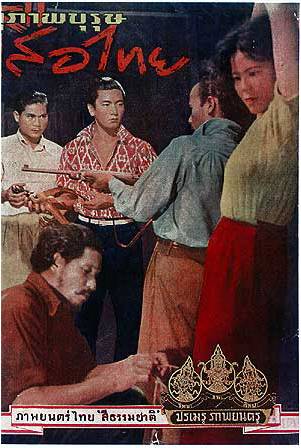 Year

: 1949



Thai title

:

สุภาพบุรุษเสือไทย




English title

:



Rating

: 3/5


Director

: Tae Prakardwutthisan



Main actor

: Surasit Sattayawong


Main actress

:
Supha Burut Seua Thai (สุภาพบุรุษเสือไทย) is a Thai movie shot in 16mm format in 1948 and released in year 1949. It is a lost movie but in year 199x Tae Prakardwutthisan (แท้ ประกาศวุฒิสาร), famous Thai movie director and producer, gave to the Thai Film Archives a lot of documents and films. It included 'Supha Burut Seua Thai' movie behind the screen sequence. It lasts 10 minutes. 'Supha Burut Seua Thai' movie took 3 months to be filmed. The movie was shot in Ratchaburi as Tae is coming from here. One highlight is festival and boats competition shooting in เขางู. It was projected during 28 days and earnt 300k baht, a record for that time. It was one of the first Thai movie after World War 2 and is considered as the launch of Thai movies successful era in 16mm format. Movie Supha Burut Seua Thai (สุภาพบุรุษเสือไทย) includes Surasit Sattayawong as main actor and สอางค์ ทิพยทัศน as main actress. Anecdote regarding the movie is that police has to stay all the time as real gold was used during temple shots and to avoid cameras to be stolen by potential robbers. Due to a lack of dubbers, Tae and main actors have to do the dubbing by themselves in Chalem Krung theatre! One session was for the critics. Good overall critics (dramatic, first Thai movie at same level as foreign movie, usage of festival and culture) were received. Advertising was different from nowadays, i.e. big billboards on the theater, van with billboard going around the city, posters stuck on walls. It was a big success first in cinema Chalem Krung during 28 days, then it was shown in other Bangkok theaters and then in countryside. At that time, a movie included orchestra music, comic shows with Lortok, Dokdin and Somphong. For the first Thai movies oscars in year 1957, this movie received two rewards. Another movie with the same title was released in year 1979 with Sombat Methanee. Many movies about Seua Thai were then released during the next years and decades. A short summary is a below. Surasit Sattayawong is playing a subdistrict headman called Thai. He is accused of having murdered his wife. He has to flee in the forest and becomes Seua Thai, a bandit. One day, he is helping a young lady aggressed by ruffians. She then keeps following him. Seua Thai then decides to take revenge over those who accuse him of murder.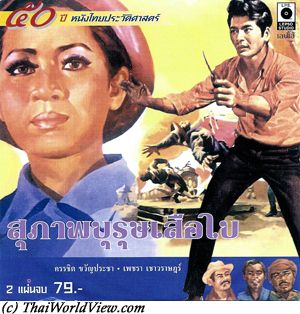 Year

: 1971



Thai title

:

สุภาพบุรุษเสือใบ




English title

:



Rating

: 3/5


Director

:



Main actor

: Kanchit Kwanpracha,Prachuap Ruekyamdee,Sithao Petcharoen,Pipop Pupinyo


Main actress

: Petchara Chaowarat,Metta Roongrat
Wan is going to study to Bangkok. Nui and Yot are his friends. The war with Japan happens. A group, led by a Japanese sergeant, opens a torture camp to interrogate pretended traitors and weapons robbers. Some innocent villagers are arrested including Wan's father. Wan is back and is now a soldier. Wan meets Tawisak, a Thai working for Japanese soldiers and delivering water to them. He is seen as a traitor by Wan and Yot. Wan has issues with a Japanese soldier as he is arrogant so he needs to flee. Wan meets teacher Raiwan (Petchara Chaowarat), who is teaching adults in order for them to know how to read. They all agree to do resist to Japanese occupants. How to help those captured by the Japanese soldiers? Wan joins a group of workers building the railway to Burma. He has issues with the Thai guards, led by Sing, working for the Japanese soldiers (คนไทยทรยศ). He is imprisoned with his father. Meanwhile his friends are acting to free them while Japanese soldiers and Thai traitors are having food and alcohol. Tawisak is playing double game. They flee successfully. Wan decides to become Seua Bai (โจร), a ruffian, in order to fight again the Japanese invaders and the Thai traitors. They steal weapons from Japanese army and start resistance. Nong and her brother miss their father so quit the group. They are captured by another group of ruffians. Wan defeats their leader in one to one fight. Wan misses the teacher Raiwan. He is upset as living as a ruffian he cannot have a real love story with the teacher Raiwan but he does it for the country (เสรีไทย). They plan to disrupt the railway to Burma. Teacher Raiwan and Tawisak participate but are uncovered by a Japanese group led by Sing. Through an ambush, Tawisak is freed but Wan's father dies while protecting his son. Wan's team attacks the Japanese camp and releases Raiwan. As promised to his father, Wan stops to be a robber and surrenders to police (มอบตัว). Teacher Raiwan will be his guarantee. It is a typical action movie from 1960s-1970s with some nationalist and patriotic savor. It is a 2h15mn movie and the image quality is quite red tinted color and damaged. This movie is based on the life of Mr. Bai Sa-ad-dee (นายใบ สะอาดดี), who was one of the most famous Thai robbers in 1940s. His name was Seua Bai (เสือใบ). Other movie remakes on Seua Bai were done in 1984 and in 1998.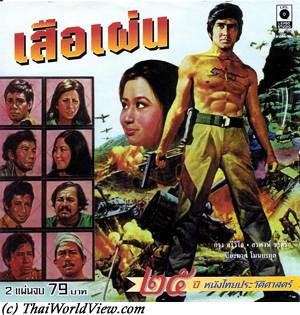 Year

: 1978



Thai title

:

เสือเผ่น




English title

:



Rating

: 3/5


Director

:



Main actor

: Krung Srivilai,Sorapong Chatree,Manop Aussawathep,Phairoj Jaising


Main actress

: Piyamas Monayakol,Mayurachath Muarnprasitivej
During World War II a man quits the police to go back in his village. There he becomes an outlaw by robbing local people. He joins force with the Thai police to enter resistance and fight Japanese troops. After the end of the war, he still continues to be an outlaw. This time, the Thai police won't allow it anymore...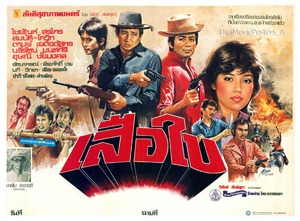 Year

: 1984



Thai title

:

เสือใบ




English title

: Seua Bai



Rating

: 3/5


Director

:



Main actor

: Chaiyan Sorakrai,Sombat Methanee,Dam Datsakorn,Chat Mongkolchai,Kowit Wattanakul


Main actress

: Nareerat Monsiri



Buy now

:

Bai (Chaiyan Sorakrai) is the son of poor farmers. Some cows disappear in the village. Ying, son of local subdistrict headman, is suspected (ชาวบ้านเดือดร้อน) to sell the cows to gamble. A fist fight happens between Ying and Bai as Bai challenges him on the money origin. Ying and his friends are strongly defeated by Bai and his brother Chom. Yiem (Dam Datsakorn), Ying's father (พ่อ), doesn't accept this and threatens to kill Bai if he doesn't apologize. Yiem hits Bai's father. Wishing to clarify the situation with Yiem, Bai and Chom end up fighting with Ying and his ruffians again. Ying shots Chom and Bai has no choice but shooting Ying also. Chom is only injured but Ying dies. Chom and Bai have to flee but subdistrict headman (กำนัน) Yiem promises to revenge his dead son. While fleeing, Bai helps Malee (Nareerat Monsiri) threatened (รังแก) by ruffian Riem (Chat Mongkolchai). Sia Thong is another godfather lending money then taking land and cows when villagers cannot repay. Bai has to play the robin woods to get back the illegal contracts from Sia Thong. Malee is Seua Fai's (Sombat Methanee) young sister. Yiem's ruffians kill Chom. Bai and his friend Sakorn (Kowit Wattanakul) take refuge in Seua Fai's territory. Romance starts between Bai and Malee. Seua protects villagers and punish those acting badly. Yiem's ruffians team perform robbery (ปล้น) by using Bai's name. They hide their face. The action is taking place during World War II with Japanese soldiers occupying Thailand. Bai and Seu Fai team help each other to neutralize a petrol stock maintained by Japanese soldiers. While visiting his mother, Bai is surprised by Yiem's ruffians. He succeeds to escape but a traitor is leading Yiem to Bai's hidden refuge. Yiem is bringing the police with him. Shootings happen. As Sakorn is seriously injured, he stays behind to stop Yiem's ruffians. Meanwhile Yiem sends teammates to kidnap Bai's parents so Bai's team has to split into two parts. Following his mother's request, Bai finally surrenders to the police. No thief can escape police. The real historical Bai is coming from Suphanburi province. He was a thief (โจร) very active after World War 2. He stayed in prison from 1953 to 1963. The real man Seua Bai (เสือใบ) has a small speech at the end of this movie. He is highlighting that his illegal life should not be followed. Other versions of Seua Bai were in 1971 (สุภาพบุรุษเสือใบ), 1998 (เสือ โจรพันธุ์เสือ). In 1971 version, the part related to the fight against Japanese invaders is much longer.



Year

: 1997



Thai title

:

2499 อันธพาล ครองเมือง




English title

: Dang Bireley and the Young Gangsters



Rating

: 4/5


Director

: Nonzee Nimitbut



Main actor

: Jesdaporn Pholdee


Main actress

:



Buy now

:

Dang Bireley and the Young Gangsters (2499 อันธพาลครองเมือง) is a Thai movie released in year 1997 and directed by Nonzee Nimitbut. Daeng is the son of prostitute and has been in violence cycles since his young age. The action takes place in decade 1950s with youth references such as Elvis Presley or James Dean. Daeng always kiss his James Dean amulet to get good luck and not a Buddhist amulet. Daeng, Pu, Dam, Lem Sing, Piek are close friends (นักเรียน / นักเลง). Daeng's mother would like her son to ordain (บวช). Daeng would like his mum to stop such job. He meets Pra, a bar singer. He refuses to do normal job and keeps trying in order to become a ruffians leader in his district but other leaders are already present so it causes clashes. Daeng gets a gun to get revenge. During an outdoor movie performance in a temple fair with an old movie featuring Sor Asanajinda, Taksin Jampol and Wilaiwan Watthanaphanit, Daeng shots rival thug. Issues then happen with Dam and Pu. Piek ends up in jail. Friendship ends with Dam and Pu. Daeng cannot choose his path but can fight it. Daeng helps his friend Moo Chiem to protect the blue moon bar in Chonburi. Moo Chiem wishes to open a casino (บอล) but he is then in competition with local headman Taek. Moo Chiem hires Pu and Dam without telling Daeng. Pu and Dam have arguments with GIs causing the casino to be closed ten days. Moo Chiem is killed by a hitman. Taek is suspected. Taek hires Pu and Dam to destroy the underground casino. Daeng and his team takes revenge over Taek but Pu and Dam succeed to escape. Daeng goes back home to fulfill his promise to ordain to his mother. Despite threats to ruin the ceremony by Pu and Dam, Daeng decides to go ahead. During the ceremony, heavy shootings happen. Daeng, Pu, Laem and Dam die. Daeng's promise to ordain as a monk was only to please his mother. His heart was not really sincere so he ironically dies before being able to enter the Buddhist temple. Another movie in 2012 called Gangster - Antapal (อันธพาล) was released and involving same protagonists. It was not a remake but another view on the same gangster era. This movie has taken over 75 million baht at the box office in 1997, an amazing figure by local standards.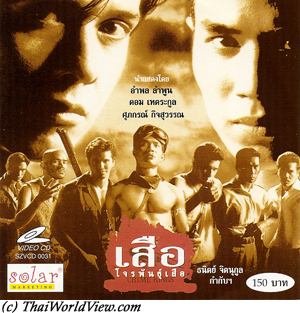 Year

: 1998



Thai title

:

เสือ โจรพันธุ์เสือ




English title

: Crime King



Rating

: 4/5


Director

: Thanit Jitnukul



Main actor

: Amphol Lumpoon


Main actress

:



Buy now

:

Thai movie เสือ โจรพันธุ์เสือ / Crime King was released in year 1998. It lasts 2h04mn. Just after World War II, many gangs were active in Thailand. One gang led by Seua Bai (เสือใบ) was robbing rich bad men to redistribute their money to poor peasants. This movie is based on a real story. This movie deals about the police chase towards Seua Bai and his gang. The former rocker turned screen star Amphol Lumpoon received a Best Actor Award for this movie. Thai Police has to catch Seua Bai (Amphol Lumpoon) and his team within 6 months. Two of his men steal villagers' money to gamble. They have to be punished. His girlfriend Lai wishes Bai to stop being given a robber and asks for their forgiveness. Police tries to locate Seu Bai and his team. Villagers don't speak as Seua Bai supports poor people. Fighting is happening in a gambling den as his men (ลูกน้อง) misbehave. Seua Bai is a smart robber so police fails to catch him. Soldiers attack a village, where they believe Seua Bai and his men are hiding during day time. Police and soldiers know the place as two members of Seua Bai's team disclosed the exact location against money. Seua Bai wishes to take revenge but he falls in a trap. During the fightings, Lai is killed. Seua Bai is finally captured while paying respect to Lai's funeral urn. Following the 1932 Thai revolution which transformed the government from an absolute to a constitutional monarchy, some people were unhappy to lose power. Some people wished to kill Bai as he was an Oxford erudite but they killed his wife instead. Bai had to become a thief to protect citizen against people abusing power. Seua Bai's teammates succeed to release him from prison following a daring escape. Seua Bai flees with Phi Bun to the South in Betong area. He tries to have a normal life but the family, who shelters him, faces issues with a local kingpin. Boolong, Phi Bun's girlfriend, is killed. Revenge is needed. Police ask Seu Bai to surrender but he doesn't want to give up as all his friends are dead...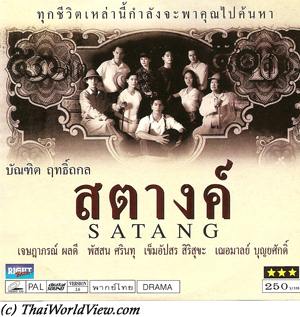 Year

: 2000



Thai title

:

สตางค์




English title

: Satang



Rating

: 3/5


Director

: Bandit Ritthakol



Main actor

: Jesdaporn Pholdee,Sahat Piempongsan,Chatchai Plengpanich,Santisuk Promsiri,Sorapong Chatree,Manop Aussawathep


Main actress

: Jintara Sookkapat



Buy now

:

During World War II, some bad Thai soldiers stole cash money but they have to hide it. After the war, some Thai people, living in a slum but coming from different social backgrounds, learn about this and decide to take their chance and look for the money. During their quest, some people become jealous and greedy. Bad Thai soldiers are also still seeking for the money...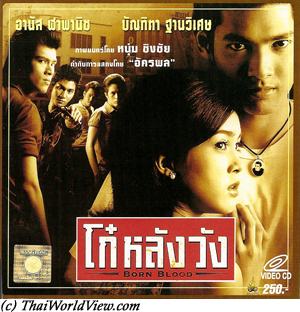 Year

: 2002



Thai title

:

โก๋หลังวัง




English title

: New Born Blood



Rating

: 2/5


Director

:



Main actor

:


Main actress

:
This movie takes place in the 1960s featuring nice rock songs and costumes. It features a love story through the confrontation between two gangs.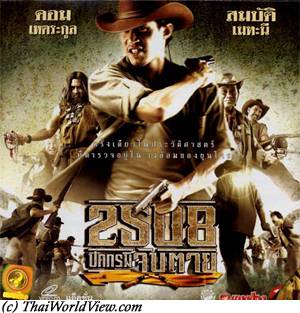 Year

: 2004



Thai title

:

2508 ปิดกรมจับตาย




English title

: Siamese Outlaws



Rating

: 3/5


Director

:



Main actor

: Sombat Methanee,Krung Srivilai,Ekapan Banleurit


Main actress

:



Buy now

:

This movie is taken from real events of 1965, when a big market robbery occurred in Ayutthaya province. White Tiger, a notorious robber, teamed up with two gangs to carry out his plan. But teams betrayed each other before money sharing. A police inspector is then chasing them.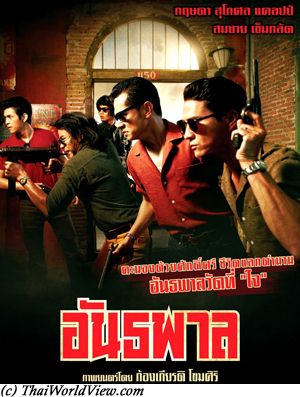 Year

: 2012



Thai title

:

อันธพาล




English title

: Gangster - Antapal



Rating

: 5/5


Director

: Kongkiat Khomsiri



Main actor

: Krissada Sukosol,Phongphat Wachirabanjong


Main actress

:



Buy now

:

Chot (Krissada Sukosol) defeats Saeng (Phongphat Wachirabanjong) in a one to one knife fighting. Dang and Chot take over Saeng's illegal business (นักเลง) such as drug, gambling, gold shop and prostitution. This movie offers a great 1950s atmosphere representation including old standalone theater (โรงหนังเก่า) with live dubbing. A few historical mistakes are present as posters of Sirikwan Nanthasiri (ภาพโฆษณาสุราไก่แดง)(1972) and movie poster of คนกินเมีย (1974) are used. Piak and Tong are working in the cinema and wish to become ruffians also. Four kings are holding the business. Poo (ดังใหญ่) wishes to extend his territory. Dang wishes to ordain for his mother (บวชให้แม่) but Poo is bringing trouble as he wants his own territory (ที่). Chot is the first to use a gun so the gangster period evolves from knife to gun (ยุคมีด / ยุคปืน). Chot tries to shot Poo but fails to reach his target as the gun is defective. Police arrests ruffians and jails them. Dang dies in a car accident while going to south of Thailand. Four years have passed. The movie highlights the booming industry of Thai cinema in 1950s / 1960s by showing big billboards advertising latest film releases. Police has taken over the mafia and being the one receiving protection fee. Chot is released from prison. Piak and Tong are waiting for him. Police is also waiting to put him back to jail. Chot keeps seeing the ghost of the woman he unfortunately killed while trying to shot Poo as his gun was built with poor quality. Chot has changed and is more receptive to small shop owners' problems. Some scenes are shot in a cinema showing "Hao Dong" (เห่าดง - 1958) famous movie. Chot is not as inflexible as before. Despite kidnapping a ruffian leader for execution, Chot gives him a last chance to fight back. Oti is a new strong ruffian. Piak defects from Chot's group to join Oti. Oti is a bloody fighter. He even shots with rifle the police leader. Through final shootings, Chot and his team attack Oti and his boss. Nobody survives. The movie Gangster - Antapal (อันธพาล) was released in 2012. The movie Gangster – Antapal (อันธพาล) is based on similar characters previously used in 1997's Dang Bireley's and Young Gangsters (2499 อันธพาล ครองเมือง) but it is not a remake. The movie goes beyond Dang character and shows the real gangster era through Chot's character. The movie includes past stories or souvenirs from elderly people.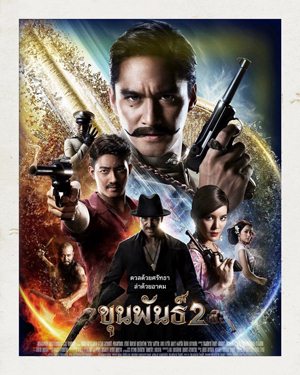 Year

: 2018



Thai title

:

ขุนพันธ์ 2




English title

:



Rating

: 4/5


Director

: Kongkiat Khomsiri



Main actor

: Ananda Everingham,Suchao Pongwilai,Pao Porapak


Main actress

:



Buy now

:

Thai movie ขุนพันธ์ 2 was released in year 2018 and lasts 2h05mn. Movie director is Kongkiat Khomsiri. The movie takes place during World War 2. Taking profit of ongoing confusion due to war, bandits (เสือ) are committing robberies all over Thailand. Police officer Khunphan (Ananda Everingham) and his men are on the way to neutralise a gang. They fall into an ambush and all of his men are shot. Local sub-district headman doesn't help Khunphan and his men. Khunphan cannot be killed by bullets as a monk made special tattoos for him. Through correct behaviour and prayers to Buddha, tattoos are effective. Seeing the sub-district headman's men keeping the money stolen by the bandits, a conflict happens and Khunphan has to shoot him. Following the death of all his men and the sub-district headman's death, Khunphan has to stop being a policeman for a while (พักราชการ). Suchao Pongwilai is head of police. Some ruffians perform a rampage in a village killing many targeted policemen. They belong to Seua Fai's group. Khunphan is checking why as the killed policemen are only small grade policemen. As Khunphan cannot help officially as he is no longer a policeman, he decides to infiltrate Seua Fai's group. Khunphan has to cut his moustache. Seua Fai is a famous ruffians' leader and his right hand is Seua Bai. Villagers protect them as they always redistribute money to them (นับถือโจร). A new police inspector (สารวัตร) Uui is nominated in Suphanburi. Phi Bai (อารักษ์ อมรศุภศิริ) steals money from Japanese train. They are captured by Japanese soldiers. Khunphan, by making himself invisible through incantations, helps Seua Bai and his men. Multiple bandits leaders (เสือ) are fighting each other as some enter politics. Khunphan follows Seua Bai and his men but they are not aware. Khunphan goes to Suphanburi and finally meets Seua Bai in a cafe owned by lady รัชวิน วงศ์วิริยะ. New police inspector Uui threatens them. Khunphan joins Seua Fai and robberies are performed. Through a special ceremony, they promise to support each other with Bai and Fai (พันเอกวันชนะ สวัสดี). Khunpan (ไอ้เสือบุตร) is part of the gang now (สายเลือดเดี่ยวกัน). Fai is shot in an ambush set up by Pao Porapak and survives. During a retaliation, a test for Khunphan is to kill policeman. He shoots him in the jaw. During an unfortunate accident, Uui gets seriously burnt and his body is disfigured. He is now wearing a mask and promises himself to get revenge towards Seua Fai and his men. Money redistribution is done towards poorer villagers. Khunphan gives the location of the camp to police head and asks him not to use strong force to catch them. Bai's girlfriend (อาภา ภาวิไล) is captured and used as bait to bring Bai and Khunphan. Khunphan has to disclose he is a policeman. Behind it is the disfigured policeman looking for revenge. Head of police is friends with Seua Fai. Seua Fai betrays Bai as he has no choice. He shoots both Bai and Khunphan. Through a Buddhist ceremony, bullets exit Bai's body. Bai accepts to help Khunphan. Policemen were killed as they discovered a business to transform land titles. Seua Fai is killed by disfigured policeman. He uses his skin tattooed as additional protection. Bai and Khunphan now need to neutralize the disfigured policeman. It is not over as Khunphan still needs to find proofs against the corrupted head of police...
---
Some action Thai movies (หนังบู๊) are war movies. In Thai langague, such movies are called หนังสงคราม.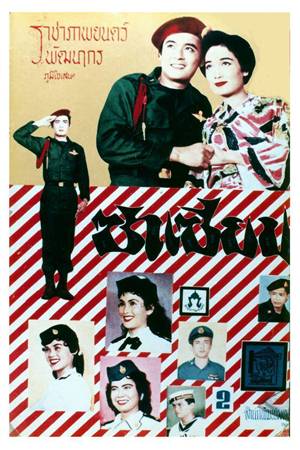 Year

: 1959



Thai title

:

ซาเซียน




English title

: Sasean



Rating

: 3/5


Director

:



Main actor

: Chaiya Suriyun,Sukon Koewliam,Tawan Siriwat


Main actress

: Raodee Sririwilai,Mom Chan Phuangwan,Rewadee Siriwilai
Sasean (ซาเซียน) is a Thai movie released in year 1959 and featuring main actor Chaiya Suriyun and main actress Rewadee Siriwilai. The movie is lost in Thailand but a four minutes sequence as a trailer is still available. The image is still sharp and quite colorful. The short sequence includes war sequences, fist fighting scenes. Other actors include Sukon Koewliam, Tawan Siriwat. A lady is kidnapped but helped by a marine boat soldier. The movie is mute. No summary is available.



Year

: 1966



Thai title

:

สิงห์สันติภาพ




English title

:



Rating

: 3/5


Director

:



Main actor

: Luechai Natnat,Adinan Singhiran,Boo Wibunnan,Tawan Siriwat


Main actress

: Sopha Sataporn,Metta Roongrat
Thai movie สิงห์สันติภาพ was released in year 1966 and lasts 2h12mn. The movie is only available in mute state as the remaining film was in 16mm format only. Red berets soldiers including Adinan Singhiran, Boo Wibunnan and Luechai Natnat fight against each other in a bar due to a girl. Their boss เช้า asks them to stop. They go for a mission in the jungle. The soldiers team includes one lady played by Sopha Sataporn. While crossing a river, Sopha is dragged away due the strong current but Luechai is helping her. Fightings happen in the jungle. Leader เช้า is killed. Sopha becomes the new leader. Some men refuse to get a female leader so a fighting happens between Luechai and one soldier. Luechai wins. At nighttime another soldier tries to abuse Sopha but thanks to Luechai, she pushes back the attacker. Luechai and a soldier help lady Metta Roongrat being aggressed by blue berets soldiers while bathing in a stream. Metta guides them in the forest and helps them to make a piège to blue berets. Metta helps them also to push back a night assault. Romance starts between Metta and Luechai but it is bringing disappointment to Sopha. One soldier is injured and has difficulties to walk. They get attacked again and some soldiers, getting mad, lose their life by taking inconsiderate risks. Metta gets also killed. Lost, Luechai finally wakes up in a camp led by a lady (อัญชนา วงศ์เกษม). She is disappointed when seeing Luechai walking hand in hand with Sopha. Some red beret soldiers steal gems offered to the local deity worshipped in the village. Luechai gets accused but Sopha helps him as one of the leader (ทม วิศวชาติ), also loving the chief lady, despises Luechai. He is in fact a traitor. A final battle happens between soldiers. They finally reach the blue berets camp led by Tawan Siriwat. A few soldiers sacrifice their life in order to release Luechai. Finally the blue berets camp is destroyed.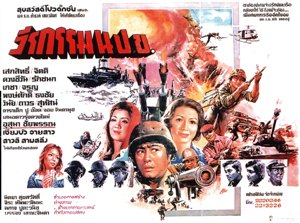 Year

: 1979



Thai title

:

วีรกรรม นปข




English title

:



Rating

: 3/5


Director

:



Main actor

: Kecha Plianvithee


Main actress

: Duangcheewan Komolsen
Thai movie วีรกรรม นปข was released in year 1979. The movie is lost in Thailand but a few minutes trailer remains to be seen. It is a war movie highlighting sacrifice, patriotism (หนังแนวรักชาติ) and duty. Known actors are Kecha Plianvithee, Duangcheewan Komolsen and actor เสกสิทธิ์ สวัสดิ์รักษ์. This movie was not so successful as it lack a famous main actor as selling added value.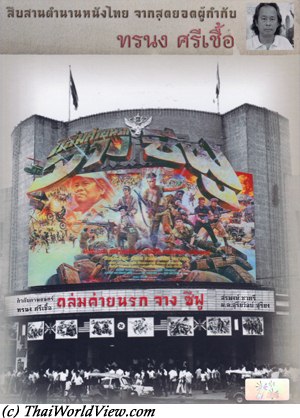 Year

: 1982



Thai title

:

ถล่มค่ายนรกจางซีฟู




English title

: KHUN SA THE OPIUM EMPEROR



Rating

: 3/5


Director

: Toranong Srichua



Main actor

: Sorapong Chatree,Joomjim Khemlek,Tuanton Kammeesri,Manop Aussawathep,Somjin Thammatat,Nirut Sirijanya,Pinyo Parnnui,Somsak Chaisongkram,Pumi Patanayut


Main actress

: Nanthida Kaewbuasai
Thai movie ถล่มค่ายนรกจางซีฟู / 'KHUN SA' THE OPIUM EMPEROR was released in year 1982 and lasts 1h45mn. The DVD soundtrack is quite bad with sound going up and down. The DVD image has also a poor quality. This is a VHS ripped and put on a DVD. Movie director is Toranong Srichua. This movie is about Chang Chi-fu (จางซีฟู) or Khun Sa, famous opium warlord. In January 1982 a Thai Ranger squad, together with units from the Border Patrol Police and the Royal Thai Army, was used to force Khun Sa to move his headquarters from Thailand across the border into Burma. Sorapong Chatree recalls war and is stressed. He is sent to spy Khun Sa. Twenty men, including Tuanton Kammeesri / Pumi Patanayut / พยัคฆ์ รามวาทิน, arrive in the camp led by Khun Sa. Their trainer is Joomjim Khemlek. Khun Sha (Somjin Thammatat), drug warlord, sells drugs to buy weapons. Manop (Manop Aussawathep) has conflicts with Khun Sha. Manop is attacked on his way back by Burmese soldiers but gets help from Nirut (Nirut Sirijanya). Manop is back to his mountain village with Nirut. His younger sister Rungfa (Nanthida Kaewbuasai) welcomes him. A journalist Pinyo Parnnui is arrested by Somsak Chaisongkram. He wishes to interview khun Sa. Sorapong, disguised as a fleeing prisoner, is attacked by a plane and then is arrested by Khun Sa's men. Siriporn (ศิริพร เอี่ยมสุนทร), daughter of Khun Sa, saves his life but he remains tied. Manop learns that the Burmese soldiers who attacked him are in fact soldiers linked to Khun Sa as real Burmese soldiers would not dare entering Thai soil. Upset, Manop and Nirut storm Khun Sa's HQ but get captured. Sorapong wins Siriporn's trust. Khun Sa believes there is a traitor in the camp. Sorapong sympathizes with other men, who are part of the government. Siriporn complains her father produces too much drugs. Drug is given to prisoners to keep them under control. Sorapong succeeds to have his friends escaping but he is then captured. About to be hanged, Sorapong is released by his teammates. Thai forces' attacks against the camp happen. Many people die but Khun Sa succeeds to flee in Burma. This movie is often considered as Thai remake of US movie "Apocalypse Now" by Francis Ford Coppola.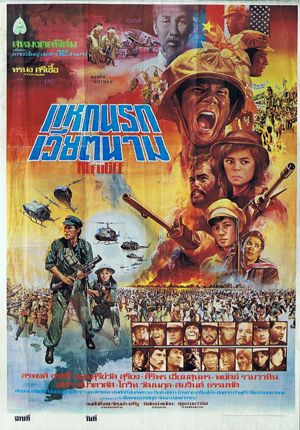 Year

: 1983



Thai title

:

แหกนรกเวียดนาม




English title

: Refugee



Rating

: 3/5


Director

: Toranong Srichua



Main actor

: Sorapong Chatree,Manop Aussawathep,Lak Apichat,Krailat Kriengkrai,Kowit Wattanakul,Somsak Chaisongkram,Chaiyan Sorakrai


Main actress

: Suriwan Suriyong
In South Vietnam, protests happen to ask for US GI departure. The movie takes place in 1975 when America was leaving Vietnam. During Vietnam war, Thailand sent soldiers to South Vietnam to support USA as a partner. Last Thai soldiers (including veteran actor Lak Apichat) are about to leave also but their leader called Cobra (Sorapong Chatree) need them to perform a last task. Cobra and his team get support from Susan, a south Vietnamese soldier. They need to extract Nai Pol from the airport. Nai Pol is an important prisoner (นักโทษสำคัญ). Thanks to Vietnamese uniforms (สหาย), they succeed to infiltrate the base and release the prisoner. Salambo (Suriwan Suriyong), daughter of Nai Pol, joins them. A boat is waiting to evacuate them from Vietnam but Vietnamese soldiers will not let them go so easily. Arrived at the beach, thousands of boat people try also to flee. Susan refuses to leave and dies there. Some boats with Vietnamese soldiers are following them. In the sea, they find 3 stranded people, a banker, a prostitute and a mercenary. To avoid being captured, they have to stop by an island and dynamite their boat to destroy the military boat chasing them. But they have no way to quit the island. Another Vietnamese boat with their tough leader (Manop Aussawathep) arrives on the island to chase the Thai soldiers. Traps are placed in the jungle. Communist soldiers are displayed as heartless, i.e. killing helpless villagers (Krailat Kriengkrai). Dissensions appear as the banker, the mercenary and the prostitute want to go their own way. Tension and stress happen in the humid jungle causing some Thai soldiers to become crazy and less aware of dangers. Vietnamese soldiers defeated America but Thai soldiers are not willing to die one by one. Pol has hidden some microfilms in his leg. It contains the list of Vietnamese sympathizers in Thailand. So it is very important to avoid Bangkok becoming another Saigon. It also contains proofs that USA considered sending a nuclear bomb on Hanoi. The movie ends with various harsh fightings between Thai soldiers and Vietnamese soldiers. Only a limited number of Thai soldiers leave the island alive. Movie แหกนรกเวียดนาม / Refugee is directed by Toranong Srichua, a Thai veteran director well known for his action movies. This movie had a 12M baht budget.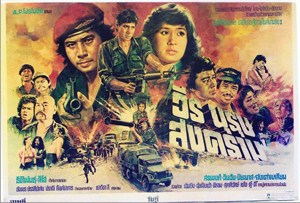 Year

: 1983



Thai title

:

วีรบุรุษสงคราม




English title

: Jungle heat



Rating

: 3/5


Director

:



Main actor

: Sorapong Chatree,Der Doksadao,Doo Dook Kradon,Supakorn Srisawat,Pipop Pupinyo


Main actress

: Piyamas Monayakol,Preeya Roongrueng,Sulaleewan Suwanthat
Thai movie วีรบุรุษสงคราม / Jungle heat was released in year 1983. It is a Thai / Hong Kong / Taiwanese coproduction. Multiple versions were released, i.e. a Thai version never released on any VHS / VCD format and targeting local Thai market, a Hong Kong / Taiwanese version for international market. The Thai version is lost but an incomplete version lasting 1h20mn was shown before in Thai film archives. The overseas version was released under the name of Jungle Heat. An IFD version lasts 1h17mn. It is available through various VHS versions in Japan (lasting 1h30mn), Philippines, Taiwan and China. Some Thai actors are still part of the international version such as Piyamas Monayakol, Pipop Pupinyo, Preeya Roongrueng. Main actors and actresses in Thai version are Sorapong Chatree, ฉิน ฮั่น, Piyamas Monayakol, ถัง เต้า เหลียน เฉิน ซิง, อุ้ย ผิง เอ้า, ฟาง เฟย เซิน, Preeya Roongrueng, Pipop Pupinyo, Sulaleewan Suwanthat, Der Doksadao, Doo Dook Kradon, Supakorn Srisawat. Sorapong Chatree is the main actor of the Thai version. During the Vietnam war, a few men are hired and trained to drive US trucks among Vietcong lines. A US captain hires Tony and his men, but the drivers are not aware of the risks. The drivers get a three weeks training. The drivers are going out to have fun at night time. One of them, Rick, meets bar lady Piyamas Monayakol and romance starts. A new member Chiang Sing joins them. Their trucks have brakes issues, so accident occurs. They are finally captured by the Vietcong (including Pipop Pupinyo) and tortured. The movie features many strong torture sequences such as acid pouring on the head, prisonners burnt with petrol by a rat on fire, scie usage... They succeed to escape. They complain to the lieutenant. As they need money, they finally go again to evacuate weapons as the war is just over but they are attacked by the same Vietcong members. Rick is missing. Piyamas misses him and blames Tony to have abandoned him. US soldiers cannot help as war is over. Tony and his men decide to act first. Following fierce fighting in a cave, Tony and his team release Rick. Being attacked by other Vietcong members, they get support from US lieutenant. War is over and the team has run out of money. Upset as the team spent money to save him, Rick joins a dangerous motorcycle competition. He loses his life while competing and Piyamas gets a lot of money, but she throws it away as money cannot replace the love she lost.



Year

: 1988



Thai title

:

รับจ้างตาย




English title

: Employ For Die



Rating

: 1/5


Director

:



Main actor

: Chatchai Plengpanich


Main actress

:



Buy now

:

A former soldier thinks about his daughter, who is very sick. 100 000 baht are needed to cure her. A mercenary job is offered to him for 500 000 baht. He has 4 days to do the job. On the field in Laos, he is leading a team of 6 soldiers. They save a young lady, whose husband has been killed. She brings trouble inside the team as soldiers are fighting each other to seduce the lady. As she is indeed a spy, the leader killed her. Two soldiers die in traps in the jungle. They rescue a young lady held hostage in a village. They learn that their real mission is to capture a drug lord. But they are overwhelmed by the drug lord's tough men. They get tortured until the lady succeeds to rescue them on time. During the fight the drug lord, the soldiers and the lady are killed. The former soldier survives to see his daughter cured. This movie is surfing on the Rambo II wave that started in 1985. The montage sequence is very bad. Abroad, this movie is also known as "Cannibal Mercenary".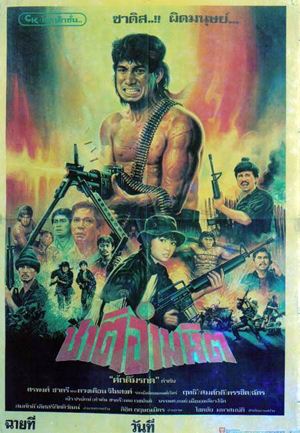 Year

: 1988



Thai title

:

ชาติอำมหิต




English title

:



Rating

: 3/5


Director

:



Main actor

: Sorapong Chatree,Kanchit Kwanpracha,Chat Mongkolchai,Rith Luecha,Somsak Chaisongkram,Pao Porapak


Main actress

: Duangdeuan Jithaisong
Thai movie ชาติอำมหิต was released in year 1988 and lasts 1h33mn. It was released under VHS and VCD formats. Sorapong Chatree plays a role similar to a Thai Rambo. A lot of shooting and bloody fightings occur in this war movie. Trafficker Pao Porapak tries to break a weapon deal with Somchai but it fails and he gets killed. Thai soldier Pleung (Sorapong Chatree) is back to his home but Chat Mongkolchai and his men are waiting for him. They ask for a military code. Young Lady Dawee (Duangdeuan Jithaisong) and her brother Somchai are back to their village and face forest bandits (โจรป่า) attacking the village. Her father is Kanchit Kwanpracha. Dawee wishes that the villagers move to a new place but her father refuses. Chat and his men torture Pleung to get the code as he refuses to disclose it. At nighttime, a villager helps Pleung to flee. Chat's men chase Pleung but it is not easy as he is used to fight in the jungle. He kills many of them one by one. While fleeing, Pleung faces the forest bandits again and they chase him. Dawee is around at that time and a misunderstanding occurs as Pleung believes she is part of the forest bandits. They understand they have a common enemy (ศัตรูเดี๋ยวกัน). Chat and Rith Luecha, Somsak Chaisongkram meet in their main camp. Upset that Pleung succeed to flee thanks to Dawee, the forest bandits storm her village and kidnap her father. Aware, Pleung and Dawee prepare a plan. They put some explosive around the ruffians' camp and succeed to release the father and Somchai. Very heavy fightings and explosions occur. Pleung, as expected, is using a heavy machine gun. Most of protagonists die except Pleung and Davee.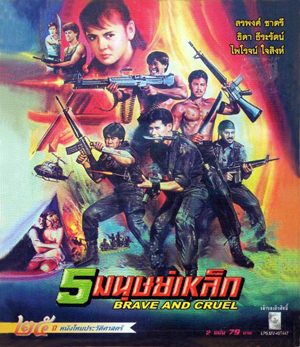 Year

: 1988



Thai title

:

5 มนุษย์เหล็ก




English title

:



Rating

: 3/5


Director

: Payoong Payakul



Main actor

: Sorapong Chatree,Pao Porapak,Phairoj Jaising


Main actress

: Thida Thidarat,Chutima Kawinla
Thai war movie 5 มนุษย์เหล็ก / Brave and cruel was released in year 1988 and lasts 1h21mn. It was released under VHS format and also VCD format by Lepso Studio company. Movie director is Payoong Payakul. This movie was also released internationally under the name "Hell Hunters" by Filmark production. It was then mixing sequences from the Thai movie and original sequences shot in Hong Kong. Hell Hunters VHS lasts 1h18mn. IFD and Filmark used to buy uncut / unrated negatives that included alternate versions / shots, nudity and similar topics because they used those movies for international markets where censorship was different. Hell Hunters include nudity scenes removed from Thai VHS. Captain (ผู้กอง) Leuat (Sorapong Chatree) is leading Thai soldiers including Pao Porapak. They are attacked and have to retreat. Five soldiers are left only and they don't have radio to ask for help. Mapree (Thida Thidarat) brings her mother, who is injured following village attack. She meets doctor Phairoj Jaising and nurse Chutima Kawinla. They plan to go back to the village to take care of other injured villagers. On the way to the village, the five soldiers stop the van and share it to reach village Nong Prai. All villagers are dead. The five soldiers accept to chase the attackers guided by Mapree and to release the missing villagers. Three foreigners, met on the way, join them, i.e Kellyann Kelly, David Klaper, Bernard Hindenberg. These three foreigners are not famous actors. It reminds "Gold" / "ทอง" movies by movie director Chalong Pukdeewichit. They also always included foreign actors but they were famous actors and the movies budget was much higher than "5 มนุษย์เหล็ก". The attackers storm another village. The foreigners' Thai families have been killed. Leuat needs to go with his men to a ralliement point. Through the small van, they continue their journey towards the attackers. The ralliement point is also attacked by the ruffians. Thanks to Mapree, they find where the attackers are staying. Despite being a small number, they decide to attack the ruffians. Thanks to a radio found at the ralliement point, they ask for renfort. Attackers are aware of this as they spy the radio waves. Heavy fighting occurs. The Thai soldiers win but one of them dies to protect his country (รักษาแผนดิน).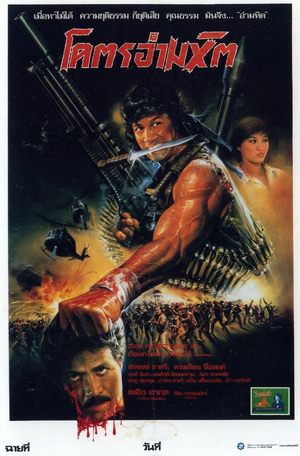 Year

: 1989



Thai title

:

โคตรอำมหิต




English title

:



Rating

: 2/5


Director

:



Main actor

: Sorapong Chatree,Somsak Chaisongkram,Rith Luecha,Chat Mongkolchai


Main actress

: Duangdeuan Jithaisong
Thai movie โคตรอำมหิต was released in year 1989. It lasts 1h30mn. This Thai movie was only released under VHS format many years ago. It reminds of a Thai Rambo version. Phayu (Sorapong Chatree) and his men (ทหารรับจ้าง) are facing Vietnamese soldiers. They defeat them but have only three men left. Vietnamese army is led by Somsak Chaisongkram. Phayu is back to his village and helps a captain aggressed by ruffians. Those ruffians (กลุ่มนักเลง) attack his father's house claiming for a 20 years debt. Phayu is chased, gets injured and falls in the river. He is rescued by a villager and his daughter Surita (Duangdeuan Jithaisong). Villager Praka seems Phaya as a threat towards his love to Surita and is worried about enemy (ศัตรู) looking for Phayu. Somsak asks help from Rith Luecha and Chat Mongkolchai to find Phayu. Meanwhile three men wearing soldier's clothes do a rampage in a village. One has same face as Phayu! Surita is worried if Phayu goes back to his village. Praka doesn't support Surita's interest in Phayu and tries to kill him by jealousy. Phayu's parents and younger sister have all been killed by bandits (โจร). Revenge is mandatory for Phayu. The other man with similar face as Phayu is called Phayak and is in fact his elder brother. Praka brings the bandits to Surita's home. He dies while protecting Surita, who gets shot also. Phayak also dies. Phayu's storms the ruffians' camp. He places some hidden grenades on the way to his village as he knows ruffians will chase him. It ends in a bloody and deadly fighting.



Year

: 1989



Thai title

:

รับจ้างตาย ตอน แลกตาย




English title

: Employ For Die 2



Rating

: 3/5


Director

: เชาว์ มีคุณสุต



Main actor

: Bin Banleurit,Williams Sunner


Main actress

: Audrey Laurie
Thai movie รับจ้างตาย ตอน แลกตาย / Employ For Die 2 was released in year 1989 and lasts 1h19mn. It was released in VCD format 4:3 by Solar company and Lepso company. As the movie length is quite short, it is probably cut or censored. Movie director is เชาว์ มีคุณสุต. เชาว์ มีคุณสุต is a famous director for Thai action movies. Thai actors and actresses featured in this movie are Bin Banleurit, ศราวุฒิ เก่งทุกทาง, เล็ก ทรงพล, ศักดิ์ รอดริน, ซูกุด น้ำจัน. There are a few foreign actors, i.e. Black Direct, Williams Sunner, Audray Laurie (Audrey Laurie). In the past, featuring foreign actors was giving a higher status to a Thai movie and presenting it as an international production, but the foreign actors in "Employ For Die 2" are just unknown actors and actresses having short roles. This movie is the second sequel of Thai movie จ้างตาย / Employ For Die released in year 1988 and featuring Chatchai Plengpanich as main actor. For the second sequel, Bin Banleurit is the main actor. The movie slogan is ตายไม่ว่าแต่อย่าให้เลือดออก (Dying is no matter but bleeding shall be avoided). Overseas, the movie is known as Cannibal Mercenary 2 and seems to be based on the Thai VCD release. This is a typical 1980s Thai war movie. During the anti-communist years, movies with soldiers and mercenaries fighting in the jungle were popular. Most of these movies were low-profile, though some were popular as they played to the national sentiment. At the end of the 1980s, when the communists were defeated, such action films faded. Communist enemies were then often replaced by drug traffickers. The movie opening credits part is using Wagner's Ride of the Valkyries being a reference to the movie "Apocalypse Now". Leu (Bin Banleurit) is ordered by his boss to form a mercenary team to stop drug propagation in Thailand and to get rid of a dangerous drug lord called Bad Dog and being protected by scores of tough men. Despite being reluctant to perform the job as most of his teammates died in the previous mission, Leu has to do it. Bad Dog is having foreigners in his team. Leu has to form a new team to search for Bad Dog. Five former soldiers join him. Every new team member has a reason to join, such as a need of 300,000 THB to cure a sick mother, money for relatives… All of them know they have little chance to survive on such a difficult mission. They enter the jungle to find Bad dog's stronghold. They are on an unofficial mission so even Thai police and army can shoot them. They are mercenaries (คนรับจ้าง), so they are employed for die. During their progression, they meet another group looking to escape from the Thai army. They join but have to split soon as their missions (ภารกิจ) are different. On the next day, they are attacked by strong black men, part of Bad Dog's team. One mercenary is killed through a machete. Aware of mercenaries entering his territory, Bad Dog orders his men to kill them. During the progression in the jungle, they meet a beautiful foreign lady. She joins them, but it is a trick. She pushes one of the mercenaries in an acid bath. Only four mercenaries are left. They are also concerned about dying too. Dissension occurs within the group. On the way to the stronghold, they find lost migrants including one lady with a baby. They have pity on them and give them their food. Same as them, the migrants cannot go back and have to move forward despite the risk. Some migrants walk on mines and die. Only the young lady and her baby are left. The group continues their journey on a raft and survives an attack by strong swimmers. One of the mercenaries eats แมลงสาบผี, being cockroaches in corpses. They are attacked again, but push back their opponents. They finally arrive in Bad Dog's stronghold. Two mercenaries are killed while trying to protect the baby. The last friend sacrifices his life and explodes grenades on him to get rid of Bad Dog. Leu would like to exchange his life (แลกตาย) with them as he promised that no team members should die. He promised to take care of the baby.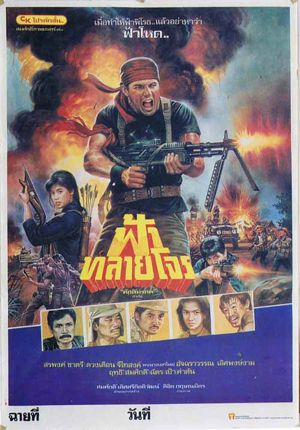 Year

: 1989



Thai title

:

ฟ้าทลายโจร




English title

:



Rating

: 2/5


Director

:



Main actor

: Sorapong Chatree,Chat Mongkolchai,Rith Luecha,Somsak Chaisongkram,Pao Porapak


Main actress

: Duangdeuan Jithaisong
Thai movie ฟ้าทลายโจร was released in year 1989 and lasts 1h32mn. It is available under VCD format released by Lepso company. It was renamed as ถล่มพระกาฬ by Lepso. As often with war movies from 1985 to 1995, it is very violent with a lot of blood to make it more realistic. Hanfan (Sorapong Chatree) and his men ambush a group of soldiers. By capturing a soldier, they can identify where the enemy camp is. Heavy fighting happens and many soldiers are killed on both side. Hanfan is the only survivor but he is also injured. He is rescued by villagers. Meanwhile ruffians led by Chat Mongkolchai storm the village. The men (โจรป้า) rape the girls and kill all inhabitants. Only two young ladies (including Duangdeuan Jithaisong) are left and are hiding in a cave inside the mountain with Hanfan. They help Hanfan but he wishes to go to the ruffians' camp in order to release some of his men (ทหารชุดดำ) held captive there. Somsak Chaisongkram is head of the camp and Pao Porapak is one of his soldiers. The doctor of the camp disagrees with Somsak's harsh methods. Hanfan kidnaps the doctor (ขายชาติ) to know where his men are held captive. Somsak, aware that Hanfan is still alive, sends his men to chase him. The soldiers find where the two young ladies are hiding and capture them. Meanwhile additional soldiers enter in the jungle but they fall in a trap. Only two survive and are captured. Somsak and his men torture the two ladies. Hanfan storms the place, releases them and kills Somsak. Hanfan releases the doctor but she is captured by Chat's team. Other ruffians led by Rith Luecha join them. The doctor is aggressed by two ruffians including Pao Porapak but Hanfan helps again on time. Rith tortures Hanfan's soldiers. Disgusted, the doctor steals some documents for Hanfan. She is followed by Chat and other ruffians as they wish to track Hanfan. Fightings happen between Hanfan and the ruffians. They shot the doctor but Hanfan kills them all including Chat. Hanfan and two ladies storm the ruffians' place to get rid of them. Severe fightings happen and the two ladies are killed. Similar to a a Thai copy of Rambo II, Hanfan succeeds to get a huge machine gun with ammunitions over the shoulder. All ruffians including Rith are killed.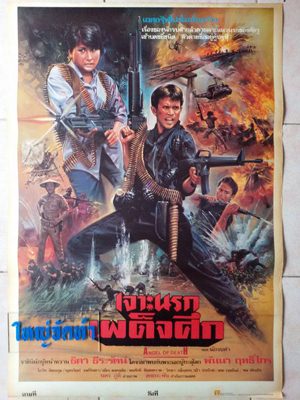 Year

: 1990



Thai title

:

เจาะนรกเผด็จศึก




English title

:



Rating

: 3/5


Director

: คงกะพัน



Main actor

: Panna Rittikrai,Chat Mongkolchai,Kowit Wattanakul,Somsak Chaisongkram,Pao Porapak


Main actress

: Thida Thidarat
Thai movie เจาะนรกเผด็จศึก was released in year 1990 and lasts 1h28mn. It was released under VCD format by Lepso company. Movie director is คงกะพัน. Captain (ผู้กอง) Suripon (Panna Rittikrai) leads some Thai rangers including Kowit Wattanakul to the Thai border. Heavy fightings occur but enemies are defeated. Tired Thai soldiers go home but they face various issues back home. Lom and another teammate face argument while eating in a market. A teacher, named Lin Thong, gets aggressed by three ruffians. Her students help her but it is not enough. Luckily Suripon, นักรบ, helps her. Other ruffians try to buy land title but the mother refuses. They kidnap the daughter. Luckily Kowit is around and helps the young lady. Phi Lom and his wife Naree can enjoy family time. Break is short as a new mission occurs. Vietnamese soldiers led by Chat Mongkolchai and Somsak Chaisongkram attack a village and kill all inhabitants. Vietnamese soldiers attack another village but Mayom (Thida Thidarat) and Pao Porapakfight back. Suripon and his men are sent in the same area. They discover that the village is empty. They face Vietnamese soldiers but push them back. Mayom and Pao follow the Thai rangers and are unsure if they are good or bad guys. For the nation and to protect Thai citizen, Thai soldiers are ready to sacrifice their lives and so their family happiness. Thai soldiers fall in ambush set up by Vietnamese soldiers. Many Thai soldiers die despite additional support of Mayom and Pao. Remaining Thai soldiers are looking for revenge (ล้างแค้น). Multiple grenade explosions occur. Suripon is getting a heavy machine gun to get rid of multiple opponents. Getting seriously injured, he uses a motorbike as a battering ram to defeat Somsak and have the whole camp to be destroyed. Only Mayom survives.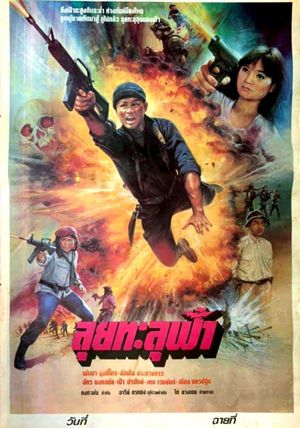 Year

: 1991



Thai title

:

ลุยทะลุฟ้า




English title

: Young Angel



Rating

: 2/5


Director

:



Main actor

: Panna Rittikrai,Chat Mongkolchai,Pao Porapak


Main actress

:



Buy now

:

Thai movie ลุยทะลุฟ้า / Young Angel was released in year 1991 and lasts 1h29mn. It was released under VCD format by Lepso company. This small budget action movie is mixing humor and pure action. Leader Pao Porapak orders his men to get rid of leader Nai Pon. Pao sends a lady to kill him but a mercenary, named Feun Fa (Panna Rittikrai), intervenes first and kills all ruffians. Pao's team does not know who this mercenary is. Feun Fa meets an informer and follows him in the jungle. Feun Fa is attacked but pushes back his opponents. Feun Fa meets a Police captain, but this latter is killed. Feun Fa is an undercover policeman trying to destroy underground mafia organisations (องค์การใต้ดิน). Feun Fa is captured by a lady named Kim An. Chat Mongkolchai, new leader after Nai Pon death, is leading a secret organization conflicting with another organization led by Pao Porapak. Feun Fa succeeds in releasing himself and is now capturing Kim An. He forces her to lead him to their secret place. Feun Fa is attacked again by ruffians but defeats them. As Kim An is injured, Feun Fa finally releases her. She realized that Feun Fa is a good man. The two groups of ruffians attack each other. A final fight occurs between Pao and Chat. Pao is defeated. Feun Fa is back to release Kim An. Despite being severely injured, he helps Kim An. He faces Chat and defeats him.
---
From 1958 to 1968, there were many Thai movies about heroes saving Thai nation against the communist threat. Multiple movies based on this theme were released. Movie "หนึ่งต่อเจ็ด" was one of them. "หนึ่งต่อเจ็ด"(1958) was so successful that it had multiple sequels. Sor Asanajinda is playing จ่าดับ จำเปาะ role, i.e. a mercenary / a gunman wearing คาดเชือกกล้วย and red pants (กางเกงในสีแดง). The names of the protagonists are จ่าดับ จำเปาะ, เหมาะ เชิงมวย, ตังกวย แซ่ลี้, อัคคี เมฆยันต์, ดั่น มหิธา, กล้า ตะลุมพุก, จุก เบี้ยวสกุล being Thai heroes. Following the success of movie "หนึ่งต่อเจ็ด / 1 ต่อ 7", another sequel was released. Some characters were added or disappeared but จ่าดับ จำเปาะ character remains in all sequels. The following sequels are นักเลงเดี่ยว (2501), เจ็ดแหลก (2501), สิบสองนักสู้ (2502), เจ็ดประจัญบาน (2506), ชุมทางหาดใหญ่ (2509), 1 ต่อ 7 ประจัญบาน (2510), หาดใหญ่ใจสู้ (2512).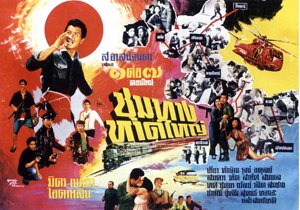 Year

: 1966



Thai title

:

ชุมทางหาดใหญ่




English title

:



Rating

: 4/5


Director

: Sor Asanajinda



Main actor

: Mitr Chaibancha,Sor Asanajinda,Tawan Siriwat,Ruj Ronnapop,Sukon Koewliam,Choomporn Theppitak,Taksin Jampol,Adul Dulyarat,Tat Ekathat,Somkuan Krajangsat,Chanee Yotchai


Main actress

: Petchara Chaowarat,Preeya Roongrueng,Sarinthip Siriwan
Thai movie Chum Hat Jai (ชุมทางหาดใหญ่), directed by Sor Asanajinda in year 1966, is lost in Thailand but luckily a sequence of 1h08mn (three last reels) is still left. It was stored in a museum of a Thai temple in the north of Thailand. Only incomplete summary is available. This movie is a mix of comedy, romance and action. This movie was shot in Songkhla area so showing how this southern city was fifty years ago. As the movie is in 16mm format, it requires live dubbing so the remaining extract is in mute state making it more difficult to understand. Sena Prachan (Mitr Chaibancha) is an army officer. Jing Gang (Petchara Chaowarat) is a fearsome young lady (ไม่กลัวใคร). Sena Prachan is pretending being crazy (อาคารเป็นบ้า) in order to spy Chao Likim's (Tawan Siriwat) activities. Ai Darling (foreign actress) is Chao Likim's daughter. Sena's kisses are able to calm down Ai Darling and also Jing Gang while he is investigating on ruffians. Many other characters are present such as Chanee Yotchai as ruffian, Ruj Ronnapop (Mayong), Sukon Koewliam, Choomporn Theppitak, Taksin Jampol (Bo Bang Rajan), Preeya Roongrueng, Adul Dulyarat (captain). Ai Darling and Jing gang fight over Sena Prachan. Tat (Tat Ekathat) is head of police. Mayong is shot facing seven ruffians. Chao Likim hits his own daughter considered as a traitor (ลูกสาวทรยศ). Sena Prachan helps but is also finally captured. Jing Gang's parents are Somkuan (Somkuan Krajangsat) and Thanyong (Sarinthip Siriwan). Thanyong gets shot while helping Bo Bang Rajan, who is also an undercover military officer. Sor Asanajinda is also playing. A train is chased by a car and an helicopter through Songkhla region landscape. Somkuan, a repent (ผู้ร้ายที่จะกลับใจ), is forced by Chao Likim to be part of a prisoner exchange deal (แลกตัว) but he is carrying a bomb. The movie ends up with multiple shootings between ruffians and the heroes. Somkuan gets shot by Chao Likim but this latter also gets shot by Jing Gang and Sena Prachan.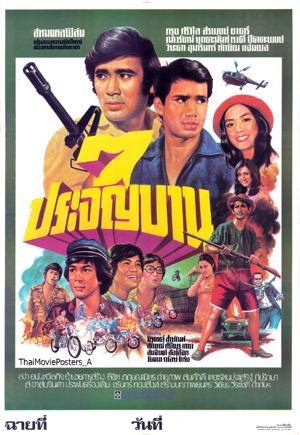 Year

: 1977



Thai title

:

เจ็ดประจัญบาน




English title

:



Rating

: 3/5


Director

: วิเชียร วีระโชติ



Main actor

: Krung Srivilai,Sorapong Chatree,Taksin Jampol,Nirut Sirijanya,Sayan Chantaraviboon,Lak Apichat,Kecha Plianvithee,Somjin Thammatat,Lor Tok,Tawan Siriwat,Pan Borapet,Chanee Yotchai,Krong Kangkengdaeng


Main actress

: Naowarat Yooktanun,Rewadee Pattaphong,Wiyada Umarin
Thai movie เจ็ดประจัญบาน was released in year 1977. Main actors and actresses include Krung Srivilai, Sorapong Chatree, Naowarat Yooktanun, Rewadee Pattaphong, Wiyada Umarin, Taksin Jampol, Nirut Sirijanya, Sayan Chantaraviboon, Lak Apichat, ศรีไพร ใจพระ, Kecha Plianvithee, Somjin Thammatat, Lor Tok, วัฒนา กีชานนท์, Tawan Siriwat, Krong Kangkengdaeng, Pan Borapet, Chanee Yotchai. Movie director is วิเชียร วีระโชติ. The film is lost in Thailand but a sequence in 35mm format can still be seen. The picture is very damaged and reddish. The sound is almost inaudible. It lasts around 50 minutes. During the remaining sequence, the seven mercenaries can be seen. The team includes Krung, Sorapong, Nirut, Lak, Sayan, Taksin and ศรีไพร ใจพระ. They help each other. A mission towards Thai nation is given by their boss. Multiple fighting and shootings against ruffians happen. A romance is happening between Sorapong Chatree and Naowarat Yooktanun. Taksin Jampol is playing famous role of จ่าดับ จำเปาะ role, i.e. a mercenary / a gunman wearing คาดเชือกกล้วย and red pants (กางเกงในสีแดง). The movie "เจ็ดประจัญบาน" was a sequel of movie "หนึ่งต่อเจ็ด" also released in 1977. Movie "หนึ่งต่อเจ็ด" is a lost movie. It featured Krung Srivilai, Sorapong Chatree, Rewadee Pattaphong, Tharika Thidathip, Taksin Jampol, Nirut Sirijanya, Sayan Chantaraviboon, Lak Apichat, ศรีไพร ใจพระ, Aranya Namwong, Kecha Plianvithee, Dam Datsakorn, Adul Dulyarat, อัศวิน รัตนประชา, Pipop Pupinyo, Siripong Isarangkul, Pramin Jarujareet, สมุย. It was a remake of the previous version released in 1958. Thai movie "หนึ่งต่อเจ็ด" (1958 version) featured Surasit Sattayawong, Wilaiwan Watthanaphanit, วิภา วัฒนธำรงค์, Sarinthip Siriwan, Adul Dulyarat, Sor Asanajinda, ทม วิศวชาติ, สมชาย ตันฑกำเนิด. Movie director was Sor Asanajinda. It is a movie mixing action and comedy. The movie made more than one million THB.
---
This Thai Action movie page 3 contains 46 records.
ThaiWorldView movie database contains 1519 records.
---
---