FUNERAL
Increase or decrease font size for easier reading : A+ A-
งานศพ or "GNAN SOP" means ceremony for deceased persons. A feast is organised to honor the deceased person. The ceremony date is scheduled by monks.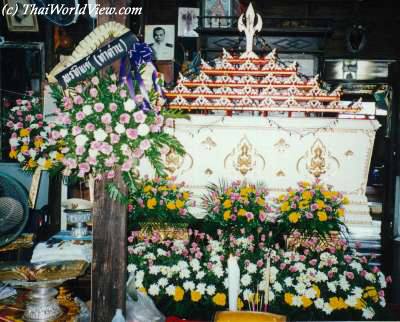 When somebody dies, the corpse is kept 7 days in the house before the cremation. During six evenings, monks come and pray. On the coffin, light garlands and a picture of the deceased person can be found. For poorer people, the dead body can be kept between 3 to 7 days and then cremated. The formalin used to reduce body decomposition is expensive for poor people.
Guests come, often dressed with dark clothes and sometimes a white shirt. Everybody greet each other. Waiters offer water or coke. From the first to the sixth day, monks come every evening around 7PM. On the seventh day, cremation happens during the afternoon. Usually four monks are coming during the evening prayers. But number can vary depending on the status and rank of the deceased person. Then they summon incantations in Pali language during 30 minutes. When prayers are over, a car brings the monks back to their temple.
---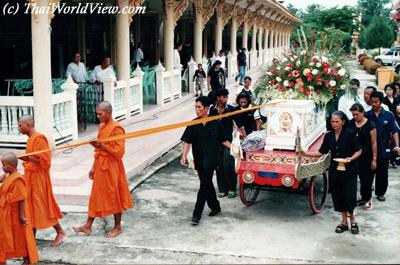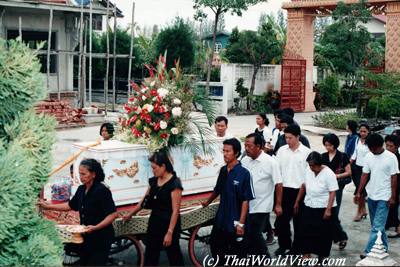 ---
Food is then offered to every guest. Everybody is chatting. Even during the monks prayers, some people are still chatting. Atmosphere is not so sad, there are no loud tears. Family, relations, neighbours and even unknown people to the family can assist to those prayers. Sometimes an old and famous monk is present but doesn't take part in the ceremony. His presence indicates that the deceased person had a high rank.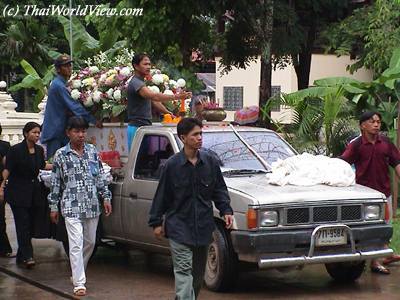 On the seventh day, during traditional ceremonies, a funeral procession is organized. First monks go ahead, then the men and the women. The men carry the coffin. Nowadays the coffin is often directly transported by car to the temple.
Guests are then arriving to the temple. Everybody is giving gifts, money to the family of the deceased person.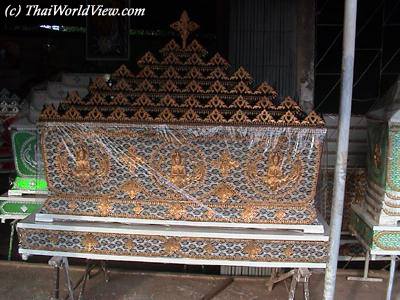 On the opposite of foreign countries, funeral ceremony is not a sad event. Everybody talks. For Buddhist people, death is only a passage to next life. Corpse is burnt to allow the spirit to escape.
In some families, a book is printed and given during the funeral ceremony. This book contains the story of the deceased person, poems, some personal writing. This custom is high valued in Buddhism. The aim is to spread wisdom and knowledge to other persons. In Bangkok, there is even a small museum in "WAT BONIWET", which contains many funeral books. Since a few years, there is a bad business. Some people go to funeral, even if they don't know the deceased person only to get the book and to sell it on specialised market.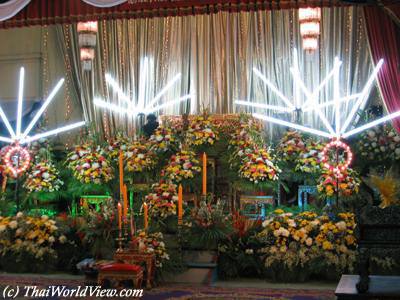 For important funeral, the family might rent a Traditional Thai orchestra. Musicians are playing music using traditional instruments such as gamelan, Thai xylophones...
One problem with dead persons with no relatives in Thailand is what to do with the unclaimed bodies. When bodies are unclaimed, nobody pays to cremate the corpses. Cremation of dead bodies is one of major aspect of Buddhism, it allows the soul to quit the body and to go to hell or heaven in order to wait to next reincarnation. In Thailand there are some charitable organisations that take the unclaimed bodies and bury them in their private cemetery. Each year many corpses are exhumed, monks are invited and a big burning ceremony is organised. In 1998, in one ceremony 40000 corpses were cremated. With economic recession, those foundations didn't have enough money to buy more land in order to expand the location where bodies were buried. Some hospitals were full of unclaimed bodies and didn't know what to do with them, so they warned about using garbage incinerator!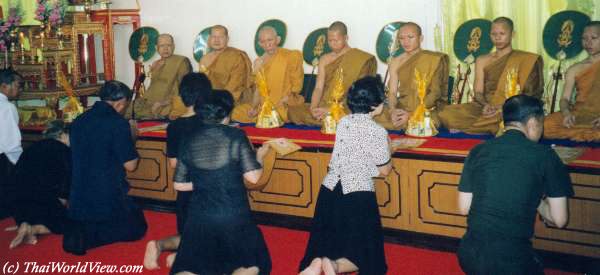 During the ceremony, all guests have hand palms closed doing the Thai greeting ("WAI" - ไหว้) gesture and "WAI" several times during the monks prayers. Monks prayers are about the impermanence of life (พิธีสวดพระอภิธรรม - pray for funeral).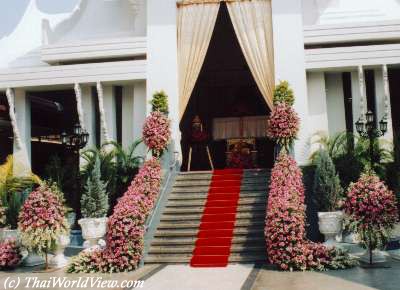 The corpse is burnt inside the Buddhist temple in a big and tall chimney (

พิธีฌาปนกิจ

- cremation). For up-country temples, which do not have a special building with an oven, the corpse is burnt outdoors. That can lead to horrible scenes when the coffin explodes due to the fire and the corpse appears like a living dead. That is why in old days, pregnant women were not allowed to see outdoor cremations. Such a scene could have frightened them and cause problems to the baby.
For big funerals involving influential and powerful families, up to 1000 persons can attend.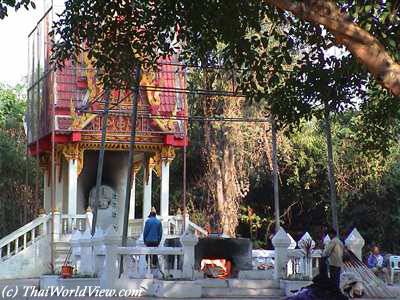 When paying homage to the deceased person, one makes the Thai greeting or "WAI" (

ไหว้

) with one incense stick only. One stick is used for deceased person and three sticks are used for Buddha. The crematorium is also called funeral pyre (

เมรุตั้งศพ

).
One hundred days after the death, a Buddhist ceremony is done in order to perform final prayers. It is called ทำบุญ 100 วัน or "THAM BUN 100 WAN". Monks are invited (ทำบุญเลี้ยงพระ) to perform prayers. สังฆทาน or "SANG KHATHAN" are offered to Buddhist monks. It include miscellaneous items such as washing powder, medicine, monks clothes, fruit juice, candles, matches, soap, umbrella, sandals, lights, milk, tins, tooth paste and brush, water, toilet paper and so on... Envelopes with banknotes are also given. Ceremony สาดน้ำ or "SAT NAM" is also performed. It is the action of pouring holy water on the floor. To give strength and good blessing to spirits, Thai people pour water on the floor to honour the dead. It helps them to shorten the time to wait for next life.
In the past, some rich families may hired an outdoor cinema (หนังกลางแปลง) to play movies every night until the cremation. In exceptional cases, movies projection would happen during 100 days in order to reach this symbolic date (ทำบุญ 100 วัน).
---
---
comments powered by

Disqus
---