FUNERAL
Increase or decrease font size for easier reading : A+ A-
งานศพ or "GNAN SOP" means ceremony for deceased persons. A feast is organised to honor the deceased person. The ceremony date is scheduled by monks.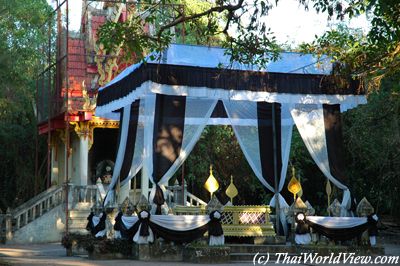 For poor people, the dead body is cremated between 3 to 7 days. For rich people, the dead body is placed in a morgue between 3 to 7 days after the death. The body is left to become dry 100 days. It can be up to 6 months for a Prince and one year for a King.
Before cremating a body, a last rite is performed. The dead body's face is washed with the juice of a green coconut. This water is supposed to purify the deceased.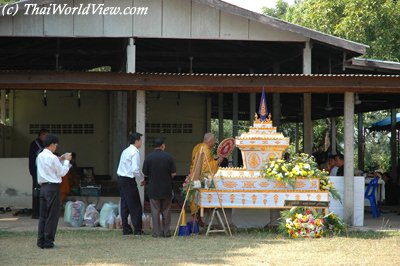 Funeral don't happen on Friday ("Wan Suk" -

วันศุกร์

) as "Suk" means happiness in Thai language.
On the cremation day, the coffin is carried from home to the Buddhist temple. Heading the funeral cortege, there are monks and the deceased's son or grand-son who become a temporary monk for this funest occasion. They hold a sacred thread, which is attached to the coffin.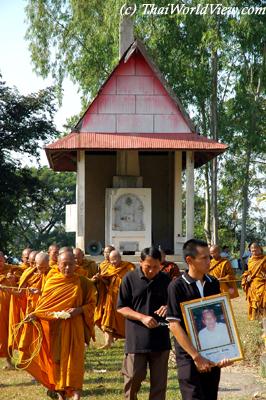 One son is holding his father's portrait. Monks are following him and are holding sacred threads. They walk three times around the funeral pyre.
The undertaker puts a coin inside the mouth of the deceased. This coin is called เงินปากผี. It is used to pay fees during his long journey.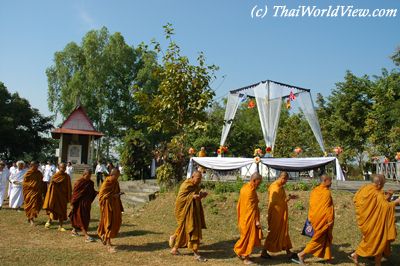 The undertaker binds the deceased neck, wrist and ankles with sacred thread. The neck represents the burden of having children, the wrist represents the link with his wife and the ankles represent the material goods that the deceased has tried to get during his whole life.
Monks walk three times with the coffin around the funeral pyre. These three times walk are linked to Buddhist beliefs, i.e. life impermanence, the life suffering, the life vaccuum.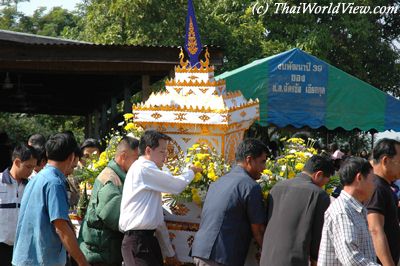 The men shall carry the coffin three times around the funeral pyre.
Before the cremation ceremony, guests lay down flowers, incense sticks and candles in front of the coffin.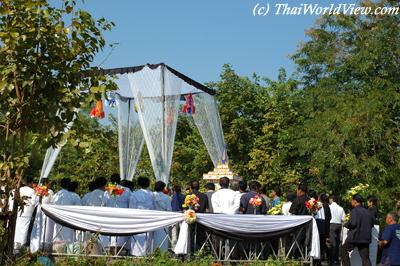 When the body is cremated, the soul (

วิญญาณ

) is released.
After cremation, remaining ashes are buried in the cemetary for poor people. For rich people, ashes are stored in a cinerary urn (โกศ) kept at home or inside small niches in temple walls or under a small pagoda.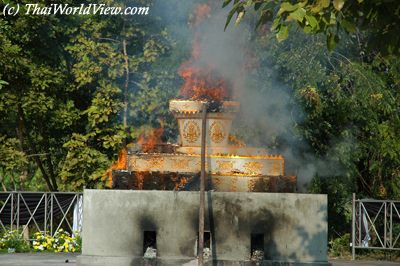 The real cremation is done only with close relatives as it can be a long process. Guests can leave earlier.
People were especially afraid of ghosts during wakes. Nowadays this is less true. Sometimes people want monks to leave as soon as the funeral rites are over so that they can drink and gamble!
---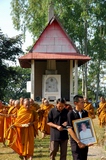 ---
comments powered by

Disqus
---