THAI TEMPLES
Increase or decrease font size for easier reading : A+ A-
A Thai Buddhist temple ("WAT" - วัด) is a complex comprising several distinct religious buildings. Major Buddhist ceremonies happen in temples. Some ceremonies (wedding, death, building consecration) are done by monks outside the temple.
---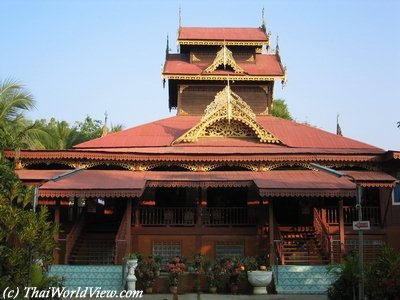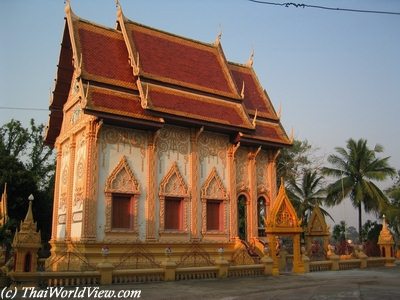 ---
In Thailand, around 30,000 Buddhist temples are consecrated. Thai Temples have architectural differences in all regions. For example, in Thailand northern area, some temples are built with a Burmese influence, i.e. some Buddha statues are painted in white and monasteries are often made of teak (Lampang and Mae Hong Son cities). In Northeastern area, Thai temples are built with a Laotian influence.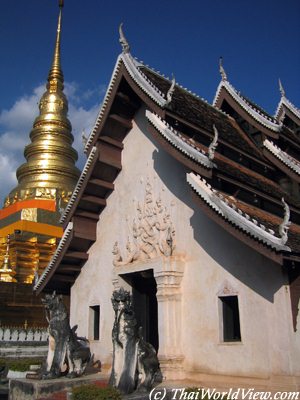 There are many different types of Buddhist temples, i.e. temples in cave, temples in forest, temples on mountains, temples on island, temples on shores of river and so on...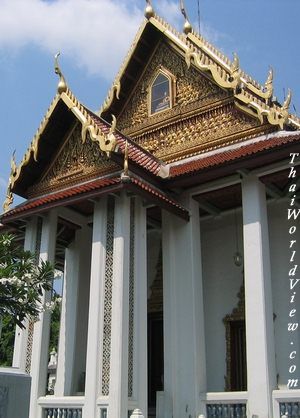 Thai temples are safe places for poor people. Porr people are sure to get a place to sleep and a meal also. Every visitor is welcomed to sleep one night at a temple. But if the stay is longer than three days, visitors are expected to act like monks and to shave their head.
---
A Thai temple is composed of several buildings, which are described in the following pages.
the "WIHARN" (

วิหาร

)
the "BOT" (

โบสถ์

)
the pavilion ("SALA" -

ศาลา

)
the gong tower ("HO RAKANG" -

หอระฆัง

)
the entrance and walls
the pagoda ("CHEDI" -

เจดีย์

)
the temple compound
the banian tree ("BO")
the monks house ("KUTI" -

กุฎิ

)
the crematorium
the library ("HO TRAI" -

หอไตร

)
the Buddhist hell garden ("NAROK" -

นรก

)
---
---
---