THAI SCI-FI MOVIES
Increase or decrease font size for easier reading : A+ A-
Science fiction (วิทยาศาสตร์) movies are not a popular genre in Thailand. The first Thai Science Fiction movie was shot in 1972 only. In Thailand movie about spirits (วิญญาณ) are linked to Buddhist local beliefs. So they are more popular as connected to local culture. Thai people feel less concerned with Science Fiction movies as it is seen as something far away. "Spirit" concept is something more tangible in everyday life.



Year

: 1971



Thai title

:

มันมากับความมืด




English title

: Out of the Darkness



Rating

: 3/5


Director

: ChatriChalerm Yukol



Main actor

: Sorapong Chatree,Kom Akadej,Rujira Isarangkul,Dam Datsakorn,Surasit Sattayawong,Tawan Siriwat


Main actress

: Naiyana Shewanan,Chosri Misommon,Marasri Isarangkul
A mysterious object fall in the sea. Two scientifists from Bangkok come to the South of Thailand looking for the mysterious object. The local villagers worship what they believe to be a god. But a mysterious creature start to kill villagers at night time. The scientifists have to help the villagers to get rid of this mysterious objet. It was the first Thai science-fiction movie but it was not successful at the box office. In his first film, ChatriChalerm Yukol used new actors, whereas other filmmakers used established superstars.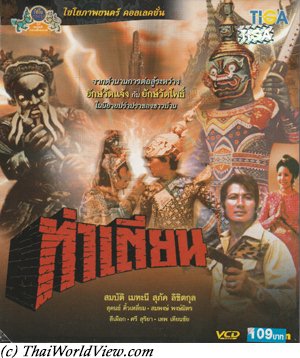 Year

: 1973



Thai title

:

ท่าเตียน




English title

:



Rating

: 4/5


Director

: Sompote Sangduenchai



Main actor

: Sombat Methanee,Sukon Koewliam,Thep Thienchai,Sompong Phonmitr


Main actress

: Prim Praphaporn



Buy now

:

Thai movie ท่าเตียน was released in year 1973 and lasts 1h40mn. It was released under VCD by company Tiga and features a colorful and sharp picture. Movie director is Sompote Sangduenchai. It was his first movie. Producer is Chaiyo Productions. The movie was successful and got 1.4M Baht revenue in Bangkok and 3M Baht in other provinces. Sompote got the movie idea when studying in Japan and seeing movies successes such as Daimajin and Godzilla. This modern movie even features film credit order at the end of the movie. A man is killed by a Yak statue as he was stealing a Buddha statue from a temple. A weird egg falls from space to the earth. The egg is rejected by a snake. It is eaten by a frog, but it causes stomach ache to the frog, so it is also rejected. The egg gets bigger and explodes. Inside the frog, there is a beautiful princess (นางงาม)(สุภัค ลิขิตกุล), named Shaba, wearing Thai traditional dress. The frog takes refuge in an elderly man's (คุณตา) home. Her gods' parents (including Prim Praphaporn) are missing their daughter. The father, Ma Sing, comes to earthen world to find her daughter. Thai comic actor Thep Thienchai appears with a western spaghetti music introduction. Allen (Sombat Methanee) and Sompong Phonmitr are scientists currently staying in a forest camp. The deity Ma Sing helps one worker, called Soda, attacked by a snake. To thank him, Allen promises to help him to find his daughter even if it is hard to believe it is a princess. Funny sequence occurs with Sompong watching two young naked ladies playing with water in a forest pond. A gorilla asks him to borrow his glasses to watch also. On the following morning, they split to look for the princess. Allen and Sompong go together but they are attacked by a rhinoceros and tiger. Ma Sing and Soda go together but they are attacked by small dragons (สัตว์ประหลาด). Soda is killed. The action is probably shot in Nan area as it features weird sand formation. Due to the danger, Ma Sing asks Allen (นาย) to go back. Sudden inondation occurs. Sompong is eaten by a crocodile. The uncle rescues Allen. Allen recovers in uncle's house thanks to the princess Shaba. The uncle tells her to be careful with Bangkokian people (ชาวกรุง, ใจบาป) but she trusts Allen. Allen and Shaba leave for Bangkok and visit Wat Arun. She goes to Wat Po with a Yak. She invites one of the Chinese guardian statues to join them. They arrive in hotel Dusit Thani. The Chinese deity wishes to go to massage (อาบอบนวด)! Misunderstanding occurs between the Yak and Chinese guardian so they start to fight (ยักษ์อาละวาด). The movie ends up by a Karma lesson.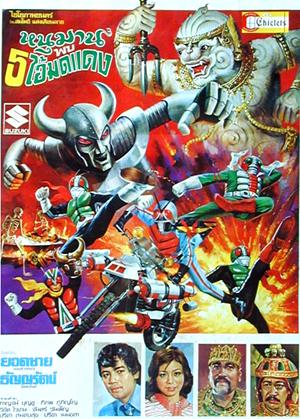 Year

: 1974



Thai title

:

หนุมานพบ 5 ไอ้มดแดง




English title

: Hanuman and the Five Kamen Riders



Rating

: 4/5


Director

: Sompote Sangduenchai



Main actor

: Yodchai Meksuwan,Phirapon Piyawan


Main actress

: Tanyarat Lohanan



Buy now

:

Producer-director Sompote Sangduenchai has made movies covering the "Thai-style kaiju" and costumed Ultraman movies made in years 1970s and 1980s. He has reused footage from other Kamen Rider movies so making this movie montage a little bit strange from time to time with a succession of sequences without link. There are kitsch fx effects from 1970s decade including super computers with many big lights and weird sounds. Those movies are under Chayo productions. All Chayo movies (ไชโยภาพยนตร์) have Sompote's specific touch. King Dark, monsters' leader, needs to drink blood from women or children. Hopefully the Five Kamen Riders (ไอ้มดแดง or red ants) can always stop them. Those Japanese characters are adaptated to Thai customs. The five Kamen riders always succeed to be there when problems with monsters (สัตว์ประหลาด) occur. King Dark refuses to drink blood dog so he needs to find a way to get rid of the Five Kamen Riders. Three men fall in hell (ตกนรก) as they stole Buddha statue heads. A kid tries to stop them but is shot dead. He is reincarnated into Hanuman. Sinners (ทำบาป) are punished and Buddha heads are restored. Yama (พระยม), the hell god, checks his hell book (บัญชี is a map!) and they are condemned to many torments. Sompote Sangduenchai's adaptation is certainly not a film for children as many naked women and men are tortured in the representation of Buddhist hell. The monsters help one of the sinners to escape hell in order to fight the Five Kamen riders. He succeeds to capture famous Doctor Wisut. Doctor Wisut refuses to help but the monsters kidnap his girlfriend Julie to coerce him. He has no choice but to accept doing a Frankenstein creature to fight the Five Kamen riders. The new creature has the same face as Frankenstein in foreign movies. A succession of fights take place and King Dark's aliens are defeated. King Dark needs to move to Ayuthaya (เมืองใหม่). The Doctor is forced again to do a machine to make monsters to catch young ladies for their blood. Their blood is not good as they eat bad food. So they break their promise by taking Julie's blood (กินเลือดสาวบริสุทธิ์จะมีอายุนาน, มีพลัง). The Five Kamen Riders are finally defeated by King Dark but Hanuman helps them (ทำให้ฟื้น). They make an alliance against the monsters. They enter in their headquarters then free doctor and Julie. King Dark flees and starts a rampage in Bangkok same as Godzilla. Nobody can stop him except Hanuman. Hanuman fights in a Thai relax dancing way (สบายสบาย) and defeats King Dark. The traitor is brought back to hell (ตกนรกอีก) and his head is cut (ทำบาปก็ต้องใช้บาป). The movie is worth as it is a Thai adaption of Japanese characters by famous director Sompote adding a lot of Thainess. A 1976 agreement limited Sompote's copyright to only nine movies made by Sompote Sangduenchai in the 1970s.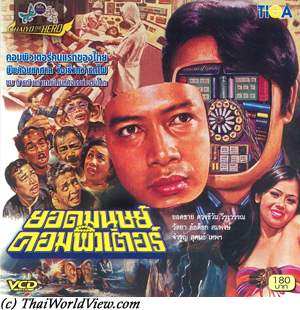 Year

: 1977



Thai title

:

ยอดมนุษย์คอมพิวเตอร์




English title

:



Rating

: 3/5


Director

: Sompote Sangduenchai



Main actor

: Yodchai Meksuwan,Lor Tok,Phirapon Piyawan,Thep Thienchai,Jamroon Nuatjim


Main actress

: Duangcheewan Komolsen



Buy now

:

Four boys are born with strange features, one has very big ears, one has a tail, one has very big hands, one has big nose sinus. Becoming friends, they spend most of their time playing and sleeping. Becoming adults, their fathers banish them from the village as they are doing nothing to help the community. Just as they leave, a local mafia gang threatens the villagers to get help to cultivate opium and to provide food for their members. Meanwhile one lady wants to marry one of the boys but wishes that he can remove his tail. He refuses. At night time, while he is sleeping, she cuts his tail. He flees away but looses a lot of blood. A crazy scientific professor finds and decides to save him by using technology. He becomes the Thai Six Million Dollar Man! He then gathers his three other friends to free the villagers from the mafia gang.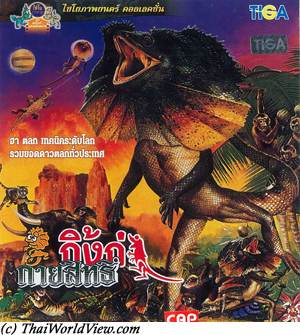 Year

: 1985



Thai title

:

กิ้งก่ากายสิทธิ์




English title

:



Rating

: 3/5


Director

: Sompote Sangduenchai



Main actor

: Lor Tok,Lak Apichat,Sithao Petcharoen,Der Doksadao


Main actress

:
This movie deals about a giant chameleon, which is the gardian of a magical diamond. It is stolen by an alien. The chameleon sent a "Yak" to get it back. Meanwhile the chameleon wanders through the human world and faces many weird aventures. He is facing a deadly crocodile frightening humans living on rivers, facing hunters that want to catch it etc...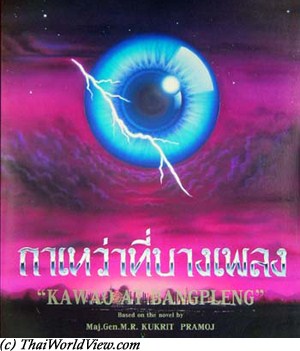 Year

: 1994



Thai title

:

กาเหว่าที่บางเพลง




English title

: Kawao at Bangpleng



Rating

: 5/5


Director

:



Main actor

:


Main actress

:
Loi kratong festival is happening in a village close to Sukothai on a full moon night. Everybody is making wishes (get a baby, get married after two years of work in Bangkok...). Even the Buddhist novices wish to join the festive mood. Suddenly a huge mysterious UFO appears. People are paralyzed. A strong beam hits people. The UFO disappears and nobody can remember anything. On the following day, many women including teen girls, grannies, nuns vomit and are diagnosed as being pregnant! So all the 200 women of the village are pregnant simultaneously. The temple abbot knows that the phenomena is not natural but has no explanations. A doctor and a teacher investigate. One night, a mysterious beam hit the women again. On the following day, they deliver their baby after a few months of pregnancy only. The children grow fast. After one year, they look like four years old children. They are also more intelligent. They then all go to school. After 2 months, the first year program is already finished. Their behavior is different from other Thai children. They don't play childish games and always look in the direction of the moon. The children born from the nuns want to stay in the Buddhist temple and are the leaders of the group. They become teens very fast. One night, one teacher finds the children eating raw chicken. On the following day he is found hanged. On the funeral day, everybody is crying except them. They have no feeling, no consciousness of cold, heat, rain. Their leader challenges the abbot on Buddhist precepts and beliefs. A second man looking for frogs during rain time is found dead. Police inspector authority gets challenged by the children group. Their leader can hypnotize people. The children are responsible of cows and porks disappearance in the village. A dreadful cemetery is found with all skulls. They have a plan to invade the planet Earth. One of the children has more human feelings than his colleagues. He convinced the others to help stop a flooding. Following huge telepathic efforts, some of the children start to be very sick and are sent to hospital. Some of them die. The group leader sees the parents grievance and the efforts done by the villagers to save the children. He also understands that this world of birth, suffering, death is the reality as mentioned by the abbot. The UFO is finally taking them away. It is based on a book written by Kukrit Pramoj. There were a controversy about plagiarism when it was released as a similar movie adapted from the book The Midwich Cuckoos(1957). This movie can be seen as the teenage confrontation with society, as a fight between 2500 years Budding teachings and modern concepts from outside.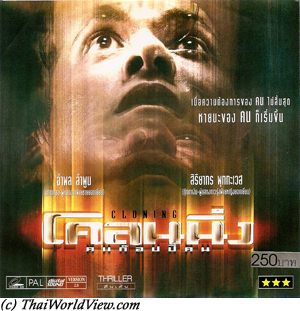 Year

: 1999



Thai title

:

โคลนนิ่ง คนก๊อปปี้คน




English title

: Cloning



Rating

: 3/5


Director

:



Main actor

: Amphol Lumpoon


Main actress

: Siriyakorn Pukkaves



Buy now

:

Niwat is a software engineer. During an exposition, he is hurt and sent to hospital. The doctor keeps a blood sample as he is secretly working on cloning. Thanks to a foreign professor, they succeed to clone humans. The experience goes wrong and Niwat's clone succeeds to escape. A bad businessman is also trying to catch the clone. The clone tries to get rid of Niwat and threatens Niwat's girlfriend. Will Niwat overcome his clone?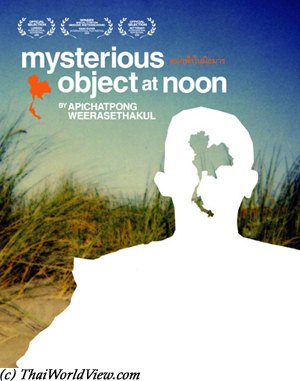 Year

: 2000



Thai title

:

ดอกฟ้าในมือมาร




English title

: Mysterious Object at Noon



Rating

: 2/5


Director

: Apichatpong Weerasethakul



Main actor

:


Main actress

:
It is a Thai independent experimental documentary film directed by Apichatpong Weerasethakul. It is shot in black and white. It narrates the life of an Isan teacher called Dok Fa. Her father has ear problems and is paraplegic. She doesn't have enough money to cure him. A strange scar appears on her neck. While teaching a crippled kid, she faints. A mysterious round object is found close to her. A kid is inside the object. Dok Fa is dead. The mysterious kid transforms himself into the teacher. As Dok Fa is back to life, there are now two teachers. The story is disjointed. There is indirect narration through various people and also Molam (หมอลำ) song. Everybody has their own bits of the story. We never know it is true or not. A Thai boxing event is organized to raise money to cure Dok Fa's neck scar. Then various themes are raised (respect of others difference, politics : a war is ended and advantage to American business is given. There is opposition from Thai people promoting "Thai buy Thai" - reference to slogan ไทยช่วยไทย after 1997 economic crisis). It was shot in 1998 in South and Northeast of Thailand. The Culture Ministry registers 25 Thai classic films each year at the National Film Heritage Registry. This movie is part of the 25 films heritage list announced on 04 October 2014, which is Thai Movies Conservation Day.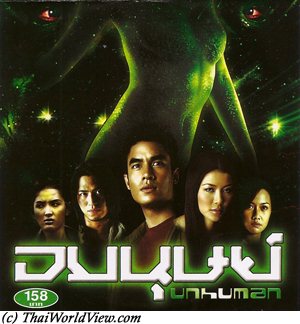 Year

: 2004



Thai title

:

อมนุษย์




English title

: Unhuman



Rating

: 3/5


Director

: Toranong Srichua



Main actor

:


Main actress

:



Buy now

:

When a huge meteor falls to earth in Surin provice, San and his school friends went to the site to take pictures. At the evening that meteor falls, three workmen whom fleed from a mysterious laboratory were killed, and their muscles had been torned out. Police and genetics experts started the investigation to find the truth of the death, and they found out the meteor has nothing to do with their deaths. The investigation leads to a secretive scientist who is conducting experimental work with human organs and working with a Cambodian witch.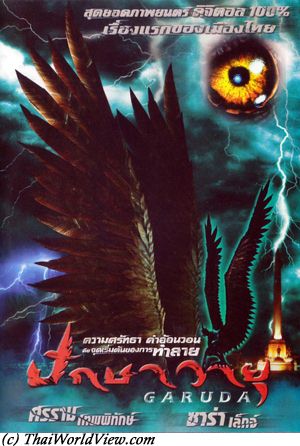 Year

: 2004



Thai title

:

ปักษาวายุ




English title

: Garuda



Rating

: 3/5


Director

:



Main actor

: Phairoj Sangwaribut


Main actress

: Sara Leigh



Buy now

:

Thai movie Garuda (ปักษาวายุ) was released in year 2004. In year 1977 an archaeologist dies after discovering an old teeth in India. The action jumps to year 2004 in Bangkok during MRT construction. A solid rock is found during tunnel excavation. It features a weird head similar to a dinosaur. Veena (Sara Leigh) wishes to study it but businessmen don't trust her as she is only half Thai (ลูกครึ่ง). Veena's father is the one who died in Egypt many years ago. She believes it could be a dinosaur linked to the mythical garuda. She goes back to Kalasin. One day her university lecturer calls her to come urgently to Bangkok. A secret entrance has been found behind the rock. Heavily armed (มีดหมอ) soldiers seem to be hiding a secret. Veena flees and through a diversion, her farang friend Hoi Tim cuts the electric generator but is awakening the beast (สัตรโบราณ) staying in a tree. The garuda beast does a rampage on soldiers. Veena is spared due to the teeth talisman of her father. Thai people believe it is a mystical animal (เป็นเทพ). Saen, leader of the soldiers, just wishes to avoid any more killings. The Garuda succeeds to escape from the cave and causes a rampage in Bangkok. Attracted by Veena's talisman, Saen succeeds to injure severely the garuda and kills it.
---
This Thai SciFi movie page 1 contains 10 records.
ThaiWorldView movie database contains 1519 records.
---
---