THAI MOVIE
Increase or decrease font size for easier reading : A+ A-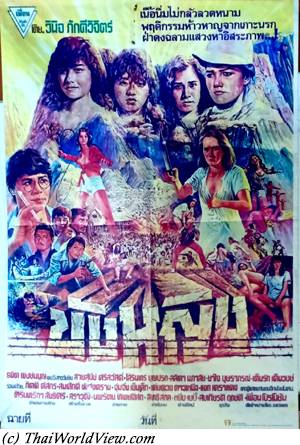 Year

: 1985



Thai title

:

ขังหญิง




English title

:



Rating

: 3/5


Director

: วินิจ ภักดีวิจิตร



Main actor

: Tanit Pongmanoon,Somsak Chaisongkram,Joomjim Khemlek


Main actress

:
Thai movie ขังหญิง was released in year 1985 and last 1h30mn. It was released under VCD format by Lepso company. Thai actors and actresses include Tanit Pongmanoon, สายสุนีย์ ศรีสวัสดิ์, โสรินทร์ บุญปรก, พาต้า ศรีดาวทอง, กิตติ ดัสกร, Somsak Chaisongkram, Joomjim Khemlek. Movie director is วินิจ ภักดีวิจิตร. Thai movie ขังหญิง recalls Thai movie แหกค่ายโลกีย์ released in year 1984. Wut delays his wedding with teacher Anita as he claims his parents do not agree. But he is having an affair with another woman, so Anita shoots him. She ends up in jail and is sent on a remote island. Many women are held prisoners (นักโทษ) on this remote island. Men are the keepers including Joomjim Khemlek and Thong Kam (กิตติ ดัสกร). Dasapranee (Somsak Chaisongkram) is the head of the keepers. Some keepers are women such as Suda and Jenny. Jenny is also an inmate, but she gets special treatment. Inmate Taiwan shot her husband and her best friend as they were having an affair together. All women in this prison have killed their boyfriend or husband. Woman keeper Jenny likes Anita, but her friends protect her. Rules (กฎ) are very strict and punishment is hard. Doctor Prasadee (Tanit Pongmanoon) tries to help. Some men abuse the women. Jenny tries to abuse Anita, but Taiwan helps again. Taiwan gets whipped by Suda. Doctor Prasadee brings her to hospital as she is seriously injured. Anita convinces Somsak that Taiwan is innocent. Another inmate, Oradee, is found to be pregnant. Other women suspect doctor Prasadee but he claims he is not the father. Dasapranee also claims he is not responsible. There is also an ongoing traffic of drugs on the island. Thong Kam gives drugs to women to make them addicted and docile. Some women try to flee. The traffic is done by a few men including Thong Kam. Taiwan is aware that Thong Kam is responsible for Oradee's pregnancy, so he tries to kill her but fails. A stranded man arrives on the island. He is friends with Thong Kam and has come to prepare an insurrection. Taiwan has arguments with Suda and ends up in a security jail. Taiwan's friend, Varadee, sleeps with Somsak to have her released. Ruffians take over the island and force the inmates to dig for gold. Dasapranee is injured and the doctor succeeds to flee. Varadee is rejected by Thong Kam as she is just an addict. The doctor releases Dasapranee and a few inmates. Shootings happen between Prasadee, Dasapranee and the ruffians led by Thong Kam. Inmates do rebel against their keepers. Many of them die including Taiwan and Varadee. Finally, Thong Kam is also shot. Prasadee and Anita leave the island while Dasapranee has to continue running the prison.
ThaiWorldView film database contains 1519 movies.
---