THAI MOVIE
Increase or decrease font size for easier reading : A+ A-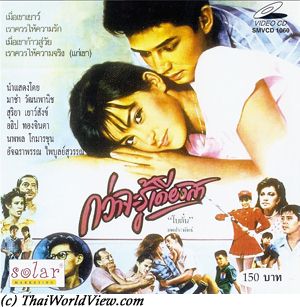 Year

: 1987



Thai title

:

กว่าจะรู้เดียงสา




English title

:



Rating

: 4/5


Director

:



Main actor

: Suchao Pongwilai


Main actress

: Pissamai Wilaisak,Marsha



Buy now

:

Thip (ทิพย์), a 16 years old teen, is part of a family of well off people (เป็นลูกผู้ดี). She is not a villager kid (ลูกชาวบ้าน) so her mother doesn't want her to mingle with people of lower status. Her mother (Pissamai Wilaisak) plans to find a good husband for Thip. The mother is very strict and Thip is not allowed to go out without her mother's authorization. She forbids almost everything (อะไรๆก็ห้าม) despite her husband's advice (รู้จักโลก). Thanks to her friend, Thip meets Chaya (ไชยา), a young teen boy, working in a bicycle repair shop. He is very strong at football. Everybody is fed up with the mother's behavior as she is too excessive (ไม่สบายใจทุกคน, ไม่สนุกสนานหมือนเด็กอื่น, จะไม่ใครเหลือ). The husband spends long hours and nights working at the family factory. Believing that her husband is having an affair at the factory, the mother decides to work late also so Thip has more time to meet Chaya. Love emerges between Thip and Chaya. The mother wishes to put her in a boarding school (โรงเรียนประจำ) as she has no time for her (ไม่มีเวลาดูแล). Thip learns to drive and often spent time with Chaya at the Rose inn... Thip becomes pregnant. As the mother discovers that Thip has a boyfriend, she becomes so upset. Afraid to announce her pregnacy, Thip finally flees with Chaya. They go to Bangkok. Afraid to tarnish her family name, the mother forbids anybody to announce the news. The mother uses a hit man (มือปืน) to take revenge over Chaya's father, who has claimed the blame was on Thip (แม่มีเงินและอิทธิพล). Bangkok people are not honest (ระวังตัว) with provincial people. Thip and Chaya have a hard life in Bangkok. They meet a lady called Chalem, who is in fact interested to use Thip in a call girl ring. Thip is not used to do chore house or cook food so she experiments a harsh life. Their couple is under hard pressure. Chaya finds a small job (30 baht ซ่อมจักรยาน). Thip needs to become a domestic helper (คนใช้) as they don't have enough money. She is hired by a teacher despite she has a husband already. Thip and Chaya live in separated place (ดีอย่างหนึ่งเสียอย่างหนึ่ง). Chaya smokes now and meets ruffians. Meanwhile the teacher's husband tries to rape Thip. She has to flee but she cannot find Chaya as he moved out. He is now addicted to drugs. Thip's parents are now separated so she has no choice but to ask Chalem to find an escort job for her. She doesn't want to go with guests. Chalem wants her to abort but finally keeps the baby, who is a girl. Chaya is smashed by a car while fleeing following a robbery. Thip is sold to a prostitution ring in North of Thailand. During a bordel inspection, a relative of Thip recognizes her. Thip gives him the baby and then finally suicides herself. This movie highlights Thai society modern issues (lack of care and time for children, teens pregnancy, abortion, prostitution...).
ThaiWorldView film database contains 1519 movies.
---