THAI MOVIE
Increase or decrease font size for easier reading : A+ A-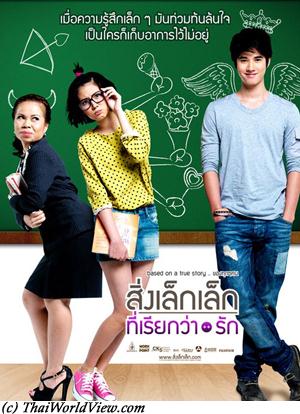 Year

: 2010



Thai title

:

สิ่งเล็กๆที่เรียกว่ารัก




English title

: First love



Rating

: 4/5


Director

:



Main actor

: Mario Maurer


Main actress

: Tukkie,Pimchanok Leuwisetpaiboon



Buy now

:

Mother Pim stays with her two teen daughters Nam and Paeng. The father is in USA and is taking care of a restaurant business. They didn't see their father for five years. The one that will get first grade in her classroom will get a ticket to New York. Nam often discusses about puppy love with her friends. Nam particularly likes Chon, a student from grade Matthayom 4 (มัธยมศึกษาปีที่ 4), who is a good photographer. Nam needs inspiration through love and uses a book to find hints to get a boyfriend. She even thinks about having a colored brace as it is a teen fashion in Thailand. Nam and her best friends try to find romantic ways in order than Chon gets interest in her but Nam has to face other secondary girl students, such as sweet girl called Mamuang (มะมว่ง) that looks more mature. A funny teacher character, Inn, is played by Tukkie as a small size teacher getting interest into another male teacher but having to face other beautiful female teachers (ไม่เคยแพ้ใคร). There is similitude between Nam and her teacher, who have difficulties to find true love. Her friends decide to relook her but she looks now yellowish (ลอเล่น). Nam has to play Snow White character (เวทีละคร). She is shocked as she had a dark complexion but the make-up lady really transforms her into a really cute young lady. The show is not a success as most pupils prefer to watch the Thai traditional dance performance done by Mamuang. Anyway the teacher keeps high spirit in the performing team. Nam is nominated as major cheerleader to handle and throw the walking stick. She needs to be beautiful and agile. As first she fails but as she is challenged by other girls she fights back and succeeds. Despite her achievement, Chon still has no interest in her. Worst than that, Chon's best friend, Top, tries to seduce her. Nam has to accept him in order to be close to Chon. Finally she alienates her old friends. She finally tells Top that she doesn't love him. Nam finishes her exams at the first rank. During the last day of the school year, students sign each other shirts. Finally Nam tells Chon how much she loves him but it is too late as Chon has already a new girlfriend. Chon is selected to play football in a Thai club. Nam goes to USA to stay with her father. It is discovered that Chon loved Nam but never dares to tell her. Nine years have passed. Nam has become a successful designer. They finally become reunited on a TV show. The movie end is quite basic and without surprise as they finally get reunited. It is anyway a sweet and enjoyable movie in the range of Thai popular teen romantic movies in recent years. This movie won the award in the audience-chosen Laugh category at the Okinawa International Movie Festival. "First Love" (สิ่งเล็กๆที่เรียกว่ารัก) movie also reaps 80M Baht in 2010 in second position behind another romantic comedy "Hello Stranger" (กวน มึน โฮ).
ThaiWorldView film database contains 1519 movies.
---