THAI MOVIE
Increase or decrease font size for easier reading : A+ A-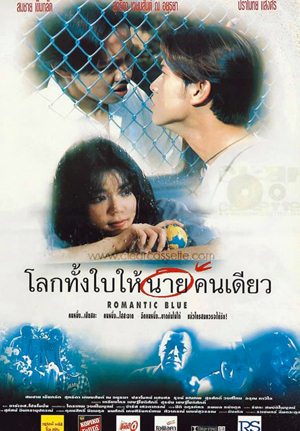 Year

: 1995



Thai title

:

โลกทั้งใบให้นายคนเดียว




English title

: Romantic Blue



Rating

: 4/5


Director

: Prachya Pinkaew



Main actor

: Ruj Ronnapop


Main actress

: Suthida Kasemsan



Buy now

:

Thai movie โลกทั้งใบให้นายคนเดียว / Romantic Blue was released in year 1995 and lasts 1h49mn. It was released under VCD and DVD format by RS Public Company Limited. Movie director is Prachya Pinkaew. This movie has won 4 Thai academy awards. It won the award for Best Movie of 1995 as well as being that year's highest grossing movie. The Romantic Blue movie used singer superstars to play the hero and the heroine. Romantic Blue movie was extremely well-received and set a new record for Thai films. Generating 60 millions THB at the box office, its revenue was at least double of the industry average at that time. Romantic Blue movie went on to represent Thailand and Thai films at several international film contests. Song โลกทั้งใบให้นายคนเดียว by สมชาย เข็มกลัด was also a superhit in 1995. Two brothers love the same girl Pon (Nook - Suthida Kasemsan). One brother is a hard worker, Mai (สมชาย เข็มกลัด), but has stopped his studies in order to work as a mechanic and to support his family. The other brother, Maen (ปราโมทย์ แสงศร), continues to study but is lazy and more interested in courting girls. Mai is working with Uncle Bo and repairs cars. Mai meets Pon as her father's car has troubles. The brothers' father (Ruj Ronnapop) is sick and is sent to hospital. Mai decides to participate with uncle Bo in a car robbery in order to pay the expensive hospital bills. The first robbery is successful but one of the ruffians is unhappy with Mai as he only succeeded to shift the parking guardian focus at the last minute. Mai is very stressed and is busy earning money to pay his father's bills. He has no time to meet Pon and tries to push her towards his brother Maen as he knows Maen loves her. Pon is upset and sad of this situation as she does not love Maen. Her mother announces to Pon that she found a school overseas for her so she will have to leave Thailand soon. Uncle Bo is aware that Mai forces himself to neglect Pon for the sake of his father and younger brother. Maen is aware of the illegal activities of his brother. Things get worse between the two brothers when the father dies. Moreover the ruffians' leader wants to get rid of potential witnesses. Uncle Bo is shot by the leader and Mai just succeeds to escape. The leader kidnaps Maen in order to force Mai to come out. The leader forces Maen to slap and insult Mai. Taking profit of the leader's inattention, Mai rushes into him and gets shot in the shoulder. They both fall from an unfinished building. Maen grabs his brother's hand before he falls to his death. Then Maen rushes his brother Mai to the airport so that he can wish Pon a safe trip.
ThaiWorldView film database contains 1493 movies.
---