THAI MOVIE
Increase or decrease font size for easier reading : A+ A-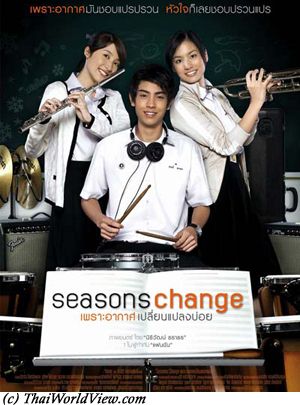 Year

: 2006



Thai title

:

เพราะอากาศเปลี่ยนแปลงบ่อย




English title

: Seasons change



Rating

: 4/5


Director

:



Main actor

:


Main actress

:



Buy now

:

Young man Chatree enters music university (โรงเรียนดนตรี) for three years studies. He is playing drums. He follows a young girl, Dao, expert in violin. He loves her secretly for three years. The movie is divided in three parts same as Thailand three seasons. Hot season. Chatree finds two other students to make a music group. Dao is from high society family so she never notices Chatree before. Chatree meets Aom, another young lady, whose parents know Chatree's parents. She promises not to disclose to his parents that he is studying music. Chatree's parents are just worried that being a musician is not enough to earn a living. Chatree meets a weird Japanese teacher at the school but he is very helpful in order to have Chatree to play in same orchestra as Dao. Chatree discovers classical music as he needs to do the drums for the end of year concert featuring the four seasons of Vivaldi. Rainy season. His father still believes he is studying maths. Chatree considers Aom as a friend and younger sister but Aom starts to have feelings for Chatree. Chatree finally talks to Dao and realizes she will leave to Budapest if she succeeds her exams. Chatree wishes now to succeed his exams in order to be accepted to go to Budapest also. Aom now realizes Chatree's love for Dao. Winter season. Chatree's parents are finally aware as the Japanese teacher tells them the truth. Chatree believes Aom is the one who disclosed the truth so is very upset with her. Finally Chatree learns that Japanese teacher told his parents but cannot find Aom to excuse himself. The Japanese teacher talk to Chatree's parents and they finally understand that they cannot force their son to study something he doesn't like. Son and father reconcile. End of year concert happens. All proud parents watch their children. Chatree is accepted for Budapest studies. It is a difficult choice for Chatree between Dao and Aom. Chatree finally decides to stay in Thailand. It is a nice romantic teen movie mixing various kinds of music. There are great musical moments mixing classical music, Thai traditional music and modern music.
ThaiWorldView film database contains 1519 movies.
---