THAI MOVIE
Increase or decrease font size for easier reading : A+ A-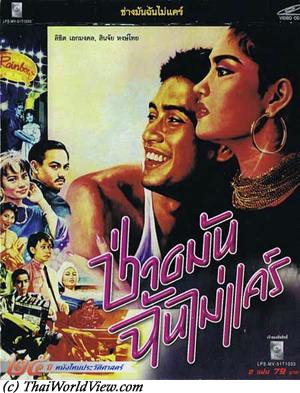 Year

: 1986



Thai title

:

ช่างมันฉันไม่แคร์




English title

: I don't care



Rating

: 4/5


Director

: Pantewanop Tewakul



Main actor

: Likit Eakmongkol


Main actress

: Sinjai Hongthai,Wiyada Umarin,Thitima Sangkapitak



Buy now

:

Pim is a very busy business woman. She is independent, smokes, drinks beer. She wears men clothes like suit and tie. She is a modern 1980s emancipated woman compared to Thai traditional standards. She only believes in herself. A young man called Bird and his friend are living together in a small flat. They have always no money. Pim needs a new model for an advertisement and is looking for one in Siam Square. She meets Bird in a cafe. Pim has a suitor called Komsan, who asks her for wedding. Pim is 30 years old already but she doesn't want to follow traditional ways, i.e. have husband, have children, stop working and stay home. So she refuses. Bird is recruited for underwear commercial shooting. Bird is younger than Pim. He follows Pim to a camping on Pattaya beach. Bird's mother needs 5000 baht. Bird needs to work again. He is Chippendales dancer in the "Rainbow" bar, a club for women, and then male prostitute for ladies. Bird is coming from Northeastern Thailand and has almost no studies knowledge. He is impressed by Pim (แม่โฆษณา) and her leadership. Pim considers herself same as prostitute selling her brain. Bird is fed up with his life as a gigolo. He only meets crazy ladies looking for sex only. One night, Komsan tries to force Pim but Bird chases him. They both tell their life. Pim has been traumatised by the Thai students massacre on 6 October 1976. Pim met Komsan during those events and loved him. But then Komsan changed a lot being mainly interested in money (เงิน) and power (อำนาจ). Regarding Bird, he is a farmer son and his real name is Wang. Pim has choice between Komsan, rich man and ละครพระเอก, and Bird. She is looking for a simple man (คนง่ายๆ). A love story starts between them. Bird is a good hearted man. Bird is often treated as a buffalo (ควาย) in his job as he is coming from countryside and doesn't have high studies knowledge. Bird leaves his job but then needs to do it again to get money to cure his sick friend. Pim's friend knows Bird. Due to jealousy, she announces Pim's relationship with Bird to Pim's boss and Komsan. But Pim doesn't care (ช่างมันฉันไม่แคร์). She quits her job and decides to stay with Bird despite society and family reprobation. The particular punch of this story, apart of from its depiction of low life in Bangkok, was provided by the fact that Pim has been a member of the young radicals in the 1970s. The 6 October 1976 students massacre in Thammasat University has never been fully investigated. When Pim meets old friends, they sing old songs for life (เพลงชีวิต) reminding them about the 1976 events.
ThaiWorldView film database contains 1519 movies.
---