THAI MOVIE
Increase or decrease font size for easier reading : A+ A-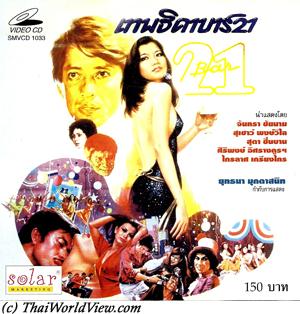 Year

: 1978



Thai title

:

เทพธิดา บาร์ 21




English title

: The Bar 21's Angel



Rating

: 5/5


Director

: Euthana Mukdasanit



Main actor

: Suchao Pongwilai,Krailat Kriengkrai


Main actress

: Chantra Chaiyanam



Buy now

:

In Bar 21, customers can forget their problems thanks to the beautiful ladies and alcohol (มาเที่ยว). Hostess Thida quits her job to stay with her four years boyfriend, Parn. Parn is younger than Thida about five years. She leaves her job to stay in Chiang Mai. Girls working in Bar 21 are called "Partner". Their dream is to be a normal person also but they are often denigrated (ดูถูกผู้หญิง). They need to get money (เกิดมาจน) but can enjoy a certain kind of freedom (เสรี). All are waiting for a new life (ชีวิตที่ดีกว่า), waiting for the day they will quit Bar 21 (ชีวิตใหม่). Linda arrives in Chiang Mai just on time for Parn's university diploma ceremony. She offers to him a beautiful watch and cash money but Parn seems to have forgotten his promise to marry her when he gets the diploma (จบแล้ว). He refuses to fulfill his promise. He is now a diploma university holder so he cannot marry a "partner" as he has now a certain status (เกียรติ). Despite she pays for his studies and now stops working for him, he refuses this love saying he cannot (ไม่มีบุญคุณ). He took advantage of her during many years. Marrying a "partner" would stain him for the whole life. He doesn't want to offer her a chance of redemption. In the train back to Bangkok, Linda is harassed by three young men taking advantage that she is a "partner" so an "easy" lady. She meets in the train two other young farmers (ทำนา), Sing and Rot, coming from countryside (บ้านนอก) and going to Bangkok to find better jobs. Sing and Rot have arguments and fight with the three young men to protect Linda. Rot is shot. The three young men cannot escape punishment despite one of them, Akom, is a son of parliament member. Linda is back to work in Bar 21. Sing is lost in Bangkok (เมืองหลวง). Sing is hungry and has no money. He meets a little girl living in a slum (สลัม). She is a small robber. Sing helps them to sell opium in the slum. Sing and the family are caught by the police (ผมไม่ผิด). There is analogy between countryside people coming to Bangkok and Linda, the "partner". They are all doing low cast jobs. Linda meets a son of a rich family, Thanong. He is really nice to her and invites her to his birthday. Linda starts to dream again (อาจเป็นคนนี้). She has a lot of fun (ดื่มเหล้าเก่ง) and happiness during this evening. After the party, Thanong asks her to help his brother Akom, who is now in jail. She should wrongly testify in front of a trial. She understands that everything was a lie. Thanong, ผู้ดี, just tries to use her. As she refuses to lie, strong arguments between values of poor people, "partner" and rich people are bitterly raised. She refuses money offered to her in order to lie. Back home, she is attacked at nighttime by two ruffians. An old man (ท่าน) helps her but he is in fact Akom's father. He succeeds to convince Linda by playing on her motherhood feeling, the possibility to do a good action and become Angel (เทพ) Thida. In the police station Linda accuses Sing. Poor people are in hell and rich people are in heaven because of money difference. Akom's father gives money to thank her but she doesn't want money but social recognition. Sing flees from police station and goes to see Linda so that she tells the truth at the trial. Sing is poor but kind hearted. She accepts as knowing she has been deceived by rich people. As Thanong just visits Linda to abuse her, Thanong and Sing fight. Sing is shot by the police. It is a dark and sad movie about poor and uneducated people abused by rich Bangkokian people. Of course Thanong stops visiting Linda. It is more a showpiece than a social study, the film is nevertheless remembered for its undaunted subjects. The film was not successful at box office but received good reviews and two awards (ตุ๊กตาทอง). It is a drama social move mixed with a musical comedy as many songs are featured. A Thai TV drama serie based on the same story was released in 1990.
ThaiWorldView film database contains 1519 movies.
---