THAI MOVIE
Increase or decrease font size for easier reading : A+ A-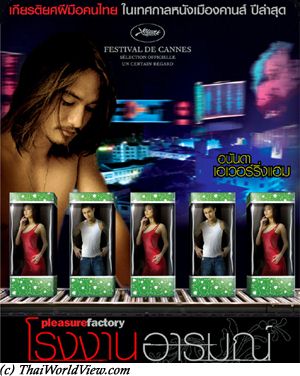 Year

: 2007



Thai title

:

โรงงานอารมณ์




English title

: Pleasure Factory



Rating

: 4/5


Director

: Ekachai Uekrongtham



Main actor

: Ananda Everingham


Main actress

:



Buy now

:

This Singaporean-Thai docudrama was shot in 2 weeks in red district Singapore Geylang. It is about two groups of people, the pleasure seekers and the pleasure providers and how their lives cross and interact. Three stories take place in parallel. In first story, two friends come together to brothel but one of them is too shy to select and go with a girl. His friend pushes him to get some experience as first time initiation. Finally he chooses a girl from Mainland China. He enquiries why she has to do such job. Her father died so she needs to support her home. Both are crying. Will she see him again? A girl shall not love her customer. In the second story, a man follow up a young girl to a hotel room. The girl is joining an older woman, who is already with a customer. It is related to initiation of the young girl as a prostitute. She discovers the brutaly of the job but gets some support from the older jaded woman. There is a temporary communion between the man and the two ladies. The jad woman listens to love songs as love is not possible for her and cries. The man brings the young girl home but the wallet is still the transactional basis. In third story, one girl has a rich patron but she is not happy. She finally brings a young guy, making his living by singing songs in the streets, with her. Both of them are drop-outs. She always gives pleasure but this time she receives. In the old days, the Geylang area used to be populated by processing factories for the coconut plantations. These days, the machines are still running at full steam but producing pleasure for those seeking it, night after night. What would happen if the pleasure factory stops and if humans stop being pleasure seeking / giving machines? Due to censure, two minutes were cut.
ThaiWorldView film database contains 1519 movies.
---