THAI MOVIE
Increase or decrease font size for easier reading : A+ A-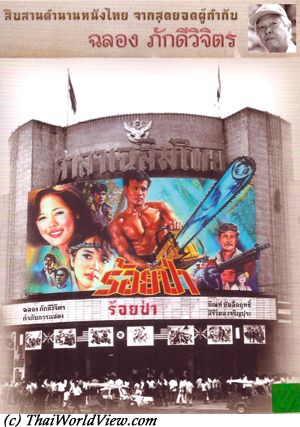 Year

: 1986



Thai title

:

ร้อยป่า




English title

:



Rating

: 5/5


Director

: Chalong Pukdeewichit



Main actor

: Bin Banleurit,Somchai Samipak,Taksin Jampol,Manop Aussawathep,Rith Luecha


Main actress

: Mai Charoeunpura



Buy now

:

Thai movie ร้อยป่า was released in year 1986 and directed by veteran Chalong Pukdeewichit. Luang Ta is taking care of an orphaned boy called Seua (ลูกศิษย์วัด). Seua (Bin Banleurit) sympathizes with young girl Paew but gets an enemy as Anirut (ลูกผู้ดี). Years passed. They are now adults. Luang Ta dies. Seua goes to Lampang to do forest staff studies. He meets Srinuan. In Srinuan's disco, he protects Somchai (Somchai Samipak) as พ่อเลี้ยง against a murder tentative. During studies, he finds that teck forest has few trees left (ตรวจป่า). He meets Boon Ying and presents himself as new forest staff (พนักงานป่าใหม่). He tries to prevent ruffians led by Theum (Taksin Jampol) to cut illegally trees (ทำรายป่าไม่ได้). Seua gets his degree and is sent at Thai Burmese border. He realises that Paew was the one to support him financially during his studies. พ่อเลี้ยง Ithi (Manop Aussawathep), owner of a company allowed to cut 2000 trees, tries to corrupt Seua (เก็บเงินของคุณเลย) to cut more trees. Ruffians are sent to kill Seua but Theum and Leum being around help him. แม่เลี้ยง Saenthong (Mai Charoeunpura) wishes to get authorisation for her trees. Seua has issues with Nok (Rith Luecha), leader of elephant keepers. Seua checks the trees deeply in the forest and gives approval (ราชการดีๆยังมีอยู่ครับ). Back to the village, they found that Nok has taken all elephants. Hopefully Theum lends them some elephants to ensure the company is not stuck. Seua rejects Saenthong's love as he still thinks about Paew. Ithi is the one trying to close Saenthong's company as he is joining shares (ร่วมหุ้น) with a Bangkok company led by Anirut, engaged with Paew. Leum is captured and killed by ruffians with a chainsaw. Saenthong is also kidnapped. Seua revenges Leum through a chainsaw fighting with Nok. It is time for Seua to neutralise Ithi. Hopefully พ่อเลี้ยง Somchai and Theum give a hand to Seua as he is in a bad situation versus many ruffians. All ruffians are killed. Police arrives. Theum prefers to die gun in the hand instead of surrendering. Suea leaves as a lonely cowboy saddened by the death of Theum. An earlier version with Mitr Chaibancha and Petchara Chaowarat was released in year 1963.
ThaiWorldView film database contains 1519 movies.
---