THAI MOVIE
Increase or decrease font size for easier reading : A+ A-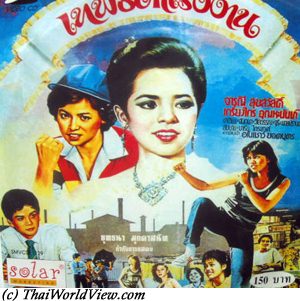 Year

: 1982



Thai title

:

เทพธิดาโรงงาน




English title

: Factory angel



Rating

: 5/5


Director

: Yutthana Mookdasanit



Main actor

: Kriengkrai Unhanan,Lak Apichat,Somchai Samipak,Krailat Kriengkrai


Main actress

: Jarunee Sooksawad,Wilaiwan Watthanaphanit,Juree Osiri



Buy now

:

Oi (Jarunee Sooksawad) is leaving her village and is going to the city (กรุง) to find a work. Teum (Krailat Kriengkrai) proposes to help. After a long trip, they reach the textile factory (คนงานใหม่). Rangsan (Kriengkrai Unhanan) as factory manager (ผู้จัดการ) agrees to recruit Oi and her two friends. Rotchai is the factory controller (ห้าม, ไม่อนุญาต). Factory workers sleep in dormitory and share big bathroom. The factory manager seems to like Oi a lot. His parents are played by famous veteran actor Somchai Samipak and veteran actress Juree Osiri. Chalai is a high-so girl pushed by Rangsan's mother to marry her son. Working conditions are hard in the factory, i.e. hot and noisy environment. Japanese investors are visiting the factory. Yamada, the Japanese factory owner, wants Oi to represent the Thai factory in Japan as angel protector. Everybody is stunned by Oi's beauty when she wears traditional clothes. Molam song is used as soundtrack (สาวโรงงาน). Oi is split between her boyfriend waiting for her in Isan and the strong interest shown by the factory manager Rangsan. There is a contest in the factory similar to Songkran festival (ประกวด เทพธิดาโรงงาน or angel factory contest). Pa Chan, an old aunt (Wilaiwan Watthanaphanit), working there for twenty years, gets the title. A high society fair is organized by Rangsan's parents in their home. Oi is invited (สวัสดีปีใหม่). There is a contrast between western classical music used in high society part and Molam listened in the factory. But at the end the high society people (ผู้ดี) also push each other for the buffet. Lak Apichat is playing a house guard. The fair degenerates as Chalai denigrates Oi (คนบ้านนอก) and ends up with a bowl of food on the head. Rangsan refuses to punish Oi as she didn't behave badly in her job so the mother hires ruffians but they get pushed back thanks to the taxi driver Pen (อโนเชาว์ ยอดบุตร). Many countryside people have dreams when coming to Bangkok the first time (กรุงเทพเป็นเมืองฟ้า). Some workers end up working in sauna believing work is easier and getting fast money. Pa Chan loses conscience again while working. Despite being a worker dedicated for twenty years, she is finally thrown away like a dog (is it the reward for being a slave for twenty years?). A sign shows "Safety first" but no action is taken to help Pa Chan. Rangsan explains the gesture by being worried about syndicates and wish to avoid inspections as it could mean additional expenses. Oi rescues the old lady at her home. Oi is invited in Japan and shall be selected as factory angel representative. On the day of the announcement event, Pa Chan dies of sickness in Oi's arms. Oi makes a touching speech to the factory management complaining about their lack of humanity towards Pa Chan. She quits her job and goes back to Isan. Her boyfriend is on the way to Saudi Arabia to work there one year. She finds her father. Only family is source of trust and happiness. The movie เทพธิดาโรงงาน lasts 2 hours. It has been adapted into a Thai TV serie in year 2012.
ThaiWorldView film database contains 1519 movies.
---