THAI MOVIE
Increase or decrease font size for easier reading : A+ A-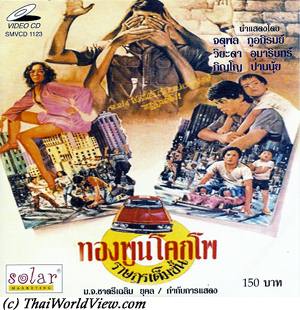 Year

: 1977



Thai title

:

ทองพูน โคกโพ ราษฎรเต็มขั้น




English title

: Taxi Driver (Citizen I)



Rating

: 5/5


Director

: ChatriChalerm Yukol



Main actor

: Jatuphol Poopirom,Pinyo Parnnui,Somsak Chaisongkram,Boo Wibunnan


Main actress

: Wiyada Umarin,Marasri Isarangkul



Buy now

:

Thai movie ทองพูน โคกโพ ราษฎรเต็มขั้น / Taxi Driver (Citizen I) was released in year 1977. Thongpoon (Jatuphol Poopirom) is a Thai farmer coming from Udon Thani and going to Bangkok. Thongpoon sold his rice field in Udon and has spared money during five years to buy a taxi. This taxi represents the future for him and his young son. It is his dream to have his own taxi. Thongpoon is gullible. Rich Bangkok people cheat him by claiming having no change but Taen, a kind-hearted prostitute, gives him a note without asking change back. Her name is Taen (Wiyada Umarin) and she has issues with Somsak Chaisongkram (แมงดา) as she is pregnant. Thongpoon helps chasing Somsak away and becomes her regular taxi driver. He picks up her at her working place (อาบอบนวด). Thongpoon proposes to Taen to take care about his son but not easy to stop such job well paid. Thongpoon meets also Pinyo Parnnui, who claims to be a Thai soldier having fought in Vietnam and now being paralyzed. When his taxi get stolen by bad boys, his life alters. As they also steal his money, he is expelled from his home by his landlord (Marasri Isarangkul) as he cannot pay the rent. He ends up working on a construction site. His goal is to get back his taxi by all means. Pinyo brings him where the ruffians mingle but he gets beaten again. A business card lost allows to identify Boo Wibunnan as garage owner. He then forgets Taen and son. He refuses money from Taen to buy a new taxi as he doesn't want to be a pimp (แมงดา). He storms Boo's garage and kill the ruffians trying to stop him. This madness leads him to prison. This movie highlights the impossible fight between poor and rich influential people, the analogy between the buffalo and the taxi for poor Isan people in Bangkok. Jatuphol Poopirom got a Thai award for his performance. It was his first movie. Sorapong Chatree was supposed to play the main role of Thongpoon but he was not available for the shooting so new comer Jatuphol Poopirom replaced him. As Jatuphol Poopirom died during a car accident in 1981, Sorapong Chatree played the main role in Citizen II. ChatriChalerm Yukol drove around Bangkok for weeks with cab drivers gathering anecdotes for "The Citizen".
ThaiWorldView film database contains 1519 movies.
---