THAI MOVIE
Increase or decrease font size for easier reading : A+ A-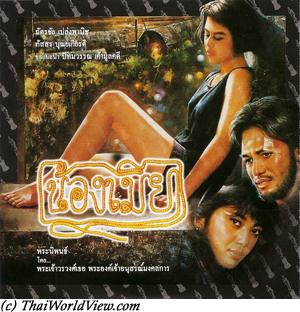 Year

: 1990



Thai title

:

น้องเมีย




English title

: Song for Chao Phraya



Rating

: 5/5


Director

: ChatriChalerm Yukol



Main actor

: Chatchai Plengpanich


Main actress

: Passorn Boonyakiat,Sulaleewan Suwanthat



Buy now

:

The director ChatriChalerm Yukol had done a remake of his own 1978 movie. New actors are playing and a similar scenario is used. This movie got three Thai awards. Four members of a family are living on a sand barge (เรือทราย). They navigate between provinces. Saeng, young man, is married to Plang. They have a young baby. Taptim is the young 15 years old sister-in-law. They are boat people (คนเรือ) since generations. The barge arrives in Bangkok. Plang is fed up with her life on the boat. She is still young and wants to have fun. She threathens Saeng to choose between his sand barge and her. She would like to sell the sand barge and change their life. Saeng bought the sand at high price but the Bangkokian trader only proposes a low price. The boat is leaking and needs repair. He refuses to sell as it means losing money. Plang believes she can be an actress (ดารา). Plang meets in a hair-dresser shop a gentle lady called Mrs Aree, who proposes to help her. Due to her provincial accent, Mrs Aree understands immediately who is Plang and sell her dreams. Mrs Aree is in fact a mama-san (มาม่าซัง). Taptim refuses to join Plang as she is afraid to become a prostitute in Bangkok. Plang quits the barge. Saeng is shocked and finally sells the sand at lower cost to have money and to look for his wife in Bangkok. Bangkok is so big. He walks bare foot alone through the streets, markets and malls to no avail. Taptim has to take care of the baby as both parents are out in Bangkok. Saeng meets the taxi driver who brought his wife to the hair dresser. The taxi is his home same as the boat is Saeng's home. There is mutual understanding between the two men (คนบ้านนอก). Aree is said to be working in a Patpong gogo bar. There are dozens of bars in Patpong. Mrs Aree is now said to be a woman recruiting girls for Chao Praya massage parlour. Saeng succeeds to get Mrs Aree's address but has spent a lot of money. Being drunk, he falls in the river while boarding the boat and so loses his money. Saeng has to sell his boat for 100 000 baht but once debts are paid, there is a few money left to buy a small boat. In Bangkok, business is business. The taxi driver is not as friendly as in first opus and will not transport Saeng for free. Saeng continues to walk and walk many days around Sukhumvit area but cannot find Plang. Meanwhile Plang is still dreaming. Mrs Aree introduces an old rich man to Plang. She is the birthday gift of a movie producer. It is a financial transaction. After a diner, Plang is drunk and sent to a motel. Meanwhile Saeng finds Mrs Aree but then there is a fight with the condominium guard. He is beaten and sent to jail. Realizing that the older man is trying to rape her, Plang fights back and flees but Mrs Aree's ruffians beat her. Taptim pays for Saeng's bail so that he can exit from jail. Saeng wishes to get Taptim as new wife. They all go back to countryside. Anyway they are reunited as a family. When aims are too high, the fall is tough. Bangkok is a symbol for poor up-country people, i.e. dream of wealth. Some people dream to get rich there but many of them come back home without money. Some countryside people arrive in Bangkok and get abused by Bangkokian people.
ThaiWorldView film database contains 1519 movies.
---