THAI MOVIE
Increase or decrease font size for easier reading : A+ A-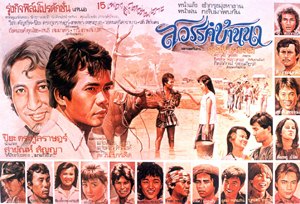 Year

: 1983



Thai title

:

สวรรค์บ้านนา




English title

:



Rating

: 5/5


Director

: Surasee Phatham



Main actor

: Piya Trakulrard,Ed Carabao,Doo Dook Kradon


Main actress

:
Thai movie สวรรค์บ้านนา was released in year 1983. The movie lasts currently 2h03mn. Due to its success it was released two times. But on the second release, some sequences and Carabao songs have disappeared. A 2h15mn version was shown on VHS and cable TV. The original length is 2h30mn. Director is Surasee Phatham who directed many famous social movies. Main actors and actresses are Piya Trakulrard, แสงเดือน ดารา, แสงดาว, ตะวัน, Doo Dook Kradon, ดี๋, Ed Carabao, สุชาติ, สนธิ, อุดม, ชวลิต, ทองมี มาลัย, ดาวใต้ เมืองตรัง, เทพพร เพชรอุบล, สนธิ สมมาตร. This movie is about Isan, northeastern region of Thailand. The movie features fourteen great songs. Isan people come to Bangkok for work but then they have to go back to home when rainy season is coming in order to take care of rice fields (ทำนา). They face harsh life in Bangkok. Most of Isan workers have manufacturing job in factories, work in bar / nightclub, work as Tuk Tuk driver, toilets boy (boy ห้องน้ำ)... Teuk (Carabao Ed - แอ๊ด) is fired from the bar in which he is performing as people don't like his songs. A group of ten friends including Sitha (Piya Trakulrard) and Fai invite him to discover life in countryside (ชีวิตชนบท) as it is time for rice season. Isan people dream to go back home to build their paradise (สวรรค์บ้านนา). As there is a rice crop only once a year they have no choice but to go working in Bangkok. Souvenirs (ของฝาก) are brought by them when they come back to the village where only old people and children stay. Nang wishes to be a molam singer (นางเอกมอลำ) but her father doesn't allow. Villagers help each other and shared work happens in the rice fields using buffalo. Romances are happening. The movie is showing how the rice season is happening. The movie shows Isan culture such as "Bun Bang Fai" (บุญบ้างไฟ) festival parade. The rocket competition is ending in fightings between groups. Many men are disappointed (อกหัก) as Sitha and Nang love each other. The father wishes to choose his daughter's husband by himself (ชอบลูกเสียงหรือลูกสาว). One villager is coming back from Saudi Arabia having a big house, building a new house for his father, having latest TV, Hi Fi and listening to western music but his wife is gone (ชู). A local villager called Kaew, being jealous about Sitha, talks to Nang's father. Nang is not allowed to meet Sitha anymore. Buddhist Lent festival (วันเข้าภรรษา) is coming. This movie is showing life in Isan with rice culture (ทำนา) and its various steps, religious ceremonies, harsh life in Isan, special dishes (ลาบเลือด…), hunting... Sitha is disappointed as misunderstandings happen with Nang. Sitha's friend convinces his father (ชาวนา) to sell his rice fields to pay for the fee to go to Saudi Arabia. Nang's father sends her to the city to try to break their relationship. On the day of Nang's fiancailles with villager Kaew, Nang flees with Sitha. Nang's father, afraid to lose his daughter, promotes her as molam main singer (นางเอกมอลำ) in his band and accepts finally Sitha. Rice season is over (หมดหน้านา). A farewell to local spirits (ปู่ตา) before departure to Bangkok is done. Famous Carabao song Pu Tao (เพลง ผู้เฒ่า) is sung by Ed. Everybody is back to work in Bangkok. One goes to Saudi Arabia. Ed finally composes some famous songs following his stay in Isan. Only old people are left when young people go back to work in Bangkok. When this movie was released in year 1983, it makes Isan people working in Bangkok to wish going back to home! In 1983, people were still using mail to communicate so this movie got a huge success. Outdoor cinemas in Isan were all asking for this movie! All the films were lost as it was shown and shown until the film was damaged beyond repair. Luckily, the movie was released again in year 1993. By merging various versions of the film reels, it is possible to get a duration of 2h18mn so quite close to the original length of 2h30mn.
ThaiWorldView film database contains 1519 movies.
---