THAI MOVIE
Increase or decrease font size for easier reading : A+ A-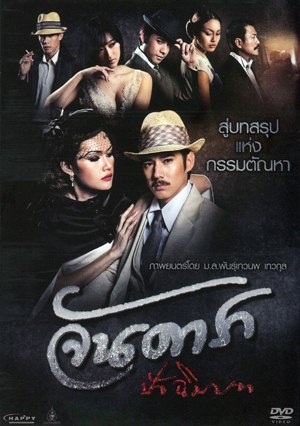 Year

: 2013



Thai title

:

จันดารา ปัจฉิมบท




English title

: Jan Dara The Finale



Rating

: 4/5


Director

: Pantewanop Tewakul



Main actor

: Mario Maurer,Chaiyapol Pupart,Kriengkrai Unhanan,Phongphat Wachirabanjong


Main actress

: Bongkoj Kongmalai



Buy now

:

Thai movie จันดารา ปัจฉิมบท - The Finale was released in year 2013 and lasts 2 hours. Jan and Ken flee to Phichit. Back to Phichit, Jana identifies that he is not a child issued from a rape but through a common agreed relationship. He learns the truth through his grandmother and a former policeman. Twenty years ago, the grandmother had no choice but to accept the conditions given by Khun Luang (สัตว์นรก) in order to marry Dara. Ken gets married and has a child. Jan keeps sending letters to Aisin. In Bangkok, Kaew continues to misbehave with men. She also starts a relationship with Krajon, the son of Bee. When Bee and Khun Luang are back from Singapore, Kaew and Krajon announce to them that they want to get married as Kaew is 3 months pregnant. The wedding is impossible as Krajon is the hidden son of Khun Luang with Bee. Bee never told the truth to them. Khun Luang has a serious attack. To solve this mess, Khun Luang has no choice but to ask Jan to marry Kaew. Per his grandmother's orders, Jan accepts but Khun Luang has to give back all the family belongings (land, house, company) that he took 20 years ago. Jan visits Aisin but she just died from disease. Jan is heart broken. Kriengkrai Unhanan is invited to the wedding of Jan and Kaew. Kaew keeps calling him Ai Jan (ไอ้จัน). Bee and Jan become lovers. Kaew is about to deliver her child (เด็กอัปรีย์). Being older, the child is identified as retarded. Jan wishes to have a child with Bee but she is now sterile. Khun Luang, seeing Jan and Bee making love, has another attack and becomes fully paralyzed. Aunt Nawat goes back to Phichit. Bee refuses to make love to Jan anymore as she was doing it only to protect Khun Luang. There was no real love with Jan. Upset, using a mask to hide his face, Jan rapes Kaew and hits Khun Luang with a whip. Ken also decides to leave for Pichit as Jan has become unlivable. War happens in Bangkok. US planes send bombs. Khun Krajon saves Khun Jan's life and dies. Khun Luang also dies. Kaew becomes a Tom, following Jan's aggression. Bee decides to leave the house. Kaew is pregnant with Jan. Complaining that Bee leaves her with Jan, Kaew gets suicide by jumping from high floor as she doesn't want to give a child to Jan. Jan ends up alone and never marries again.
ThaiWorldView film database contains 1519 movies.
---