THAI MOVIE
Increase or decrease font size for easier reading : A+ A-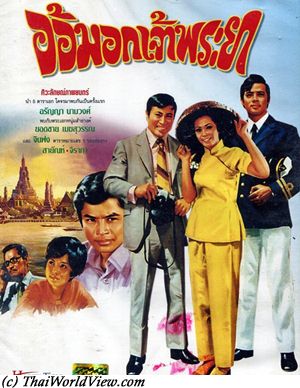 Year

: 1972



Thai title

:

อ้อมอกเจ้าพระยา




English title

:



Rating

: 3/5


Director

:



Main actor

: Yodchai Meksuwan,Sayan Chantaraviboon,Jin Fong


Main actress

: Aranya Namwong



Buy now

:

Thai movie อ้อมอกเจ้าพระยา was released in year 1972 and lasts 2h07mn. It was released under DVD format by company Happy Time Marketing. It features a sharp and colorful image. Saonai is coming from a rich family (ผู้ดี) and living in Hong Kong. Khun Wang (played by Hong Kong number one actor Jin Fong - จินฟง) is her chaperon. It is really nice to see again Hong Kong almost forty years ago with Love Rock scenery, views from the Peak, old cars, absence of high buildings, boat people settlements. Saonai wishes to experience life with poor people so she settles in Mongkok with boat people (ชาวเรือสลัม) community. She pays an old lady to play her mother. Kla is a Thai captain, whose cargo is berthing in Hong Kong a few days. Saonai hits his small pinnace and he falls into the water. Love starts between Saonai and Kla. Khun Wang continues to look for Saonai following her father's orders. Ruffians hit Kla and bring back Saonai to her father. The father wants a good husband (มีนามมีฐานะ) for his daughter and not a sailor. Kla knows the truth about Saonai thanks to the old lady. Saonai is a modern lady believing in love and heart choice. Her father wishes to marry her to Khun Wang (พ่อใจร้ายไม่เห็นใจ). But Khun Wang promises to help Saonai to find Kla. Kla is back to Thailand disappointed by Saonai's lies. In Thailand a young lady, called Porn, loves Kla but Kla indulges in alcohol as he cannot forget Saonai. Saonai arrives in Thailand and looks for captain Kla at the Bangkok port. Kla already resigned from his job. Saonai looks for him in Bang Kapi district. Thanks to an old colleague, Kla is aware that Saonai is looking for him. But they miss each other. Saonai wishes to kill herself. She is helped by Porn. Kla's younger brother, Keng, meets Saonai at Porn's house. She is renamed as Araya. Keng loves her at first sight and promises himself to achieve his goal to build a family. So love feelings are mixed through a few people (Saonai, Kla, Porn, Keng). Saonai fails to meet Kla at Keng's home but understands he is the one she was looking for. Keng is aware of Saonai's love towards Kla. Disappointed by this news, he has a car accident and is almost blind. Anyway he told Kla the good news about Saonai. Meanwhile love emerges between Khun Wang and Porn. Following some last minute misunderstandings (อกหัก), Saonai and Kla are reunited. Three couples have now happiness as Keng falls in love with Khun Wang's younger sister. This old 1973 movie still features beautiful colorful picture and songs. Aranya Namwong is shining. This movie features an homage to the Chao Phraya river, an homage to the Thai King and the Thai Queen during their birthday celebrations with colorful lightings in Bangkok, an homage to the good Chinese Thai relations.
ThaiWorldView film database contains 1519 movies.
---