THAI MOVIE
Increase or decrease font size for easier reading : A+ A-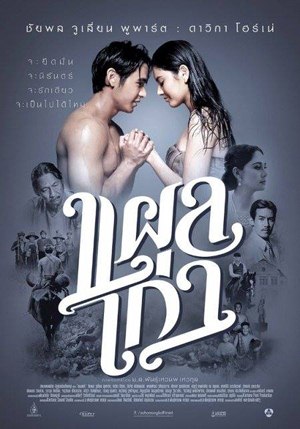 Year

: 2014



Thai title

:

แผลเก่า




English title

: The Scar



Rating

: 4/5


Director

: Pantewanop Tewakul



Main actor

: Phongphat Wachirabanjong,Krung Srivilai,Chaiyapol Pupart


Main actress

: Davika Hoorne,Sinjai Hongthai



Buy now

:

Thai movie แผลเก่า (The Scar) was released multiple times over 50 years. This version was released on mother's day 2014. It really features a beautiful image. The movie action takes place in year 1936. Kwan loves Riem (Davika Hoorne), daughter of the local subdistrict headman called Somyong. Kwan's father (Phongphat Wachirabanjong), village headman, doesn't want his son to love Riem. Riem's father doesn't want Kwan to be around his daughter. Families are enemies. Riem is also in the interest of a Bangkokian young man called Choi. Fighting erupts during a temple fair between Kwan and Choi as Kwan is dancing with Riem. Krung Srivilai as Buddhist temple abbot stops them. Choi gives money to the subdistrict headman as corruption way. He wishes to marry Riem as soon as possible. Kwan and Riem promise to love each other forever in front of local spirit (ศาลเจ้า). Her father announces to Riem that she has to marry Choi. Choi already has many mistresses and children. So Riem and Kwan decide to flee. Choi and the subdistrict headman prevent them. Choi hits Kwan causing him a scar (แผลรักของเรา). Kwan promises revenge. While Kwan is still recovering from injury, Choi and the subdistrict headman bring Riem to Bangkok. Khun Ying (Sinjai Hongthai) buys Riem from the subdistrict headman for 500 baht but forbids her nephew Choi to touch her as he has already many wives and he doesn't care well about them! Kwan's father loved Riem's mother twenty years ago but finally she was forced to marry the subdistrict headman so antagonism stayed between both men. Riem has same face as the lost daughter of the aunt so she raises her same as her daughter to become a noble (ผู้ดี). Kwan goes to Bangkok to find Riem but he is too late as Khun Ying brings Riem overseas for three years. Choi is found injured in Bangkok with a scar... Kwan indulges in alcohol. Kwan promises to his father and to the local spirit shrine to stop drinking. He works hard to keep money, i.e. 500 baht to buy back Riem. Three years have passed. It is year 1939 and World war 2 is starting. Riem is back (ลูกชาวนา) and meets Somchai, member of Thai government. The aunt decides to visit Riem's birthplace again. Kwan meets Riem again. 500 baht is the cost of her shoes only (เจ้าเปลี่ยนไปแล้ว). Somchai (ผู้ชาย Bangkok) takes opportunity to have the aunt and subdistrict headman together to ask Riem's hand. She accepts. Somchai was engaged with the aunt's daughter since childhood. Back to Bangkok, Riem understands that Somchai has already another lover. The wedding is just for principles as she is only a farmer daughter. Only Riem's love was pure and sincere. Riem decides to go back to countryside. It is too late as her mother, Mae Ruay, died already. Kwan has promised to his father to ordain and after ordination he wishes to marry Riem. The Bangkok people try to get back Riem but she refuses. Fighting occurs and Kwan gets shot fatally. Wishing to die in the river, Riem joins him.
ThaiWorldView film database contains 1519 movies.
---