THAI MOVIE
Increase or decrease font size for easier reading : A+ A-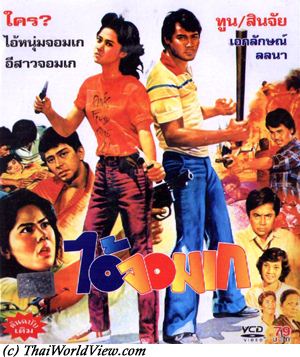 Year

: 1984



Thai title

:

ไอ้จอมเก




English title

:



Rating

: 3/5


Director

:



Main actor

: Toon Hiransap,Sayan Chantaraviboon,Pipop Pupinyo,Chat Mongkolchai


Main actress

: Sinjai Hongthai,Lalana Sulawan



Buy now

:

Keng (Toon Hiransap) is staying in relatives' rich house. The mother is not happy to see Keng at her home despite he is a relative (สอนมารยาท). The mother has two sons (Pochet and Kira) and one daughter called Chan. Chan (Sinjai Hongthai) teaches Thai boxing (สอนมวย) to Keng. Keng wishes to take revenge over ruffian Wo as he is responsible of his mother's death. Keng is Kliaw's young brother (น้องชาย). Kliaw is married to Kira (Sayan Chantaraviboon). Keng has also a school friend called Waew. Pochet loves secretly Waew (Lalana Sulawan) but Waew is already the minor wife of a rich man, i.e. Kira! Chan always protects Keng against Pochet (ลูกไม่รักดี). One day Keng sees Kira with Waew! Following the mother / Pochet's opposition and being only protected by Chan, Keng finally leaves their house. Keng finished drunk and Kliaw / Chan having pity takes care of him. Fed up, the mother decides to use Kam, a ruffian leader, to give Keng a lesson (สั่งสอน). Wo is part of Kam's team. Chan protects Keng against the ruffians as Keng is too afraid to fight. Wo is a pimp (แมงดา) as he is extorting money from Waew. Seeing Wo strangling Waew, Keng finally gets the strength to fight and gives a harsh lesson to Wo (สู้คนได้). Waew is now aware that Kira is Kliaw's husband. To revenge his mother death, Keng decides to hit Wo with Chan's help. The mother (ไม่เกรงใคร) tries to push another woman called Wan into Kira's arms to replace Kliaw. Finally Kliaw decides to leave also the house with Keng. Tired by this stressed situation, Kira stops his relationship with Waew. Pochet asks Waew's hand. As all domestic helpers have left, the mother has to clean the house and to do the cooking as Wan is useless. Wan is a rich man's mistress (เมียเก็บ) already. The mother now knows the real value of Wan and Kliaw. As Pochet is unfaithful with her, Waew shoots him accidentally. Wo, passing by, wishes to terminate Pochet but Waew protects him with her body so being the one to die. The ruffians (including veteran actors Pipop Pupinyo and Chat Mongkolchai) kidnap Chan and her mother. They request 1M baht ransom. Kliaw, Pochet, Keng and Kira storm the ruffians' place to release Chan and the mum. The ruffians are defeated. Finally the mother makes apologies regarding her behavior and the whole family can get happiness back. Thai movie ไอ้จอมเก was released in year 1984. This action romance features a leading actress practising kung fu. In many 1980s movies, actresses such as Apiradee Pawaputanon, Jarunee Sooksawad, Suriwan Suriyong played similar active roles.
ThaiWorldView film database contains 1519 movies.
---