THAI MOVIE
Increase or decrease font size for easier reading : A+ A-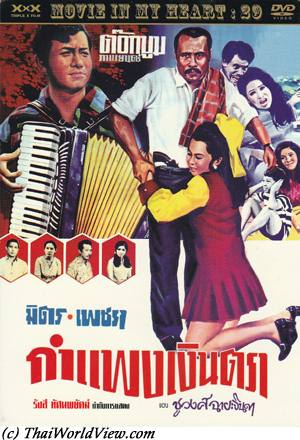 Year

: 1970



Thai title

:

กำแพงเงินตรา




English title

:



Rating

: 4/5


Director

:



Main actor

: Mitr Chaibancha,Prachuap Ruekyamdee,Lor Tok,Sompong Phonmitr,Adul Dulyarat,Boo Wibunnan,Choomporn Theppitak,Adinan Singhiran


Main actress

: Petchara Chaowarat,Somjit Sapsamruey,Chosri Misommon



Buy now

:

Thai movie กำแพงเงินตรา was released in year 1970. The movie lasts 1h40mn. Prachuap Ruekyamdee is bringing Yong (Mitr Chaibancha) on a boat. Yong meets Nam Pheung (Petchara Chaowarat) and Sarai (มิสฮันหวา), daughters of subdistrict headman (กำนัน) Lor Tok. Yong is interested in Sarai but Nam Pheung doesn't trust him. Sompong Phonmitr, subdistrict headman's domestic helper, also dislikes Yong. Nam Pat, subdistrict headman's wife, is aggressed while meeting her lover Phi Bun, who is killed. Subdistrict headman Lor Tok is aware his wife was having a lover but forgives her. A new chief district officer (นายอำเภอคนใหม่) called Tamanoon (Adul Dulyarat) visits subdistrict headman's house. He is widowed with three kids. Yong and Sarai love each other but Nam Pheung (เด็กบ้า) tries to break their relationship and wishes to push Sarai toward the new chief district officer by using Prachuap to write false letters. Aunt Chan (Somjit Sapsamruey) has debts towards the subdistrict headman so Yong, being her nephew, repays the debt by working in their house. Yong is a music teacher. Yong helps Tamanoon aggressed by ruffians. Tamanoon asks for Sarai's hand so Yong decides to flee with Sarai. Mae Pat wishes to join them to be Sarai's domestic helper. Nam Pheung hears them and informs Tamanoon. During a celebration organised by the subdistrict headman, they wish to flee but Nam Pheung brings mess again and foils their plan. So finally Yong ends up kidnapping Nam Pheung. Upset, Yong forces Nam Pheung. But then Yong regrets his act and takes good care of her as she is sick. Choomporn Theppitak is his close friend. At nighttime Nam Pheung tries to flee and is aggressed by ruffians. Yong helps on time but is seriously beaten. Nam Pheung understands he is a nice guy. Yong accepts to bring back Nam Pheung to his father and to face whatever her father, a subdistrict headman, will do to him. Probably shoot him dead! Tamanoon wishes to help and prepares a plan in secret. While the father is unable to decide who to punish, his daughter or Yong, Adinan Singhiran attacks the father per Tamanoon's plan. Yong, unware of the plan, protects the subdistrict headman and gets slightly injured. The subdistrict headman seeing that Yong is brave and good man forgives to him and allows the wedding. Yong and Nam Pheung can marry happily. The DVD picture is really beautiful. Toh Phanmitr (คุณโต๊ะพันธมิตร) has done a great job by restoring this movie and releasing it.
ThaiWorldView film database contains 1519 movies.
---