THAI MOVIE
Increase or decrease font size for easier reading : A+ A-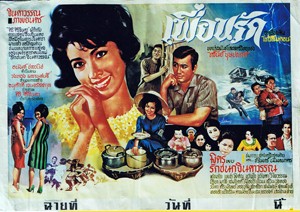 Year

: 1966



Thai title

:

เพื่อนรัก




English title

:



Rating

: 2/5


Director

: ศิริ ศิริจินดา



Main actor

: Mitr Chaibancha,Sawin Sawangrat,Lor Tok,Sompong Phonmitr,Sukon Koewliam,Daonoi Duangjai,Kokheng


Main actress

: Preeya Roongrueng,Somjit Sapsamruey,Malee Wetpraseri,Wilaiwan Watthanaphanit,Sarinthip Siriwan



Buy now

:

Thai movie เพื่อนรัก was released in year 1966 and lasts 2h23mn. It was released under VCD format by Lepso company. The image is still colorful. Movie director is ศิริ ศิริจินดา. It was first movie for Thai actress รักชนก จินดาวรรณ. Thai actors and actresses featured in this movie are Mitr Chaibancha, รักชนก จินดาวรรณ, เพชร พิศณุ, ขวัญใจ สะอาดรักษ์, ขวัญตา บัวเปลี่ยนสี, Preeya Roongrueng, Somjit Sapsamruey, Sawin Sawangrat, Malee Wetpraseri, Wilaiwan Watthanaphanit, เมืองเริง ปัทมินทร์, ไฉน, วงทอง ผลานุสนธิ์, วนิดา, Sarinthip Siriwan, ทรงวุฒิ, Lor Tok, Sompong Phonmitr, Sukon Koewliam, แอ๋, ทองฮะ, แป๊ะอ้วน, Daonoi Duangjai, ชื้นแฉะ, ยรรยงค์, ประสาน, ชาย, Kokheng. Young lady Kaew (รักชนก จินดาวรรณ) is selling noodle soup on the market. She is exploited by her mother in law, Mae Wanta, who takes all her earnings. Kaew is like Cinderella. Meuang Den (Mitr Chaibancha) and Pong (Sompong Phonmitr) stop at Kaew's shop to eat. Meuang Den has arguments with one local ruffian. He promises to come again. Pot, a rich man renting land to Mae Wanta, asks her to arrange for Kaew to stay at his home in Bangkok. He wants her as a minor wife. Kaew helps Meuang Den being injured by a ruffian. Priya (Preeya Roongrueng), wishing to trick her half-sister, sends her to Ming, a ruffian, who tries to abuse her. Hopefully Meuang Den helps her but finally she has to stab Ming as he was strangling Meuang Den. They have to flee. Kaew takes refuge in a family (Lor Tok, Somjit Sapsamruey), living on a boat and selling noodle soup. She meets Meuang Den and Sompong, who are living in a rich house. They have to simulate being gays as their aunt Malee (Malee Wetpraseri) wanted girls. Meuang Den proposes to Kaew's family to stay in a house he is not using. Lor Tok is not willing as he is concerned Meuang Den just wants to seduce Kaew. While leaving, they face a storm. Lor Tok and his wife fall in the water and drown. Meuang Den / Khun Num rescues Kaew on time. Khun Num asks Kaew to stay as domestic helper with a family he knows well, i.e. Kham Thong, Kham Ngeun and her boyfriend Peter. Khun Num doesn't want to disclose his relationship with Kaew to his aunt Malee. The family leaves for Penang. Kaew stays behind to look after the house. In another house, domestic helpers Sukhon and Thongha look after a young lady called Chao Nok. Kaew and Chao Nok meet. They have the same face. They exchange roles to meet Khun Num as Chao Nok wishes to see Bangkok before leaving for Chiang Mai. Nareng (Sawin Sawangrat) shall bring Chao Nok to meet her disabled mother in Chiang Mai. Nareng plans to transfer the will to him. Nareng kidnaps Kaew as he is unaware that Kaew and Chao Nok exchanged roles. Young man Dio tries to help her but to no avail. The rich family is back from Penang. Chao Nok, upset at being treated as a low domestic helper, makes a big fuss with the family and flees to Khun Num's aunt. The two ladies, Chao Nok and Kaew, are lost twins per the will. Aware that Kaew was kidnapped, Khun Num has to go to Chiang Mai to help her. Nareng threatens Kaew to provide the will and to sign it but Kaew cannot as she is not Chao Nok. It makes Nareng very upset. Nareng abused the mother (Wilaiwan Watthanaphanit) by lying to her. The mother and her daughter Kaew are reunited. Khun Num and Dio storm the house, where the mother and Kaew are held captive. The mother interposes while Nareng tries to stab Kaew. She gets stabbed instead. Before dying, she stabs Nareng. The two sisters are reunited. Two couples are formed. Khun Num and Kaew, Dio and Chao Nok.
ThaiWorldView film database contains 1519 movies.
---