THAI MOVIE
Increase or decrease font size for easier reading : A+ A-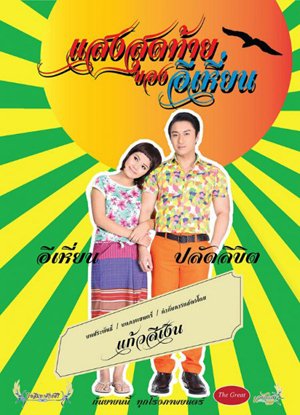 Year

: 2015



Thai title

:

แสงสุดท้ายของอีเหี่ยน




English title

:



Rating

: 3/5


Director

: แก้ว สีเงิน



Main actor

: Choomporn Theppitak


Main actress

:
Thai movie แสงสุดท้ายของอีเหี่ยน was released in year 2015 and lasts 1h33mn. Movie director is แก้ว สีเงิน. Thai actors and actresses are เอ พศิน , นรีรัตน์ สีหราชนิเวศน์ , เจเน็ต เขียว, อี๊ด โปงลาง, รุ้งลาวัลย์, Choomporn Theppitak. Isan language is used. Many movies are about young Isan ladies going to Bangkok. This time it is about a Bangkokian man living in Isan. Recently many Isan movies were done showing Isan people and Isan culture in Isan and no longer in Bangkok. A local ruffians' leader Loi (อี๊ด โปงลาง) likes young lady Yien (นรีรัตน์ สีหราชนิเวศน์) but it is not reciprocal. Lampran is Yien's aunt. Yien leaves for Bangkok, but she has no money for the ticket. She bumps into the new District Permanent Secretary Likhit while trying to get rid of Loi. A transgender women (กะเทย) proposes a job to her. Yien works as a waitress in a club, but loses her job as she slaps a man for being incorrect with her. The transgender women finds a new job for Yien in a restaurant. Yien is very tired but needs to be strong. She meets again the new District Permanent Secretary (อําเภอปลัด) Likhit (เอ พศิน). The new District Permanent Secretary wishes to clean his territory and to eradicate corruption. Yien's aunt (เจเน็ต เขียว) warns him. Likhit meets young lady Bua, being the daughter of the local money lender. Local subdistrict headman Ming is upset that Bua likes Likhit. Sia Kalasin likes Yien, but he gets a kick punch from her. A beauty contest is happening in the village so Lampran and her mother ask Yien to come back. Strong colorful clothes are worn reminiscent of Mon Rak Luk Thung (มนต์รักลูกทุ่ง) and Yam Yasothon (แหยมยโสธร) movies. Meanwhile some local ruffians steal the local Buddha footprint (พระพุทธบาตร). Finally Yien is the one to win. Not because she is the most beautiful but because she helped the village community to look for the Buddha footprint. Romance happens between Yien and Likhit. Likhit invites Yien to visit Bangkok. Yien is kidnapped by the subdistrict headman's men when buying goods in the market. Yien is released thanks to Bua, the mother, her aunt, Likhit's efforts. Aware that the subdistrict headman Ming was involved in the robbery with Loi, Likhit warns him to help to recover the sacred item or to face jail. Bua promises her love if Ming becomes a good man. They chase Loi and successfully recover the Buddha footprint. Luang Pho (Choomporn Theppitak) thanks all of the protagonists for helping to recover the Buddha footprint.
ThaiWorldView film database contains 1519 movies.
---