THAI MOVIE
Increase or decrease font size for easier reading : A+ A-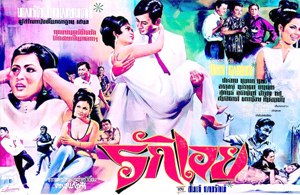 Year

: 1968



Thai title

:

รักเอย




English title

:



Rating

: 5/5


Director

: Neramit



Main actor

: Mitr Chaibancha,Sukon Koewliam,Prachuap Ruekyamdee,Adul Dulyarat,Choomporn Theppitak,Adinan Singhiran,Joomjim Khemlek


Main actress

: Metta Roongrat,Petchara Chaowarat,Chadaporn Wachirapranee



Buy now

:

A young lady called Wannee (Petchara Chaowarat) gets suicide in Passakorn's home and this latter (Mitr Chaibancha) gets accused of murder (ผู้ตาย). Adirek (Adul Dulyarat), lawyer, explains the whole story to the police inspector (Choomporn Theppitak). Oi (Metta Roongrat) and her sister Wannee were students. Wannee failed her exams despite being a good student as she didn't want to bring extra financial burden to her parents as they have already the younger sister's studies to support. Wannee found a job in a Bangkok dancing club directed by sexy directress Ratree (Chadaporn Wachirapranee). Pon (Prachuap Ruekyamdee) and Passakorn often party. Wannee met Passakorn in the dancing club. He liked her immediately (ผู้หวังดี). Passakorn is the son of a rich company owner but he is not really hard worker, spending a lot of money and going in clubs. Passakorn asked a few days to Wannee before talking to parents about their relationship. Wannee still had doubts on Passakorn's real feelings. Wannee got pregnant but Passakorn still didn't inform his parents about their relationship (ไม่ชื่อแล้ว, คนโกหก). When talking to his father, this latter shown him a photo of Adirek and Wannee together. He believed Wannee had betrayed him (ทรยศ). He went for London leaving Wannee puzzled and believing Passakorn refused to take his responsibility (ใจชั่ว). Passakorn stopped his friendship with Adirek also. Knowing that Wannee was pregnant and her difficult situation, Adirek proposed his help. Wannee and her mother went on countryside to deliver the baby quietly. Meanwhile Oi continued her studies and got closer to Adirek. As his father died in an accident, Passakorn had to flight back from London. Passakorn still couldn't forget Wannee and was drinking heavily every day. Oi got highest grade in her school and got a tuition for Japan offered to the school by Passakorn! Passakorn started a close friendship with Oi causing serious despair to Adirek and Wannee. Wannee's child was a born dead baby. Passakorn was still upset with Wannee believing she betrayed him (นางกากี. คนทรยศ). Passakorn had to marry with Urai following heritage arrangements. Wannee's father was upset with her (ลูกช่ัว) and only Oi was seen as a good girl. Wannee went to meet Passakorn to ask him stopping meeting her young sister and to move away. He refused. Being denigrated by her father and sister, Wannee organized Oi's kidnapping and got suicide in Passakorn's home so that he could get accused. Pon finally claims that he is the one who took the picture with Adirek and Wannee but he didn't think it will degenerate like this. Passakorn and Adirek resume friendship. Adirek and Pon look for a letter proving that Wannee died through suicide and not murdered by Passakorn. Uncle Wong (Adinan Singhiran) refuses to give it as he believes Passakorn is responsible of Wannee's death. During the trial, Passakorn, knowing he was unfair to Wannee, agrees he killed her. His friends succeed to get the letter and can show Passakorn innocence. Released and back home, Passakorn gets reunited with Wannee by using the same knife inhibited with poison to quit this world. This 1968 movie is 2h24mn long and still features a very colorful image. it is one of the best role of Mitr Chaibancha playing a bad guy. The real movie is longer as a trailer of 3mn48 is also available. It includes sequences in the jail that are not present in the VCD.
ThaiWorldView film database contains 1519 movies.
---