THAI MOVIE
Increase or decrease font size for easier reading : A+ A-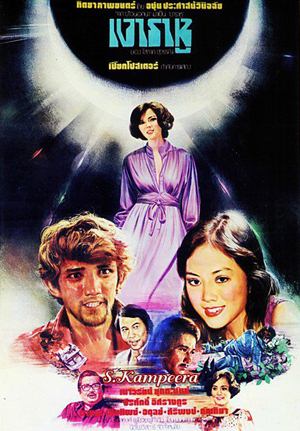 Year

: 1976



Thai title

:

เงาราหู




English title

:



Rating

: 5/5


Director

: Piak Poster



Main actor

: Jirasak Isarangkun Na Ayuthaya,Manop Aussawathep,Adul Dulyarat


Main actress

: Naowarat Yooktanun,Piathip Kumwong,Kantima Daraphan



Buy now

:

A young girl called Tong, living in a slum, is going to stay with her aunt (น้า) Malika (Piathip Kumwong). Many years ago Tong's mother helped Malika who was 6 months pregnant but her boyfriend refused to take care of the baby. As the mother dies of disease, Malika promises to take care of Tong. Malika is Khun Boontaeng's minor wife (เมียน้อย). Khun Boontaeng is avarious so is not so happy to see Tong (หลานสาว) with Malika. He wishes to put her in board school (โรงเรียนประจำ) in order to have full time happiness with Malika. Next week a doctor friend called Tiu will come at their home. Alcohol is needed as he is inconsolable since his wife's death (พ่อม่าย). They finally meet Tiu (Manop Aussawathep) at the golf club. Tiu has a 15 years old son. There is reflection about true love and purchased love (ซื้อความสุข). Many years have passed. Tong (Naowarat Yooktanun) is now a grown up beautiful student wishing to become a a graduate (บัณฑิต). Relation has turned sour with Boontaeng due to his major wife (เมียหลวง). Tiu offers Malika to open a business. Malika wishes Tong to study accountability (เรียนบัญชี) to help take of the company finances. Finally as Boontaeng dies, his wife wants to get back the house! Malika asks Tiu's help who then accepts to host them. Malika manages later to have Tiu signing documents to have her responsible of his fortune. Malika doesn't want to face same fate as with Boontaeng. Even Tiu's son (ลูกชาย), Tom, shall get nothing but he anyway never visits his father. Maybe he is ashamed to have an alcoholic father (ขี้เมา)? Tom gets a monthly salary from his father but sends somebody to get it on his behalf. Tiu continues to indulge in alcohol (ลูกไม่รักดี). Malika doesn't believe in true love. They come to rest in Cha Am in their seaside resort. His son Tom is a rebel with tainted blond hair and hanging around with hippie students. He is staying in a tent with his friends near his father house and denigrates Tong. Tiu is found unanimated on the floor during the night. As Malika is gone with the car, Tong has many difficulties to convince Tom to get a doctor. Tiu remains handicapped and almost paralyzed. He cannot speak properly anymore. Malika refuses to take care of him as she is too busy with her business. She has money but wants now society reconnaissance (เกรด). Tong has to take care about Tiu. Malika gets full power to manage Tiu's asset with the son's approval as he doesn't care about heritage anyway. A rich man Namkeun (Adul Dulyarat) wants to do a join business with Malika. Malika makes many social donations (บริจาคมากเกินไป) so starts to have financial problems. So she pushes Tong to marry him. Tong accepts not because of love but because of gratitude towards Malika (กตัญญู). Tong moves to Phuket (ความรักเกิดยาก). Tong doesn't want to be compared with her aunt Malika as she has studied high enough to take care about herself so she doesn't dream about the heritage of Namkeun. Namkeun has a secret, i.e. following a car accident he cannot perform husband duties anymore. Wiphat is the manager (ผู้จัดการ) taking care of Namkeun's Business activities. It is Tom! Tom believes Malika and Tong are professional experts to grab older rich men. Tom is not upset about his father's heritage but about the house as it is coming from his mum. Being denigrated by Tom and raped by her husband, Tong decides to go back to Bangkok. Due to her foolish expenses, Malika has fired many domestic helpers and sold home furnitures. In fact Malika even sold the house to Khun Namkeun as wedding fee with Tong. Tong promises to Tiu to get the house back in order to give it back to Tom. Malika dreams to become Khun Ying Malika (คุณหญิง) and spends a lot of money on various donations. Tom puts Malika in hospital as she has become crazy with her nobility wishes. He knows that the house now belongs to Tong. Following a drunken evening, Tong gets hurt by her sadistic husband again. Falling from the stairs, Tom brings her to a doctor. During her delirium, she talks to Tiu announcing she succeeds to get the house back. The only solution to save her is to have Namkeun finding a sadistic partner like him. While being cured by the doctor, one of the domestic helper takes benefit to start a relationship with Namkeun. She is sadistic also. Finally Namkeun offers divorce with Tong. She can go back to Bangkok to live happily with Tom, Tiu and even Malika released for mad house. This interesting 1976 movie deals with various modern society themes such as minor and main wife, reconnaissance and status. Main actor is Jirasak Isarangkun Na Ayuthaya, who played only a few movies during 1970s decade. Movie เงาราหู directed by Piak Poster is 2h23mn long. A Thai TV serie with Pete Thongjure was released in 1995.
ThaiWorldView film database contains 1519 movies.
---