THAI MOVIE
Increase or decrease font size for easier reading : A+ A-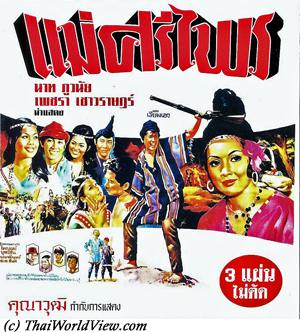 Year

: 1971



Thai title

:

แม่ศรีไพร




English title

:



Rating

: 4/5


Director

: Wichit Khunawut



Main actor

: Nard Poowanai,Sahat Piempongsan,Songthong,Sithao Petcharoen


Main actress

: Petchara Chaowarat,Metta Roongrat



Buy now

:

Celebration of the wedding day between Chan (Sahat Piempongsan), District Chief Officer (นายอำเภอ), and Konthong (Petchara Chaowarat) is ongoing but on nuptial night, the husband is drunk. Konthong is then kidnapped and transported on an elephant into the mountains. She is no idea why she has been kidnapped as her abductor refuses to disclose the truth (แล้วก็รู้เอง). The abductor is called Inton (Nard Poowanai). Aratae (Metta Roongrat) is taking care of Konthong (ผู้หญิงไทยดื้อ). Hillside villagers (คนดง, คนป่า) are very cheerful to Konthong. Inton is called father (พ่อ) as he takes care of the village. Chan is on the way to get back his wife using jeep to go through the mountains and being accompanied with a bunch of ruffians. The kidnapping is in fact Inton's revenge over Chan. Inton, Chan and Taptim were children who shared friendship during childhood. On Inton and Taptim's wedding day, Chan takes advantage that Inton is drunk to rape Taptim as he was jealous Taptim didn't marry him. Willing to kill Chan with a gun, Inton argues with Taptim and a lost bullet kills Taptim. Inton has to flee in the mountains. Inton finally doesn't rape Konthong (เห็นกับตาของจะเสียได้อย่างไร) as he has pity on her and proposes to send her back. How can Konthong go back? Who will believe she is still pure? She acknowledges she doesn't love Chan. So a romance starts between Inton and Konthong. One of the villagers, Tasuey, is chased by Inton from the village following a rape on a girl refusing to love him and her fiance's murder. The stranded villager meets Chan and his ruffians. He decides to lead them to the village to take his revenge on Inton. The movie features alternate sequences of fun, romance and sequences of the ruffians approaching the mountain village. It is a very long movie 2h54 released by company Phanmitr, who used the latest film reels available. The image is very damaged, red and green color with many vertical lines (เส้นฝนตกมาก) but still a pleasure to watch Petchara Chaowarat. To avoid endangering the villagers, Inton decides to flee temporary before Chan and his ruffians led by Tasuey reach the village. Konthong is following up. Aratae loves secretly Inton. Villagers refuse to disclose where Inton and Konthong are hiding. Chan uses persuasion to convince Aratae to tell the truth. If Chan gets back Konthong, his wife, then Aratae can get Inton, her secret love, back. Chan gets Aratae's virginity (ความสาว) as Inton gets his wife also. The ruffians chase Inton and Konthong inside the deep forest (ป่าลึก). As Konthong catches malaria and they run out of food, Inton has no other choice but surrender to Chan. Chan thinks of shooting Inton like a dog but finally changes his mind reminding their former friendship. He even forgives him (ให้อภัย) but Konthong shall stay with him. While Inton is going to the village with the mountain villagers, Konthong lies she is already pregnant so asks Chan to release her so her child can stay with her real father. While Inton and Konthong can have happiness together, Aratae has no choice but to stay with Chan (คนที่แพ้ต้องอยู่ด้วยกัน). A dozen of songs are performed including by famous singer Songthong, singers สมัย อ่อนวงศ์ and กิ่งดาว จันทร์สวัสดิ์. A funny comic encounter happens between comic actors Songthong and Sithao Petcharoen. Movie แม่ศรีไพร by famous director Wichit Khunawut was released in year 1971. It was adapted as Thai TV serie in 2010. It is the first played by Nard Poowanai. Mitr Chaibancha should have been the main actor but his accidental death prevented this.
ThaiWorldView film database contains 1519 movies.
---