THAI MOVIE
Increase or decrease font size for easier reading : A+ A-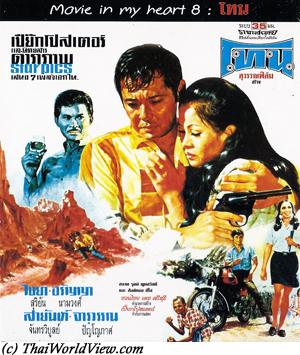 Year

: 1970



Thai title

:

โทน




English title

: Tone



Rating

: 4/5


Director

: Piak Poster



Main actor

: Chaiya Suriyun,Ruj Ronnapop,Sahat Piempongsan,Songthong,Sayan Chantaraviboon


Main actress

: Aranya Namwong,Jaruwan Panyopas



Buy now

:

Thai movie โทน / Tone is the first movie done by Piak Poster. It was released under VCD format by company XxX (Triple X). It features many Thai modern 1970s songs from 'The Impossible' group (วงดิอิมพอสซิเบิ้ล), some classical and traditional Thai songs, and even some American songs including 'Scarborough Fair' in Thai. The main characters are living in a provincial village, i.e. Pon (Chaiya Suriyun), Sang Thong (Songthong) and Nong Kulap (Jaruwan Panyopas). Sang is Pon's best friend following up everywhere. Pon loves Nong Kulap sincerely but Kulap sees him as a close friend only. She also needs to go to Bangkok to continue her studies, so they will be separated (ห่างกัน). Pon didn't do high studies and is living in a Buddhist temple with Luang Ta as a monk's attendant (ลูกศิษย์วัด). He was an orphan (เด็กกำพร้า). Ot (Sayan Chantaraviboon) is a Bangkokian young man visiting some relatives in the village. While having a drink, some ruffians (นักเลง) led by Amnat provoke him and a fight erupts. Pon is involved as he was just passing by and finally, he is helping Ot to get rid of the ruffians. The abbot wishes Pon to continue his studies in Bangkok. Ot proposes to help and Pon is now relocated in Bangkok. He meets Rut, Ot's elder brother (Ruj Ronnapop) and Daeng (Aranya Namwong), Ot's modern young sister. Daeng hates (เกลียด) Pon immediately. It seems Kulap has forgotten Pon. Sang is having quarrels with ruffians, who shot him. Ot meets Kulap randomly in Bangkok. Ot loves Kulap but Pon is not aware that Kulap is now in Bangkok. Daeng's boyfriend Long (Sahat Piempongsan) is a ruffian trying to take advantage of her. Hopefully Pon sees the stratagem and helps her. He gets injured. Daeng starts to see Pon's kindness and now loves secretly Pon. It is Ot's birthday (วันเกิด). Kulap (แฟน) comes to his birthday. It is the first Thai movie showing the 1970 youth with modern Thai and English music, dances and mini dresses. Daeng understands that Pon still loves Kulap and suffers. After a discussion between Pon and Ot, Ot accepts it (ทำใจ) and takes care about Daeng. Love story starts. Long is still cross with Daeng and Pon. He kidnaps Daeng and Kulap. Pon, trying to help, is also captured. Ot is chasing them. Long wishes to sell the two ladies to his friend Amnat. They will work as forced prostitutes. Daeng and Pon fail to escape and Long rapes Daeng. Thanks to Ot, Long is neutralized and is shot by Daeng. Pon shots Amnat so avenging his friend Sang Thong. It is time to forget the bad past and look forward to the bright future. Piak Poster began as a painter of movie posters. He painted 'Tone' movie poster. Tone was Piak Poster's first movie as director. The movie features seven songs. Songthong became famous thanks to the songs he performed in 'Tone' movie. It was the first movie in which the leading actress is raped. Thanks to the modern songs, 'Tone' movie reaped 6M Baht. It was the second biggest success in year 1970 after 'Mon Rak Luuk Thung' with Mitr / Petchara. It was also one of the first movie to use 35mm film instead of 16mm. 'Tone' movie was adapted two times for TV as a lakorn, i.e. in 1992 with Santisuk Promsiri and more recently in 2000s decade with Vinai Kraibutr and Metinee Kingpayome. Tone was the first movie in Thailand to break the monopoly of Mitr-Petchara movies. This movie is part of the first 25 films heritage list announced on October 4 2011, which is Thai Movies Conservation Day. The swimming suit worn by Aranya Namwong became a hit also as it shown the belly. All young ladies in year 1970 bought it. A promotional movie, lasting 17 minutes, shot in black and white, in 16mm format, can be seen online and is showing behind the screen sequences. The movie shooting was done over two years as Piak Poster liked perfection, details and used a lot of film. The film was developed in Japan and 11 copies travelled all over Thailand. It was two times more than usual.
ThaiWorldView film database contains 1519 movies.
---