THAI MOVIE
Increase or decrease font size for easier reading : A+ A-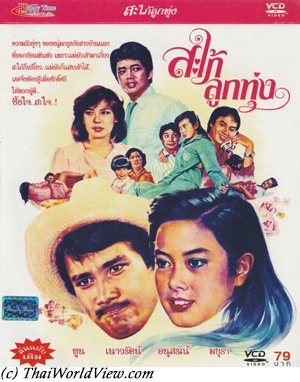 Year

: 1982



Thai title

:

สะใภ้ลูกทุ่ง




English title

:



Rating

: 3/5


Director

:



Main actor

: Toon Hiransap,Somchai Samipak,Sor Asanajinda


Main actress

: Naowarat Yooktanun,Mayura Thanabutr,Malee Wetpraseri,Janthana Siriporn,Phong Lada Pimolpan



Buy now

:

Thai movie สะใภ้ลูกทุ่ง was released in year 1982 and lasts 1h48mn. It was released under VCD format by Lepso and Happy Time companies. Movie director is ดริน ดารากร. Mui (Naowarat Yooktanun) and Khaem (Mayura Thanabutr) are sisters and have arguments with their mother Malee (Malee Wetpraseri). It seems that Malee is preparing an arranged wedding with a Bangkokian young man. It could be Ati (Toon Hiransap) or At (ยิ่งใหญ่ อายะนันท์), a gay man. Mui is upset as she read a letter sent by Ati looking down her sister (บ้านนอก, เมียลูกทุ่ง). The two young men are also upset as they don't plan to get married. Waew (Janthana Siriporn) is playing a comic domestic helper. Ati's Father is played by Somchai Samipak. Ati simulates being sick so only his mother (Phong Lada Pimolpan) and At are going to Ubon. Ati has multiple girlfriends. So being in trouble with them, he finally also goes to Ubon. Ati meets Mui as he is hurt by her motorbike. He meets her father Sor Asanajinda. When realizing that Ati is the Bangkok guy who wrote the nasty letter, she chases him away. Chok (อนุสรณ์ เดชะปัญญา), At's boyfriend (แฟน), needs 100 000 baht to finish his doctor studies. Sor has also a debt towards Somchai and his wife as he borrowed money to pay Mui's doctor studies so that is why his family has to agree to a wedding. Mui is upset with Bangkok people, who denigrate (ดูถูก) countryside people. To get the 100 000 baht from Malee, At accepts to marry Khaem but there is no love. The mother uses Khaem as her slave. At prepares to divorce by claiming Khaem has an affair with doctor Chok. Chok acknowledges due to the debt he owes to Ati. Mui, being doctor student with Chok, is upset by his behavior and discloses to the whole family that it is only a lie as Chok and At are gays. Sor has died so Mui and Khaem go back to Ubon. Chok keeps drinking as he loved secretly Mui and is ashamed of his behavior (ไม่น่าบัดซบ). Ati finally marries Mui but his mother keeps being upset having Mui as daughter in law. The mother now invents a relationship between Chok and Mui to ruin Ati's wedding. Malee, being sick, is cured by Mui (หมอเทวดา) so relationship is improved between Mui and Malee. Chok and Khaem finally marry as Chok wishes to repair his previous mistakes. Somchai forces his wife to change her behavior. At tries to shoot Chok during the wedding but Ati interposes and gets shot. Mui cures him. The mother apologizes to Mui and happiness is back in the family. Mui and Ati roam Isan remote villages to cure sick people. This comedy romantic movie also has a few social aspects such Bangkok people vs countryside people, elders deciding wedding on behalf of younger people, girls studying…
ThaiWorldView film database contains 1519 movies.
---