THAI MOVIE
Increase or decrease font size for easier reading : A+ A-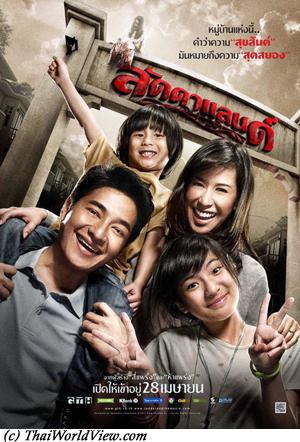 Year

: 2011



Thai title

:

ลัดดาแลนด์




English title

: Laddaland



Rating

: 5/5


Director

:



Main actor

: Saharat Sangkapreecha


Main actress

: Piyathida Woramuksik



Buy now

:

A four members family (Kit the husband, Pan the wife, Nat and Nen the kids) are moving to new home located in Chiang Mai province. Their new house is inside a modern village made of individual houses called Lalana land. The teen daughter didn't want to quit Bangkok and his friends. No traditional welcoming ceremony for a new house (ไม่ได้ทำบุญ / บ้านใหม่) is done. Strange neighbours with an infirm mother are living here. It looks like the husband is very violent as the wife has bruises and the kid is often slapped by him. A Burmese domestic helper is found dead in a fridge in a neighboring house (บ้านฝรั่ง). In front of that house while jogging, Kit saw a young lady watering flowers the day before... The following day, another lady neighbour is taken away by an ambulance as she is screaming crazily. During a Buddhist ceremony to honour the dead memory, one of the monks collapses following a frightening vision. The ghost of the Burmese lady is around. Kit buys a gun as they got burglary by a young man with a ghost mask. The family starts to have financial problems. Family is stressed. The mother-in-law brings nuisance and Kit has issues with his teen daughter. Kit loses his job but doesn't dare to tell his wife Pan and has to accept a job as sweeper in a 7eleven. He even starts to doubt about his wife. He starts to believe in ghost stories after seeing it also (ผีลอก). His daughter finds that her father is working in the 7Eleven. Pan decides to go back to work causing Kit to be unhappy as her previous boss was always pushy. The violent neighbour kills his whole family following a factory failure. Pan doesn't want to stay in Ladaland anymore. The dead family ghosts can also be seen. Most of the people have quit the village. There is even no guard. The couple is on verge to split. The wife Pan decides to go back to Bangkok to stay with her mother. Nen is back but sent to hospital following a crisis seeing a ghost. Being alone with his son while his wife is at hospital, ghosts trap Kit. Finally following a trick of the ghosts, Kit believes he has shot his own son. He shoots himself. Tragical end for one of the biggest Thai box office success in 2011 with 110M Baht. This movie also got 6 awards during Subhanahongsa Awards ceremony 2012.
ThaiWorldView film database contains 1519 movies.
---