THAI MOVIE
Increase or decrease font size for easier reading : A+ A-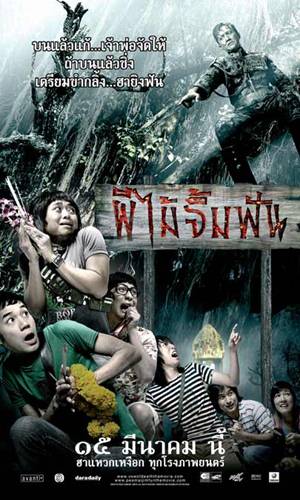 Year

: 2007



Thai title

:

ผีไม้จิ้มฟัน




English title

: Vow of death



Rating

: 3/5


Director

: พันธุ์ ชูเพ็ชร



Main actor

: Chatchai Plengpanich,Akom Preedakul


Main actress

:



Buy now

:

Thai movie ผีไม้จิ้มฟัน / Vow of death was released in year 2007 and lasts 1h42mn. Movie director is พันธุ์ ชูเพ็ชร. It is teen comedy horror movie. Four university students (Ek, Don, Waen, Don's girlfriend...) are preparing for their exams. There is a huge tree in the village with a spirit shrine below (เจ้าพ่อ). The students ask for help to the spirit in order to pass exams (บน). They succeed to pass their exams but forget to thank the shrine spirit (แก้บน). Ek has a vision of Thai soldiers walking. They meet a young man called Kwai and befriend. They all see a traditional Thai dancer being a ghost. She is coming from the shrine dancers figurines placed in front of the shrine. Waen has an electrical shock. Waen remains shocked and paralyzed. Kwai falls from motorcycle as the ghost teases him (โดนผีหลอก). A spirit doctor informs them that the spirit is looking for revenge as they didn't retribute properly despite their wish was granted. The spirit appears to most of them. Afraid, they are now willing to appease the spirit and redeem a vow to the spirit but they cannot perform the ceremony as the tree has been cut! The friends are looking at what happened to the tree and how the wood was used. The sawmill sold it to somebody else already. It was sold to a company selling coffins. The coffin is sold already. They steal the wood in the Buddhist temple before the coffin is cremated. Roots are appearing around Waen. Ceremony is done to soothe the spirit by using the wood used to make the coffin. Waen recalls dreams he had about soldiers from Rama V period. Bawdy sequence occurs when all friends has to eat a ปลัดขลิก one by one to prove their innocence. Waen is possessed by Plaeng (Chatchai Plengpanich). They took the wrong wood, so the spirit is not soothed. The wood was finally used to do toothpicks. Plaeng was an officer and was betrayed by his friends. His spirit entered the huge tree in the village. His friends couldn't save him. Ceremony to appease the spirit is done by using toothpicks. Finally, the ghost accepts to rebirth.
ThaiWorldView film database contains 1519 movies.
---