THAI MOVIE
Increase or decrease font size for easier reading : A+ A-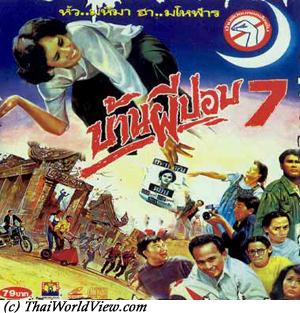 Year

: 1992



Thai title

:

บ้านผีปอบ 7




English title

:



Rating

: 2/5


Director

:



Main actor

: Kiet Kijcharouen,Tongchai Prasongsanti


Main actress

: Natanee Sitthisaman



Buy now

:

Thai movie Baan Phi Pop / บ้านผีปอบ opus 7 was released in year 1992 and lasts 1h31mn (35mm film). A villager called Somsree is killed. The village headman (ผู้ใหญ่บ้าน) really wants to get rid of Ya Yip (ผีปอบหยิบ), the "Phi Pop" ghost. So, he announces a 10 000 baht reward to catch Yip (Natanee Sitthisaman). A "Phi Pop" (ผีปอบ) is an evil spirit believed to possess a person and eating his intestine while also forcing him/her to seek and consume raw animal organs and meat at night time. Bangkokian doctors and nurses come to the village to check villager's health. Chat (Kiet Kijcharouen) is still the doctor helping villagers. It is his last participation in "Baan Phi Pop" movies serie. Mae Sri Nuan and another lady villager, Kam Thong, are Phi Pop ghosts but nobody is aware except Plung (จิระ แสงโชติ์), who is Kam Thong's boyfriend. He wishes to find a solution for Kam Thong to be back as a normal person. It is happy time in the village. Tank (Tongchai Prasongsanti), the village headman's son, is marrying Nong Oon. Many gags happen about his incapacity and unawareness about how doing marital duties. A beggar is wandering around the village and is mistaken as a Phi Pop ghost. Tank's father still continues to try seducing Mae Sri Nuan. Kam Thong's boyfriend, Plung, wishes to help her but cannot prevent her to eat raw intestines. Kam Thong flees and goes to mountain "Doi Phi Fa" (ดอยผีฟ้า). A search is organised to find her. The story goes outside the village for the first time and is shot in 'Khao Phra Wiharn' (เขาพระวิหาร) where is located the famous Khmer temple 'Prasat Preah Vihear' always under dispute between Cambodia and Thailand. A nun (แม่ชี) finds her and announces that only the local deity (เจ้าผีฟ้า) can help her. She goes to the old Khmer temple to pay respect to the deity. Ya Yip joins the villagers' trip to search for Kam Thong and, as expected, brings troubles (สร้างความวุ่นวาย). Kam Thong has a vision under a waterfall. Her ghostly status remains unknown and will be disclosed in the next sequel "Baan Phi Pop 8". This movie still features similar gags as previous "Baan Phi Pop" movies as it includes pursuits in accelerated motion. Such movies serie has its fans as 13 sequels were done. Latest gadgets used by Ya Yip include a stand-up- electric-scooter (ขี่มอเตอร์ไซค์). Such movies had small budget. Such movie was shot in 35mm format but still dubbed afterwards as it was cheaper and allows excessive funny voice dialogs and sound effects.
ThaiWorldView film database contains 1519 movies.
---