THAI MOVIE
Increase or decrease font size for easier reading : A+ A-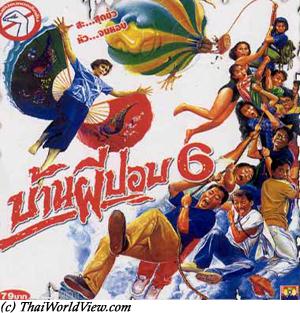 Year

: 1991



Thai title

:

บ้านผีปอบ 6




English title

:



Rating

: 1/5


Director

:



Main actor

: Kiet Kijcharouen


Main actress

: Natanee Sitthisaman



Buy now

:

This movie is Baan Phi Pop (บ้านผีปอบ) opus 6. Number 5 was skipped as another team made their own Baan Phi Pop serie. The first opus of the new serie was renamed from Baan Phi Pop 5 to พันธุ์ผีปอบ '34. Principal characters are still here in Baan Phi Pop 6. The district has gone through some modernisation as an hospital has been built. Ya Yip (หยิบ), the "Phi Pop" ghost, is resting at the hospital and performs a rampage with an axe. A "Phi Pop" (ผีปอบ) is an evil spirit believed to possess a person to eat his intestine while also forcing him to seek and consume raw animal organs and meat at night time. One of the hospital nurse, Kamthong, visits a village lady (Srinuan), who is sick and has the reputation to be a "Phi Pop" ghost (ปอบ) also. The village headman (ผู้ใหญ่บ้าน) wants to marry Srinuan (เราอยู่ได้เพราะว่าความหวัง). Following nuisances due to Ya Yip, the village headman is looking for a master (อาจารย์) to chase her (ไล่ปอบ). A charlatan arrives in the village. At night time Srinuan really becomes a "Phi Pop" ghost and kills some villagers to eat their intestine. As usual in Baan Phi Pop (บ้านผีปอบ) movies, there are continuous pursuits between Ya Yip, the "Phi Pop" ghost, and the villagers. This opus continues to mix gory horror and gags. New and old gags (Women in tight sarong - ผ้าถุง) spurt continuously. New weapons such as boomerang, ladder, flying bike, floating bike, flying ghost using fans as wings and a montgolfier are introduced. Many gags are similar to cartoon gags. There is good imagination from scenarists to find gags. Ya Yip is called ผีบ้า! The village headman refuses to believe that Srinuan is a "Phi Pop" ghost and continues to believe Ya Yip is responsible of the murders. Kamthong's boyfriend, Plung, is worried. Kamthong refuses Plung's request to stop visiting Srinuan as he is worried about a spirit (วิญญาณ) transfer between the two ladies. He decides to enquiry inside Srinuan house. The village headman chases the useless master as he couldn't stop Ya Yip. Plung brings one of the doctor to spy Srinuan at night time. Finally he decides to kidnap Kamthong to protect her. Srinuan tries to stop Plung causing Kamthong to be contaminated (ถูกวิญญาณปอบ) by the "Phi Pop" ghost.
ThaiWorldView film database contains 1519 movies.
---