THAI MOVIE
Increase or decrease font size for easier reading : A+ A-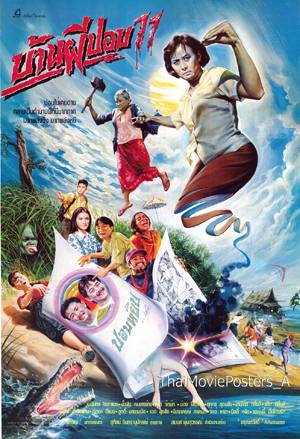 Year

: 1994



Thai title

:

บ้านผีปอบ 11




English title

:



Rating

: 2/5


Director

:



Main actor

: Mum Jokmok


Main actress

: Natanee Sitthisaman



Buy now

:

Thai movie บ้านผีปอบ 11 was released in year 1994 and lasts 1h26mn. it was released under VCD format. Movie director is อรุณสวัสดิ์. Thai actors and actresses featured in this movie are เมฆินทร์ ออกแมน, น้ำฝน ณ บางช้าง, น้อย โพธิ์งาม (comic actress), Mum Jokmok, ศุภกร อุดมชัย, ซานโต๊ส กลิ่นสี, ชลิต กลิ่นสี (comic actor), Natanee Sitthisaman, สุชาดา อีแมน, อู๊ดดี้ มาตามนัด, เอก สุขชัย, อิศราภรณ์ กรกนก, จ๊ะเอ๋ หาชา, บิลลี่ หงัด, จอห์นนี่ ผีเพื่อนรัก. Mum Jokmok asks a cartoonist to draw comics about ghoul ghost and provides him some sacred powder to be used in the drawing. The sacred powder and the drawing make the ghoul ghost (ผีปอบ) to be back. It is Pop Thong Kham – ปอบทองคำ - already present in บ้านผีปอบ 1. She brings Pop Yip - ปอบหยิบ (Natanee Sitthisaman) already present in other บ้านผีปอบ opus. Both try to catch four comic men in the village. They use various tactics, but it fails. They use the drawings from the artist and thanks to the powder, drawings become reality. They use two beautiful young ladies to attract the men. The team is going to a sacred mountain (ดอยผีฟ้า) to neutralise the ghoul ghosts. Mum Jokmok recognizes he was wrong to use powder from the sacred mountain for drawing. It has caused the ghoul ghosts to be back. Multiple chases are happening between ghost ghouls and the villagers. Many jokes are featured during those comic chases. They finally got rid of Pop Thong Kham.
ThaiWorldView film database contains 1519 movies.
---