THAI MOVIE
Increase or decrease font size for easier reading : A+ A-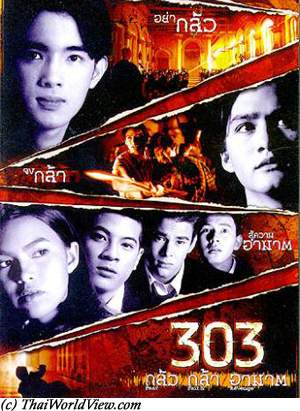 Year

: 1998



Thai title

:

303 กลัว กล้า อาฆาต




English title

: 303 Fear Faith Revenge



Rating

: 3/5


Director

:



Main actor

: Ananda Everingham,Jesdaporn Pholdee,Suchao Pongwilai


Main actress

:
In 2503, it is the start of the new school year at St George School. All young boys are from rich noble families (ผู้ดี) except one poor boy, Chaiden, from North of Thailand. He needs to help cleaning the church. There are strong rules and hazing. Chaiden and 4 teens from the same room declare friendship. By checking old school pictures, they found that a former student, Mum Rachawong, who was a model of excellence, kills himself in 2495. Nobody neither wants to know more, neither wants to speak to them more on this topic. They become friend with Nam Khaeng, young daughter of the director. They decide to call Mum Rachawong's spirit (วิญญาณ) to know the truth through an occult ceremony. They learn he was killed. The students decide to enquiry to know the truth. The 2495 school record miss many signatures. Weird crimes start to happen. One student dies by falling from balcony. A second student dies by electrocution in shower room. The main priest (หลวงพ่อ) would like all students to exit the school but the bad weather prevents it. A third student dies killed by a spade. Sisamut, one of the teen, is always afraid, weak, always follow orders and is the other teens' black sheep. Chaiden and two friends are arrested due to Sisamut's delation. Murders continue. Nam Khaeng has disappeared. Sisamut performs killings in the school as a revenge of being others' black sheep. Sisamut is possessed by a ghost who already committed a killing rampage a few years ago as the school management, including the main priest, was pushing for student hard selection and elite perfection. During this rampage many teens were killed including Mum Rachawong. Chaiden and his friends help to release Nam Khaeng just in time and succeed to defeat the ghost thanks to Mum Rachawong's supernatural help. A new management team now rules St George school. There is no more forced hazing.
ThaiWorldView film database contains 1519 movies.
---