THAI MOVIE
Increase or decrease font size for easier reading : A+ A-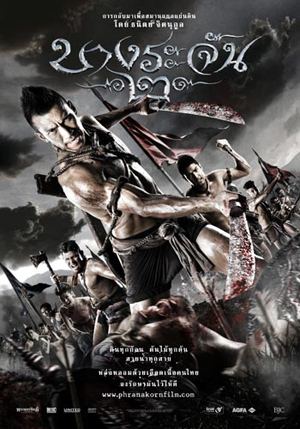 Year

: 2010



Thai title

:

บางระจัน 2




English title

: Bang Rajan 2



Rating

: 3/5


Director

: Thanit Jitnukul



Main actor

: Chatchai Plengpanich,Vinai Kraibutr,Choomporn Theppitak,Bin Banleurit,Paradorn Srichaphan


Main actress

:



Buy now

:

After the fall of Bang Rajan, a group of Thai warriors is left and settle a remote hidden village. With the help of a charismatic Buddhist abbot (หลวงพ่อ), they decide to fight back. Burmese army is looking for them. It results in embuscades. Bloody sequences with CGI similar to US movie "300", head cuts, blood splitting on the screen are featured. This is a nationalist trend movie as Thai people cannot let Burmese army occupies their land (แผ่นดินของเรา). They all think about their life when the war will be over. Currently food is not enough in the village (ชุม) as many people take refuge there (คนเยอะ). Chatchai Plengpanich is playing a soldier (ทหาร), i.e. Phaya. His group is overwhelmed by Burmese soldiers in the forest but he gets help from the former Bang Rajan soldiers. Ayutthaya capital (กรุงศรีอยุธยา) is burning in the background. Tensions happen between soldiers and villagers (ชาวบ้าน). Burmese use some villagers through coercion to try to kill the Buddhist abbot (บารมีหลวงพ่อ). As they fail, all their relatives are killed by Burmese. Phaya asks for a revolt to end the everyday deaths. They have to choose between hide or fight. Two profiles of collaborators with Burmese are shown, a woman (being a courtesan with the Burmese leader in order to get food for her captive mother) and a slave (being passive in front of Burmese soldiers in order to save his life). The Burmese soldiers steal a huge Buddha statue from Ayutthaya to bring it back home. Thai warriors defeat the Burmese soldiers and succeed to save the Buddha statue (so huge that CGI effects have to be used). The courtesan and the slave being deceived by the Burmese change side. The spirits of Bang Rajan fighters (veteran actors from Bang Rajan movie part 1 : Vinai Kraibutr, Choomporn Theppitak, Bin Banleurit) give to the fighters additional strength. A bigger army comes. The abbot accepts to surrender to spare the villagers lives. The monk announces to the Burmese general that they will never win as long as there are warriors like Bang Rajan villagers in Thailand. The abbot is sentenced to death. The Thai warriors seem to face a too big army to be able to win. But Bang Rajan spirit is on forever. Former Thai tennis star Paradorn Srichaphan played in this movie. The movie lasts 2h02mn.
ThaiWorldView film database contains 1519 movies.
---