THAI MOVIE
Increase or decrease font size for easier reading : A+ A-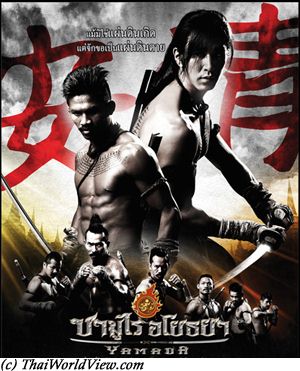 Year

: 2010



Thai title

:

ซามูไร อโยธยา




English title

: Yamada The Samurai Of Ayothaya



Rating

: 4/5


Director

:



Main actor

: Sorapong Chatree,Vinai Kraibutr,Bin Banleurit


Main actress

: Kanokkorn Jaichuen



Buy now

:

Yamada is a Japanese samurai living in Thailand during Ayutthaya period. This movie praises the diplomatic relationships between Thailand and Japan. Some Japanese and Thai soldiers assure the protection of King Naresuan. Yamada, following a feast in Ayutthaya former Japanese village (หมู่บ้านของชาวญี่ปุ่น), is betrayed and attacked by some Japanese ninjas led by traitor Kaito. He was about to be killed when Siamese warriors rescue him. Japanese sword skills are not enough versus Thai boxing skills! Injured, Yamada is cured in Phitsanulok. Traditional medicine, done by the local abbot (Sorapong Chatree), helps him to recover fast. Kaito sends his ninjas to find him as Yamada knows his betrayal. Local Thai people call Yamada as "white face" (หน้าขาว) or "I jipun" (ญี่ปุ่น)! The local abbot is very active to protect Ayutthaya and teaches to Thai soldiers the art (ศิลปะ) of Thai boxing (มวยไทย) with the support of strong warrior Aikham. Champa is the young lady taking care of Yamada during his recovery. Old Thai traditions are nicely shown such as eat betel, big protective tattoos on the body, charming scenes with boats and rivers (คลอง), representation of old traditions and old games. Yamada is very thankful for the cure received. So he wishes to help Ayutthaya kingdom to pay his debt back. A love story also starts with Champa. The Japanese ninjas finally find him but fail to kill him. The villagers now understand Yamada must have an important secret. Yamada wishes to learn Thai boxing but it is an art dedicated to Thai people only. He wish to become the abbot disciple (ลูกศิษย์) and convinces him by proving he is now an Ayutthaya citizen in his heart also. The training starts and despite difficulties, he is finally accepted by other Thai boxing fighters and wins their friendship. Nation love is not only for born citizen but for everybody who has it in his heart. He offers his samurai sword to Aikham (พี่น้อกัน). Following a sacred tattoo session, Yamada has now Ayutthaya blood in his veins. He is accepted inside the King's private guards. 200 Burmese soldiers enter the Thai Kingdom. The King sends ten of his best fighters including Yamada to neutralize them. They succeed. Thematic regarding "Love the King, love the nation" is highlighted. Nationalism is often seen in Thai movies with historical theme. Yamada has to leave the Thai village and to go back to Japan but in fact he wishes to get revenge over Kaito. Yamada has to fight against 100 warriors to reach Kaito but hopefully Aikham helps him. Kaito uses a gun to shoot Yamada but Aikham is the one injured and dies. Yamada takes revenge over Kaito and stays in Thailand. It is based on the real historical character Yamada Nagamasa, who was a Japanese adventurer who gained considerable influence in Thailand at the beginning of the 17th century and became the governor of the Nakhon Si Thammarat province in southern Thailand. This movie uses many strong CGI effects to show the bloody fights. Buakaw Por Pramuk (บัวขาว ป. ประมุข), real Thai kickboxer, starred as a Thai soldier. The movie was also shown in Japan.
ThaiWorldView film database contains 1519 movies.
---