THAI MOVIE
Increase or decrease font size for easier reading : A+ A-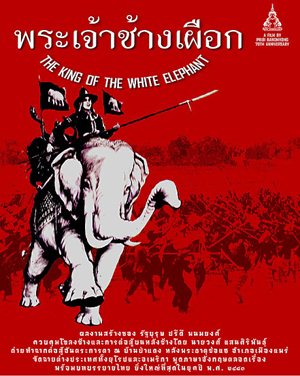 Year

: 1940



Thai title

:

พระเจ้าช้างเผือก




English title

: The King of the White Elephant



Rating

: 3/5


Director

: Pridi Banomyong



Main actor

:


Main actress

:
Thai historical movie พระเจ้าช้างเผือก / The King of the White Elephant was released in year 1940 and lasts 1h40mn. The movie was lost in Thailand but was hopefully found overseas. It was released under DVD in Thailand by Thai Film Archives. The movie was shot in English and features Thai subtitles. Pridi Banomyong is film director. The movie carried a message that Thailand was ready to fight a war against any foreign invaders but Thailand would remain neutral if no external invasion. After Japan attacked Thailand in 1941, Pridi Banomyong became a leader of the Free Thai Movement resistance movement. In year 1540, King Chakra is King of Ayutthaya kingdom. The King is still single. The first chambellan tries to push him to have 365 wifes per old customs. He is pushing especially his own daughter. Mogul has made alliance with King Hongsa from Burma. It is risky for Ayutthaya kingdom. Elephant hunt is needed. The King needs 365 elephants instead of 365 wives! A massive elephant hunt occurs and a white elephant is captured. A big enclosure is built to catch wild elephants. It is a auspicious event for the Kingdom of Ayutthaya to have a white elephant. King Hongsa has a peace treaty with Ayutthaya so he is looking for excuse to attack them. He asks for the white elephant but as King Chakra refuses so war is declared. Burmese troops attack Kanchanaburi city first. Help is needed. Messengers fail to arrive. Burmese fail to take Kanchanaburi and retire. Burmese king sends more troops. Kanchanaburi finally falls. Next step is to defeat Ayutthaya. The country is in danger but the first chambellan still thinks to marry the King first. War has started without any official declaration. Ayutthaya King is aware so his army is leaving to fight King Hongsa. Dozen of elephants are featured. King Hongsa likes to drink and fights for his own benefit versus King Chakra fighting for his kingdom and his people. Fightings happen while King Hongsa is drunk. Burmese army retreats. A challenge one to one with King Hongsa occurs. Hongsa is killed by Chakra. King Chakra lets Burmese army to go home as the enemy was King Honsa and not his army. He reminds them of not doing useless wars anymore.
ThaiWorldView film database contains 1519 movies.
---