THAI MOVIE
Increase or decrease font size for easier reading : A+ A-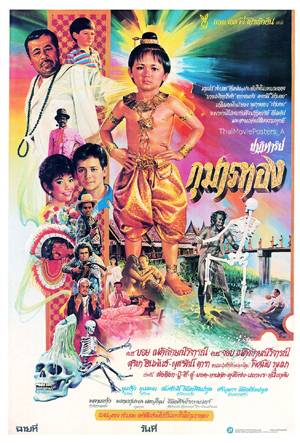 Year

: 1985



Thai title

:

ปาฏิหาริย์กุมารทอง




English title

:



Rating

: 2/5


Director

: พลายแก้ว



Main actor

: Lor Tok,Suriya Chinaphan,Supakorn Srisawat,Boo Wibunnan,Doo Dook Kradon,Krong Kangkengdaeng


Main actress

:
Thai movie ปาฏิหาริย์กุมารทอง was released in year 1985 and lasts 1h28mn. The movie was released under VHS format and VCD format by Solar. Director is พลายแก้ว. Thai actors and actresses featured in this movie are Lor Tok, Suriya Chinaphan, Supakorn Srisawat, Boo Wibunnan, Doo Dook Kradon, ทานทัต วิภาตะโยธิน, Krong Kangkengdaeng, นภาพร หงสกุล, หนึ่งฤทัย, ผุสรัตน์ ดารา, ยอด. A wandering monk, giving advice to the local community, has a magical baby spirit statuette (กุมารทอง). He leaves the statuette behind as he is entering the forest for meditation. Village leader Boo Wibunnan is having a gambling den. Boo is married to a new young wife (พิศมัย ภุมมา). Tok (Supakorn Srisawat) is Boo's right hand. A teacher (Suriya Chinaphan) is trying his best to teach children as the school lacks money. The monk leaves the statuette to an old couple. The baby spirit asks them to keep the secret. A couple is having an issue as the husband is losing a lot of money by gambling in Boo's place. The grandma and grandma are worried about their grandchild. The gambler even sells his kid on a bet. Master (อาจารย์) Lor Tok arrives in the village. He is a fake master. The baby spirit warns him to behave properly and uses him to defeat Boo, who is abusing the local community. First many villagers win money through a lottery organised by Boo. Boo then challenges Lor Tok to organise a lion dance contest to win back his money. Boo loses again a lot of money. Money is used to improve the local school facilities. The teacher and Pim (ผุสรัตน์ ดารา), Boo's daughter, get on well. Boo is upset with this relationship. Boo and his new wife believe Pim is betraying them. The teacher is beaten and captured while visiting Pim in her room. They finally succeed to escape. Boo hire hitmen (including Doo Dook Kradon) to get rid of master Lor Tok. They fail. Tok suggests a master from Malaysia. The master is resurrecting a vampire (ผีดิบ). The baby spirit and its skeleton associate defeat the vampire also. Villagers can enjoy a peaceful life without gambling. This comedy includes many comic actors from decade 1980s.
ThaiWorldView film database contains 1519 movies.
---