THAI MOVIE
Increase or decrease font size for easier reading : A+ A-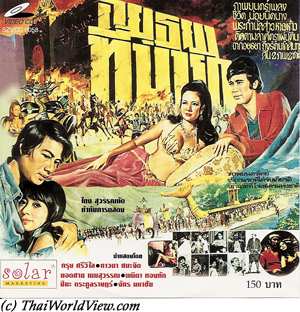 Year

: 1979



Thai title

:

อยุธยาที่ข้ารัก




English title

: The last day of Ayudhya



Rating

: 3/5


Director

:



Main actor

: Krung Srivilai,Yodchai Meksuwan,Piya Trakulrard,Surasit Sattayawong,Tawan Siriwat,Lor Tok,Pipop Pupinyo,Pan Borapet


Main actress

: Pawana Chanajit,Chosri Misommon,Somjit Sapsamruey,Marasri Bangchang,Sulaleewan Suwanthat



Buy now

:

Thai movie อยุธยาที่ข้ารัก / The last day of Ayudhya was released in year 1979 and lasts 2h18mn. The movie features many songs. The Thai chief soldier (Tawan Siriwat) is a traitor. Young lady Lam Duan (พนิดา ทองทัต) helps the Thai King (Surasit Sattayawong) to flee. Ayutthaya city is burnt and destroyed as the traitor opens the door to Burmese soldiers. Resistance is on. Lam Duan and her husband Reuang (Yodchai Meksuwan) try to kill the Burmese King but they fail and are sentenced to death. They promise to love each other every life (ทุกชาติ) and to kill the Thai traitor. 200 years have passed. Lam Duan is reborn under MouMou's name. Reuang is reborn under Decha's name. Sulaleewan Suwanthat is playing MouMou's mother. Dam (Pipop Pupinyo) kidnaps the subdistrict headman's daughter. Decha (Yodchai Meksuwan) likes painting and falls for Noi (Pawana Chanajit), a good heart prostitute. Decha is hired (นับสืบ) by a rich lady (Somjit Sapsamruey) to find her lost granddaughter (หลานสาวเศรษฐี). Dam buys a young lady called MouMou (พนิดา ทองทัต) for 3 nights from her parents but she refuses and escape after hitting Dam. Decha finally helps her but she doesn't trust believing he is another rapist. They take refuge in a cave. At nighttime, Decha dreams that MouMou is Noi and makes love to her. He promises to be responsible of his acts. Chased by Dam's ruffians including Pan Borapet, MouMou splits with Decha to attract the ruffians. She is unfortunately shot by ruffians and falls from a cliff. Toon (Lor Tok) is Decha's assistant. Lor Tok as medium (คนทรง) convinces the grandmother that Noi is her lost granddaughter. If Decha marries Noi, lost granddaughter, then they will have 1M baht to share! On the wedding day, MouMou is back. She wants to get her husband Decha back. Krung was the one to rescue MouMou when she falls from the cliff. He wishes to marry her but she refuses as she loves Decha, her husband in this life and previous life as Reuang. In order not to lose 1M baht, Noi has to accept to share Decha with MouMou. One day in alternance (โควตา) but jealousy makes it impossible to happen. Krung Srivilai has finally a small role in this movie but he is displayed on the poster as the main actor. Decha and Noi plan to send MouMou to a psychiatric hospital. She rebels and when facing Tawan Siriwat, she reminds he was the traitor in Ayutthaya and stabs him. The rich lady realises that her missed granddaughter is MouMou and not Noi! MouMou flees and reaches Ayutthaya. There, disappointed by life, she becomes a nun.
ThaiWorldView film database contains 1519 movies.
---