THAI MOVIE
Increase or decrease font size for easier reading : A+ A-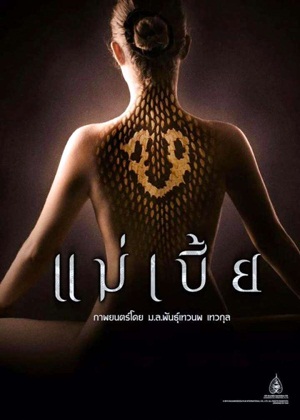 Year

: 2015



Thai title

:

แม่เบี้ย




English title

: Maebia



Rating

: 4/5


Director

: Pantewanop Tewakul



Main actor

: Shahkrit Yamnarm,Ananda Everingham,Kriengkrai Unhanan


Main actress

: Karnpithchar Katemanee



Buy now

:

Thai movie แม่เบี้ย was released in year 2015. It lasts 2h. Miss Thailand World 2009 second runner-up Karnpithchar "Oam" Katemanee was selected for the challenging role of Mekhala. Compared to previous versions in 1988 and 2001, this version is highlighted by a beautiful picture as usual with movies from director Pantewanop Tewakul and also an important dose of erotism with many love scenes. The elder brother khun Charachon (Shahkrit Yamnarm) wishes to buy an old house (เรือนโบราณ). The owner of the house is a beautiful lady called Mekhala. Charachon visits the house with his younger brother Prapoum. The house is showing traditional puppet events. While the elder brother enjoys the show and is attracted by the beautiful owner, the younger brother is having an affair with one of the dancers. Charachon wishes to meet Mae again. Charachon is married to Kaew and has a daughter. Mekhala is having a lover called Pot already but he dislikes a snake always around. Pot is the son of political party owner. Charachon wishes to have a diner with Mekhala but she prefers to organise it in her home... Pot cannot come that night as Mekhala is busy already. Pot sends some men to get rid of the snake (งูผี) but they die. Pot is also married. The snake ghost is jealous about men being close to Mekhala. Charachon has to meet again Mekhala as he fully attracted by her. While riddling on the river, they fall from the boat as the snake (งูเห่า) was about to attack. Charachon doesn't know how to swim. Charachon feels so well in Mekhala's old house that he forgets going home (ไม่เหมาะ) despite his wife waiting. The spirit has the appearance of a beautiful young lady at nighttime. Charachon has weird dreams and wishes to understand the significance. Charachon sees Mekhala talking to a big snake (ทีนี้ไม้ใช่ที่ของคุณ). They finally become lovers. Mekhala tells the story of the snake (คุณ), who was already protecting her mother. On his side, Charachon is an adoptive child. He doesn't know his biological parents. In the morning, while wandering with Mekhala, the cobra attacks Charachon again. Thanks to the spade (ดาบพิเศษ) given by Lung Tim, Charachon pushes back the snake. Lung Tim warns Charachon not to come back to this house. Pot is chased away by Mekhala as she has Charachon now. Aware of Charachon's outside activities with Mekhala, Charachon's wife, Kaew, asks her to stop taking her husband (แย่งผัวชาวบ้าน). Meanwhile Pot dies while trying to kill the snake. The house is damned (บ้านของบาป, บ้านมีกรรม) with lust and death. Charachon realises he is not the real son of Kriengkrai Unhanan. Perplex, he finds his own brother Prapoum in bed with his wife Kaew. Deceived by life, Charachon goes back to Mekhala's home knowing she is not here and knowing that death is waiting for him there. A few months later, Prapoum brings his new boss (Ananda Everingham) to visit Mekhala...
ThaiWorldView film database contains 1519 movies.
---