THAI MOVIE
Increase or decrease font size for easier reading : A+ A-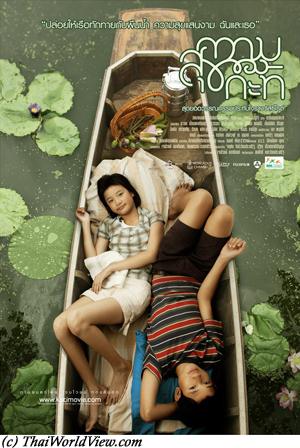 Year

: 2009



Thai title

:

ความสุขของกะทิ




English title

: Happiness of Kati



Rating

: 5/5


Director

:



Main actor

: Krissada Sukosol,Sahat Piempongsan


Main actress

: Jaruwan Panyopas



Buy now

:

This movie is a based on a novel written by Jane Vejjajiva. It got a S.E.A. Write Award. A family is quitting their appartment in Bangkok. Katy, 9 years old girl, is now living with her grandparents on countryside. Kati's life in the village certainly contrasts with her life in the city as countryside life is depicted as quiet and bucolic. She misses her mum (แม่เคยสัญญาว่าจะกลับมา). She tries to have a normal life and so watches Thai TV series (ละคร) when coming back from school. She notices that there is no picture from her mum (ในบ้านไม่มีรูปถ่ายแม่เลย) in the house. She starts to understand there is something going wrong (ไม่เคยมีใครพูดถึงแม่). It looks like adults want Kati to enjoy her childhood and forgets her mum (กะทิจำหน้าแม่ไม่ได้แล้ว). Tong is Kathi's best friend and she spends a lot of time with him. She heard adults mentioning that nobody can escape suffering and unhappiness. The movie shows nicely the life in the countryside (development coming in the village, football match in Buddhist temple compound, numerous pupils in classroom, first vision of a foreigner through a French cyclist visiting the village during his trip around the world). She then learns that her mother is very sick. Kati is sent to a house close to the sea. No need to hide the truth to her anymore. The mother is sitting on a wheelchair. She has no more strength. The movie shows the last touching moments of love between Kati and her mother. Kati spends a lot of time with her mother. The mother then passes away peacefully. Kati shall now decide if she wishes or not to meet her real father. She takes the decision to meet him and waits for his feedback. Meanwhile she goes back to countryside. The photography is superb. There is great picture and sensitive mood. The movie highlights the importance of family and close friends, life sorrow, change and choices that need to be taken. The last sequence on the drawers appears as a completion of Kati's life puzzle as she can learn about her mother's life and her own life amongst their contents.
ThaiWorldView film database contains 1519 movies.
---