THAI MOVIE
Increase or decrease font size for easier reading : A+ A-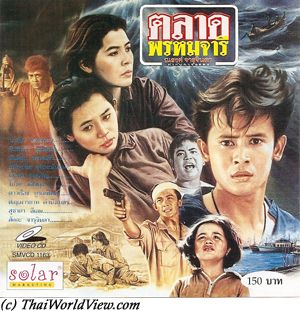 Year

: 1988



Thai title

:

ตลาดพรหมจารี




English title

: Virgin market



Rating

: 5/5


Director

:



Main actor

: Kriengkrai Unhanan,Santisuk Promsiri,Kowit Wattanakul


Main actress

: Jintara Sookkapat,Nardtaya DaengBunga



Buy now

:

This movie takes place in the South of Thailand. The Thai title means "Virgin market". Kaem is living with his wife (Phrae), son and father. Kaem is a fisherman. He also takes care of Pia as she has no father and mother anymore. Pia is now 18 years old and is flirting with Faeng. Pia and Faeng love each other but Kaem is over protective. Kaem is drinking and gambling. He has gambling debts and needs to give back 2000 Baht within two months so he has to interact with the gambling den owner. Phrae is a good wife that Kaem doesn't deserve due to his bad behavior. Kaem's fishing selling business is getting worst and worst. He believes he needs to get a faster engine to be able to go far and get more fishes in deep sea. Kaem learns that a sick Hong Kong businessman is looking for a young virgin woman as he believes it is the best cure. Kaem is so eager to get a new engine for his fishing boat that he agrees to sell Pia's virginity to the local gambling den owner for 15 000 Baht. He gets the money, buys the engine and has to handover Pia within three days. While trying the new engine, a storm is coming. Kaem doesn't listen to Phrae's advice to go back. The engine gets stuck and the boat gets caught in the storm. Hopefully they survive but the engine is dead. But Kaem still has his promise to fulfill. He deceits Pia by sending her to the gambling den owner by bringing a letter. She is forced to stay emprisonned during two days until the Chinese man arrives. On his arrival, she succeeds to escape from her jailers and jumps into the sea. She goes back to her home but the gambling owner is waiting there. Phrae protects her by beating him with a paddle. Everybody now knows Kaem's treacherousness. For her own good sake, Phae sends Pia to Faeng's home but this one rejects her believing she has slept with other man. The gambling den owner now wants his money back with interest. He threathen with gun Kaem, Phrae and Kaem's father in front of many villagers. He shots a few time inside the boat engine making it unusable. Kaem becomes crazy and cries endlessly about his engine. Faeng now understands the whole story and goes back to search for Pia. It is unfortunately too late... Pia has jumped to her death from a cliff. Wrecked lives due to poverty... Kriengkrai Unhanan is more used to play the good guys but deliver an outstanding performance in playing Kaem role. It is a remake of ตลาดพรหมจารี realized in 1973 with Piathip Kumwong.
ThaiWorldView film database contains 1519 movies.
---