THAI MOVIE
Increase or decrease font size for easier reading : A+ A-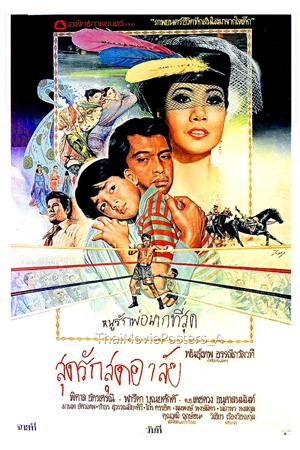 Year

: 1980



Thai title

:

สุดรักสุดอาลัย




English title

:



Rating

: 5/5


Director

: พันธุ์เทพ อรรถไกวัลวที



Main actor

: Pisarn Akraseranee,Manop Aussawathep,Krai Kanchit,Pao Porapak,Kamthorn Suwanpiyasiri,Sompong Phonmitr


Main actress

:
Thai movie สุดรักสุดอาลัย was released in year 1980 and lasts 1h55mn. It was released under VHS format. This Thai movie is based on US movie "The Champ" (1979). Movie director is พันธุ์เทพ อรรถไกวัลวที. Pisan (Pisarn Akraseranee) is a former boxing champion. He has to quit seven years ago due to a brain issue. He still has a dream to go back on the ring. He is leaving alone with his son Chapan (เดชดวง อนุศาสนนันท์), being seven years old. He is divorced with Farida (ฟารีดา บุณยศักดิ์), who left him for a richer man, i.e. Nop (Manop Aussawathep) seven years ago. Pisan often drinks and gambles (พนัน). He bets 100 Baht and wins 150 000 Baht. He buys a horse for his son as a gift. The horse joins horse racing competition. The horse falls and is injured. Being also at the horse racing club, Farinda meets Chapan, her son, for the first time. Pisan is still very upset and refuses Farinda to tell his son that she is her mother as she left them seven years ago. Pisan told Chapan that his mother was dead (ตายแล้ว). Farida knows she is guilty and wishes to take care of Chapan also. She offers expensive gifts (ของแพงๆ). Krai Kanchit and Pao Porapak manage an underground casino. While betting, Pisan and Nop meet. Nop tries to convince him that Chapan still needs a mother. Pisan refuses. 20 000 Baht debt happens as Pisan gets upset. He cannot find any friends to lend him 20 000 baht. He has to ask Farinda. Krai still comes to get the horse as he doesn't believe Pisan can pay back the debt. A fighting erupts and police catches Pisan. Pisan has to stay in jail a while. Chapan stays in Farinda's home as his father Pisan forces him to go there. He would prefer to stay with uncle Sompong Phonmitr or with นภาพร หงสกุล. Chapan, learning that Farida is his mother, rejects her as she is not living with her father anymore. Pisan even asks Farida to come back. The boxing ring manager (Kamthorn Suwanpiyasiri) accepts Pisan back as boxer despite the health risks as Pisan wants to gain money to build a future for his son (studies, house). They train together. Farida gives also support (กำลังใจ) to Pisan. Farinda decides to go back living with her son. The boxing match happens. Pisan wins the first part of the match but the youth of his opponent allows him to come back. Pisan's vision starts to alter as he gets hit at the head. He is knocked down twice but refuses to stop. He finally wins his match but collapses in the cloakroom. Before dying, he asks Chapan to stay with Farida, who is a good person (ต้องการพ่อ / ต้องการอยู่กับพ่อ).
ThaiWorldView film database contains 1519 movies.
---