THAI MOVIE
Increase or decrease font size for easier reading : A+ A-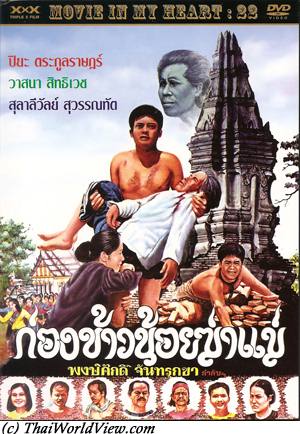 Year

: 1980



Thai title

:

ก่องข้าวน้อยฆ่าแม่




English title

:



Rating

: 5/5


Director

:



Main actor

: Piya Trakulrard,Noppadol Duangporn


Main actress

: Wassana Sitthiweth



Buy now

:

The story takes place in Isan region, Northeast of Thailand, in Yasothon province. Local traditions are nicely shown in this movie. Molam (หมอลำ) music is played with reed mouth organ (แคน) during the village feast. Bald men compete against each other, head against head. This traditional game is called "Bald head smashing" (หัวล้านชนกัน). Isan traditions such as dances and music are featured. A mother has two grown-up children. She is always worried about them (ลูกแม่ เป็นห่วง). Thong is her son and Boonsi is her daughter. Thong gets seriously hit on the head during a fight and it takes him a few days to recover. Typical Isan ceremonies such as Bai si Ceremony (พิธีบ่ายศรีสู่ขวัญ) are shown. Villagers techniques to get red ants (มดอดง), to get small wood, to catch tree lizard (กิ้งก่า), to capture frog (กบ) or fishing methods are nicely shown. Life was harsh in villages with no electricity. There is only one season for rice so most of the time rice fields are dry. SaiBua (สายบัว) is a young village girl. Saibua and Thong love each other. Thong needs to fight with a young man called Sao as they love the same woman. Finally Saibua becomes Thong's wife but outside a wedding. Her family has no choice than accept (ยกให้). A proper wedding is organised. Sing and Boonsi do the same thing! The grandmother wants a grandson (หลาน). Thong loses money when playing game so making his wife and mother upset. Thong has a crisis and almost hit his wife and mother. Life is ongoing through the seasons. SaiBua is now pregnant. Saibua dreams that Thong's mother is leaving them as she saw her as a nun (แม่ชี). One day the mother is giving alms at the village Buddhist temple. Thong is in rice fields using his buffalo to work on the soil. Saibua is at home doing chores. His mother prepares sticky rice for him. But Thong starts to be upset as he has no food to eat. He is very angry. He believes a little bit of food is given to him. Losing temper and without really noticing it, he hurts his mother. As sticky rice was compacted, it is in fact a lot and Thong is not able to finish it. He realizes too late that he has hurt and killed his own mother. He is a bad son as he hit his own mother. A trial (ศาล) is organized to judge Thong. He has done a sin (ปาบ), he is an ungrateful child (ความชั่วของลูก), an evil person (สัตว์นรก, ลูกทรพี). He gets authorisation from the tribunal to build a small pagoda (พระธาตุ) to host his mother bones (เวรกรรม). He works very hard under the harshness of a guard. The small food he gets is offered to his mum. The pagoda is finished (ขออิฐ) as a way to compensate (ชดเชย) his evil part. He has difficulty to get separated from his wife, child and sister but it is time for punishment. His head is cut. During the last executor dance, the executor reminds to Thong that there is nothing personal and it is just his duty to perform. This story ensures that Thai children always respect their parents and the pagoda is said to be located in Yasothon province (ธาตุก่องข้าวน้อยฆ่าแม่ จ.ยโสธร). This movie belongs to the same movie family as "A Child of the Northeast" (ลูกอีสาน) as it gives a realistic picture of Isan region. The movie picture is quite colorless sometimes.
ThaiWorldView film database contains 1519 movies.
---