THAI MOVIE
Increase or decrease font size for easier reading : A+ A-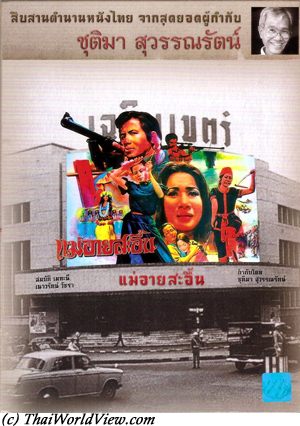 Year

: 1972



Thai title

:

แม่อายสะอื้น




English title

:



Rating

: 5/5


Director

: Chutima Suwannarat



Main actor

: Sombat Methanee,Kamthorn Suwanpiyasiri,Sahat Piempongsan,Jamroon Nuatjim


Main actress

: Naowarat Watchara,Tasawan Saneewong,Metta Roongrat,Viphavadi Triyakul,Malee Wetpraseri



Buy now

:

A subdistrict headman is almost blind but still performs traditional arts. His daughter Dao Lin (Naowarat Watchara) can do traditional spade dance. They are living in a Northern village specialised in making traditional colorful umbrellas. Mem (Malee Wetpraseri) recommends Dao Lin to a Bangkokian lady for a job in Bangkok (เสริมสวย). Dao Lin accepts as she needs money to cure her father's eyes. The second daughter is played by Tasawan Saneewong, who is acting for the first time. No further study for her as they are too poor. In Bangkok, Dao Lin realises the job is in fact acting as a prostitute (โสเภณี / ฉันไม่ใช่สินค้า). Dao Lin cannot send news. She ends up in pregnancy and succeeds to flee the brothel (กลุ่มนรก). She delivers a baby, who is unfortunately disabled. The hospital doctor (Kamthorn Suwanpiyasiri) finds her a job as a model (นางแบบ) but she needs to hide her baby (สังคมทุกวันนี้จำเป็นต้องสวมหน้ากากเข้าหากัน). She gives her baby to her sister lying it is a friend's baby. Dao Lin meets Songpon (Sombat Methanee) in Penang. They finally get engaged (หมัน). Dao Lin discovers that the doctor is Sombat's brother but he promises to disclose nothing. She forgets her family so her father decides to come to Bangkok with her sister Chaeung and disabled son to find Dao Lin. Ten (Metta Roongrat) becomes Chaeung's friend in Bangkok. Chaeung recognises her sister on TV. When meeting together, Dao Lin is ashamed (ลืมตัว) as she doesn't want anybody to know her poor background so she chases away her younger sister. Disappointed, Chaeung runs away and is hit by a car. She is cured by the same doctor, who cured her elder sister. Having pity on her, the doctor recruits her as domestic helper. Dao Lin is surprised to see Chaeung in the doctor's house and asks her not to reveal their family links until she is married with Songpon. Pi (Sahat Piempongsan) is having an affair with Songpon's mother. He always asks for money. They all go to Southern island to help poor children. Songpon's brother called Songyut lives there and takes care of the family domain. Songyut falls in love with Chaeung. Songpon also loves Chaeung but just got engaged with her sister... The mother asks Songyut to stop seeing her as she is a poor girl. Chaeung is kidnapped per the mother's orders. Ten asks Songyut for help. A boat chase is happening in Phuket near the James Bond island. Pi, wishing to get the family domain, shots Songyut through a long range gun but falls from the cliff and dies. The mother is horrified and crossed against Chaeung (เด็กเวร) but she is indirectly responsible of her lover's acts. Meanwhile Dao Lin warns Songpon who finally rescues Chaeung after an impressive car chase. Songyut's mother asks Dao Lin to get rid of Chaeung as she takes her as responsible of her son's death. Dao Lin accepts. Chaeung hears this conversion and arguments happen between the two sisters. Dao Lin's father hears his two daughters arguing and now is aware that Chaeung hides the reality about Dao Lin forgetting her own family. Chaeung, the father and the disabled son leave for Mae Sai. Da Lin follows them there but her father is already dead. He got suicide because of disappointment with his daughter. Songpon is here also blaming Dao Lin not to have told him the truth about her background as he is comprehensive and it would have saved her father's life. Nobody in the village wishes to talk to Dao Lin. To pay respect to her father a last time, she performs the traditional spade dance and finally cuts her throat during the dance. She entrusts Chaeung and her son to Songpon. It is a sad family drama with a rich mother causing her son's death and a poor daughter causing her father's death. The DVD แม่อายสะอื้น (1972) lasts 1h55mn but some parts are missing as it is a copy from U-matic tapes.. Famous director is Chutima Suwannarat (ชุติมา สุวรรณรัตน์) well known for sad movies.
ThaiWorldView film database contains 1519 movies.
---