THAI MOVIE
Increase or decrease font size for easier reading : A+ A-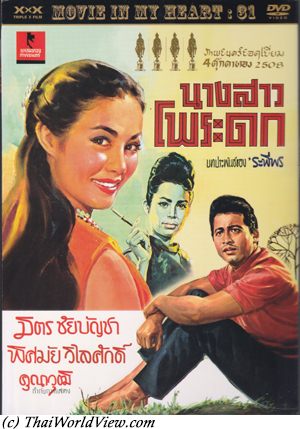 Year

: 1965



Thai title

:

นางสาวโพระดก




English title

:



Rating

: 4/5


Director

: คุณาวุมิ



Main actor

: Mitr Chaibancha,Lor Tok,Prachuap Ruekyamdee,Adul Dulyarat,Banglae


Main actress

: Pissamai Wilaisak,Sopha Sataporn,Namgneun Boonnak,Wilaiwan Watthanaphanit,Sarinthip Siriwan,Sulaleewan Suwanthat,Yaowaret Nisakorn



Buy now

:

Thai movie นางสาวโพระดก was released in year 1965 and lasts 2h18mn. The movie was released on VCD and DVD formats in Thailand by company XxX (Triple X). It features a colorful image. Movie director is คุณาวุมิ. The movie got four Thai cinema awards (ตุ๊กตาทอง) including best movie, best movie director, best costumes, best second role for Namgneun Boonnak. Two songs are featured. A remake was released in year 1981 with Jarunee Sooksawad. Pim (Wilaiwan Watthanaphanit) has a child, named Poradok, with her husband. Unfortunately her husband died. Pim remarries again. Her husband has already two boys from a first wedding. Those two boys from first wedding are Prachuap Ruekyamdee and At (Adul Dulyarat). The new husband also dies when Poradok (Pissamai Wilaisak) is 18 years old. Heritage discussion occurs. Aunt Sarinthip Siriwan is upset by the testament sharing. Saisamon (Sopha Sataporn) is a student and friend with Poradok. Her mother Saichai (Namgneun Boonnak) is sick and is identified with a cancer by doctor. Nephew Sun (Mitr Chaibancha) is living with them. Saichai loves Sun but Sun considers her as a mother. At has a mistress named Prissana (Yaowaret Nisakorn) with one child. Prissana is pregnant again but At is not taking good care of her. Porakdok is aware and promises to help. At is upset that Prissana discloses this to Poradok. Poradok travels to countryside to meet Saisamon. Aunt Saichai is upset to see Sun close to Poradok. Poradok and Sun start to know each other but Poradok believes Sun has a love relationship with Saichai. At and Prachuap arrive in countryside. Poradok has to go back to Bangkok. Aunt Saichai is upset that Sun misses Poradok. Aunt Saichai is entering final cancer phase. Her testament mentions that Sopha and Sun have to marry if they want to get any parts of the heritage. Aunt Saichai recognizes that there was nothing between her and Sun (คนกตัญญู). Sun and Saisamon have to choose between love or money. A party happens at Poradok's parents house. Krissada sings a song. At and his aunt lose face as Krissada sings about bad men unable to respect their engagement. At follows Krissada to her home and hits her. Luckily Poradok was also following behind and punches At. Sun and Saisamon agree to reject the heritage. Sun considers Saisamon as her sister. Saisamon keeps drinking as Sun doesn't love her but loves Poradok. The movie ends happily. At changes religion and marries again with Krissada. Saisamon has a love story with Prachuap. Poradok and Sun finds that the mother's lawyer was stealing money with aunt Sarinthip. Both are chased from the home. Poradok reconciles with her mother Pim. Romance Sun and Poradok can happen.
ThaiWorldView film database contains 1519 movies.
---