THAI MOVIE
Increase or decrease font size for easier reading : A+ A-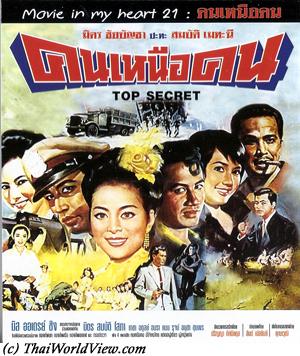 Year

: 1967



Thai title

:

คนเหนือคน




English title

: Top secret



Rating

: 3/5


Director

: Wichit Khunawut



Main actor

: Mitr Chaibancha,Sombat Methanee,Adul Dulyarat,Kecha Plianvithee,Boo Wibunnan,Choomporn Theppitak,Ruj Ronnapop,Man Teeraphol


Main actress

: Sopha Sataporn,Amara Asavananda



Buy now

:

A mysterious Dakota airplane drops a big parcel in the sea, containing in fact the ruffians leader (หัวหน้าใหม่) called Adamcha (Kecha Plianvithee). Meanwhile two Royal Thai airplanes intercept the plane forcing it to land at Don Meuang airport. Thai Army is then aware that a mysterious organisation is preparing plans to harm Thailand so Thai army chief asks his officers to do their best to protect Thailand, Buddhism and the King. Police inspector (สารวัตร) Chet (Mitr Chaibancha) needs to help also and to find an agent called double X. Double X is in fact a police woman called Chin Chin. Adul (Adul Dulyarat) steals some documents in governmental building. Amara (Amara Asavananda), a young lady, supports Adul as part of the organisation. The secret organisation (ผู้ก่อการร้าย) brings disorder in Thailand through bombs and Thai police seems unable to stop them. Chet follows Adamcha's car but gets captured when entering in Adamcha's house. The police chief asks another policeman to help, i.e. Chet's younger brother called Sombat (Sombat Methanee). Real actor names are used in this movie as anyway it was a 16mm movie with dubbing. During an evening party to celebrate their bad achievements, double X's team kidnaps Amara and asks for a ransom. Adul follows the police ladies and after being summoned by Chin Chin (Audrey Sing) regarding his treacherous behavior over Thailand, he accepts to change side. He works for the organisation because of his love for Amara. Sombat helps to release Amara and shoot some policemen (แสดงหนัง). Sombat is finally accepted in the secret organisation following a test. A bank attack turns to a fiasco as police was aware. Sopha (Sopha Sataporn), Sombat's love, is injured. It seems there is spy in the organisation. Sombat helps his brother Chet to flee. Chet is back to the house with full Police squad but Adamcha and his clique have already left. Chet succeeds to get the plan of their new retreat but the ruffians, seeing army soldiers, retreat to a well hidden place. Adul provides the location to the police but is identified as traitor. He is imprisoned and refuses any help from Amara, his former love. Police and army storm the hidden place of their organisation. Following various shootings and Adul's sacrifice, the secret organisation is vanquished. It is another nationalist 1960s movie with police and army protecting Thailand against external threats. The picture quality features many red and green lines (เส้นฝนตกมาก) as company Phanmitr has used the latest film reels available for this movie, which was very popular in 1960s. คนเหนือคน (Top Secret) is a 2h15mn movie. It is also features a few popular songs including a duo Sombat and Sopha.
ThaiWorldView film database contains 1519 movies.
---